Fund managers are paying attention to more liquidity indicators when making investment decisions
Key points
• Liquidity is a potential problem in the investment-grade market
• Fund managers have had to adapt investment processes to cope with liquidity risk
• Electronic trading systems are attempting to provide new sources of liquidity
• Breaking the dominance of the two leading platforms is proving difficult
An often -discussed consequence of the global financial crisis is the reduction in capital allocated to market-making by investment banks. That, in turn, has led to much discussion on the possible impact on liquidity, particularly in bond markets where the number of individual securities available far exceeds the number in equity markets.
Liquidity may be less of a problem than many had feared. But liquidity in capital markets can disappear just when it is most needed. Current levels of liquidity in the credit market appear to be reasonably good, thanks to a market environment that is supported by a combination of low interest rates, central bank liquidity and low volatility, says Gianluca Minieri, deputy global head of trading at Amundi.
Nevertheless, Amundi says that the market is increasingly pricing in a potential change to this benign environment in the near future. Market players, while continuing to participate in this market, are at the same time preparing for a shift. "In fact, when we look at other less traditional liquidity indicators, such as inventory levels, liquidity premia, on-the-run versus off-the-run spread, some signs of liquidity deterioration are starting to appear," says Minieri.
Since the crisis, the cost of trading has increased while the level of certainty has fallen. The rises have been exacerbated by the fact that, compared with a dozen years ago, a much larger proportion of the market is benchmarked, says Pierre Verlé, head of credit at Carmignac Gestion. Even investors who are not passive behave in a similar manner to those who are. "When one sells, everyone sells and when one buys, everyone buys," Verlé says. That means banks are less able to act as a cushion, so that the cost of trading has increased. "If you are a contrarian in these markets there is a lot of liquidity," adds Verlé.
Fund managers have had to adapt their investment processes to cope with the instability in liquidity. Traditional (bid-ask, turnover) and non-traditional (market depth, market breadth, resilience, liquidity premia) liquidity measurements have all become factors that fund managers are keen to analyse before making their investment decisions, says Minieri.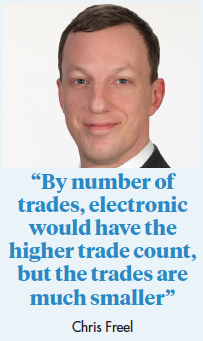 Credit portfolios have become much more diversified with more individual holdings, says Hervé Boiral, head of euro credit at Amundi. "In the past, if I liked an issuer, I would try and optimise the investment by selecting a specific bond. Today, we would split the investment amongst four or five bonds by the same issuer as it would be easier to sell a number of small positions rather than one large position. It also means that there is less appetite to buy weaker credits."
Some 10-15 years ago, Amundi would have bought some weak credits knowing that at any time they would be able to sell them. With liquidity changing week by week, portfolio managers need to be prepared to keep any issue for six months to one year.
Finding new sources of liquidity through electronic trading systems has become a hot topic recently. Over the past two years many new systems have been introduced but changing market behaviour is proving difficult. "Everyone was excited about what these new systems could do and the idea that they would replace the dealers. Here we are now two years later and there is really only one dominant party when it comes to electronic trading in the US and that is MarketAxess," says Jared Boneno, head of corporate trading at Payden & Rygel. Dollar corporate trading volumes as a whole have remained stable since 2012, with little change even in times of stress.
MarketAxess dominates dollar-bond trading and Tradeweb dominates euro and sterling but most trading is still not electronic. "By number of trades, electronic would have the higher trade count, but the trades are much smaller. From a dollar-traded volume, around 30% of US is electronic and perhaps 30-40% sterling and euros," says Chris Freel, senior trader at Invesco.
It is clear that old-fashioned voice trading with investment banks is not going away, retaining strong liquidity. In euro and sterling trading, trades up to €2m in size can be completed efficiently using electronic trading systems, while in the US the figure is typically under $5m (€4.2m). Above those numbers, investors risk information leakage that might move markets. Typically with orders of $10m-20m or more, traders would deal off-line with a dealer, rather than revealing their intentions to the whole market through electronic trading.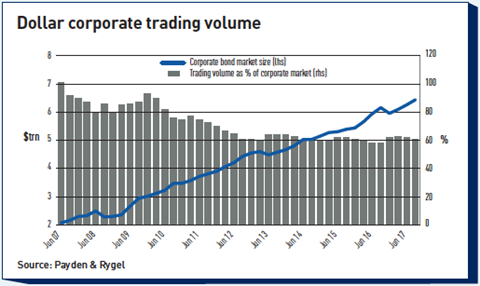 The new dynamic in the marketplace that could increase liquidity is through the newer electronic trading platforms that are aimed at matching trades in the dark pool of peer-to-peer trades. Platforms such as Bloomberg and Liquidnet are aimed at persuading asset managers to trade large blocks anonymously. These differ from MarketAxess and Tradeweb which are auction-based, requiring fund managers to post a list of trades and then giving market participants 10-15 minutes to respond.
However, the newer platforms are finding it difficult to gain traction. "You must have people on the platforms before other people will come. As a trader, you need to find liquidity quickly and you often don't have time to wait for matching to compete your trade," says Freel. The idea that clients will necessarily be attracted to innovation does not always apply to trading systems, Freel notes.
Firms such as Invesco are keen on looking at the new platforms, most of which are only two or three years old. Volumes are picking up, but Freel does not see market sharing eroding much of the business of the market leaders. As he explains, post crisis, liquidity is one of those things that is a lot more critical to have when it is required. "If you are engaged with these other systems and you are in desperate need of liquidity in a certain position, you may find it in one of the smaller systems. If any one of the systems really does manage to stand out, we want to be involved and engaged with that system from the beginning."
The rise of aggregator platforms has enabled traders to interact with several separate platforms through one dashboard showing where liquidity is available on several systems. That could bring liquidity to the less substantial providers, according to Freel. But even with the aggregator tool, the ability of the smaller players to be successful is still not proven.
The problem they face is that it is a winner-take-all environment – no one would bother competing with Facebook in its core activities. Similarly, there is only a point in competing with MarketAxess if the rival platform offers something new, according to Boneno. But that is a difficult battle to win since the incumbent players can quickly incorporate new ideas from competitors that the marketplace looks likely to adopt.
Investment Grade Credit: Will the global rally last?
1

2

Currently reading

Liquidity: Search for liquidity widens