The deepening of capital markets should benefit investors in private equity
Key points
Investors face a liquidity mismatch between the investment vehicles and the underlying assets
With public market returns declining, the average public pension plan allocates almost 50% more to alternatives than it did in 2008
Flexible capital solutions have emerged, because of the saturation of private debt and secondary markets
Investors should cheer the deepening of capital markets
The adage that markets stay irrational longer than investors stay solvent is something Neil Woodford will have pondered in the lead-up to the collapse of his investment firm in October.
Following the underperformance of his funds and the inability of investors to redeem their commitments, Woodford was removed as manager of his flagship Equity Income fund before calling time on Woodford Investment Management. What went so wrong?
Fundamentally, the problems stemmed from the liquidity mismatch between the investment vehicles and the underlying assets. When certain investments underperformed and investors sought to redeem their investments, his funds struggled to create liquidity from several fundamentally illiquid assets. As a result, the problems compounded and caused a flight of capital that could only be averted with the suspension of withdrawals.
Essentially, while a deep liquid market exists (in portfolios of public equity and debt instruments) to release capital when necessary, the same solutions do not exist for private companies and private asset managers. Similarly, the same mature capital markets that provide flexible and inexpensive financing solutions for public companies and asset managers are less available to their private counterparts.
When private equity represented a tiny fraction of the overall equity allocation of public pension plans, this was only of small concern: If public equities can deliver annual returns exceeding 10%, why would investors seek similar returns from private equity in exchange for higher fees and lower liquidity?
Today, however, with public yields and absolute returns declining, the average pension plan allocates almost 50% more to alternatives than it did in 2008, with this increase coming at the expense of public equities. Therefore, as part of a trend of LPs seeking to optimise the way they partner with GPs, it is becoming important for investors in private assets to know how and if they can exchange long-term upside for short-term liquidity.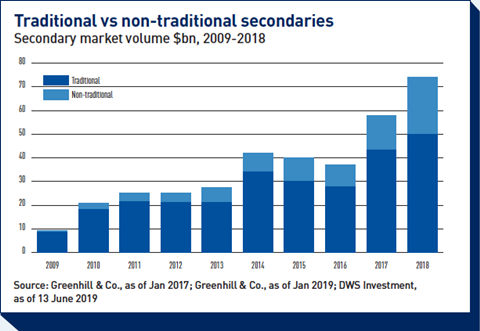 Similarly, for the private equity fund managers themselves, the ability to unlock the value built up within a portfolio (but unreachable for up to 12 years) is enticing. How could they use capital to continue supporting portfolio company growth? Can they use capital to expand an existing investment team at the private equity firm itself?
Since the financial crisis, permanent equity capital solutions have addressed this problem. What was an enclave of the hedge fund market has expanded into private equity.
Similarly, flexible and more temporary capital solutions have emerged, partially because of the saturation of private debt and secondary markets.
In addition to existing firms branching out, specialists have emerged. For example, 17Capital offers investors in private equity portfolios preferred equity or debt financing solutions to unlock capital while retaining the potential upside.
For investors in private companies and private equity funds: What are the risks that come with this? As it relates to permanent capital solutions (that is, minority stake sales), what effect might the reducing alignment of general partnerships have on strategies? What effect might an increase of the value of fee-producing AUM have on fundraising?
In the case of temporary capital solutions the strategy is attractive for LPs; the potential to deliver returns secured against the distributions from more diversified portfolios is compelling. The main risk is that illiquidity cuts both ways. The same dynamic that created the opportunity can also lead to situations in which, during a recession, companies remain in portfolio longer, thus delaying repayments.
Ultimately, investors in private equity should cheer the deepening of capital markets. This evolution is in response to demand seeking to optimise their portfolios from a cost and duration perspective. As a result, the illiquidity of private equity is falling.
Would this have helped Woodford? The ability to unlock capital from his private assets (without being a forced seller) may have helped but the market is still nascent. It will be years before private capital markets possess the same depth as public markets.
Ed Stubbings is a senior vice-president in Houlihan Lokey's private funds group. He is writing in a personal capacity
Private Equity: Finding the right metric
1

2

3

Currently reading

Liquidity Solutions: Facing the illiquidity challenge

4