Professional stock-picking and portfolio construction are still valid strategies
Key points
• Trend-following has become commoditised so commodity trading advisers (CTAs) are diversifying into other strategies
• Sustained divergence trends, not volatility, are likely to see CTAs and managed futures return
• Some larger investors are starting to look at harvesting trend-following risk premia directly
February's bloodbath in the markets saw $2.5trn (€2.1trn) in losses on the S&P 500 as volatility struck. Even hedge funds were not spared. They were down 1.75% for the month, yet currency futures, a small sub-section of the hedge fund spectrum, had their best month this year so far.
According to the HFRI indices, currency funds returned 1.54% in February, sandwiched between a negative 1.31% and minus 1.17% in January and March, respectively, prompting some to ask whether currencies are the 'crisis alpha' that everyone seems to be talking about.
According to Dr Kathryn Kaminski, who coined the term in her white paper In Search of Crisis Alpha: A Short Guide to Investing in Managed Futures, crisis alpha is simply managed-futures strategies that profit by exploiting the persistent trends that occur during times of crisis.
So why did the other commodity trading advisers (CTAs) not perform well during this period? First, some that pursue trend-following strategies, which make most of the assets among managed futures, have become too commoditised.
"We were concerned by the level of equity beta in these strategies at the start of 2018 and were not surprised by their performance in February as a result," says Akshay Krishnan, head of macro and trading strategies at Stenham Advisors in London.
"We currently have no exposure to CTAs and managed futures across our portfolios as we believe medium-term trend-following has become extremely commoditised, even if historically we have had up to 20% in our macro-oriented portfolios," he says.
Second, looking at the CTA Performance data compiled by Equinox Fund Management, three of the 14 managers had positive returns in February 2018, backing the argument for professional selection and portfolio construction owing to the plethora of sub-strategies and performance dispersion among managers within the managed-futures space.
For example, Quantica Capital Managed Futures Program was the top performer, up 10.88% in 2017, while the Quest Partners Tracker Index Program was down 3.36%. The previous year, Campbell & Company's Managed Futures Portfolio was down 10.14%, while the top performer in 2016 was Quantitative Investment Management's Global Program, which was up 16.69%.
"The challenge for investors today is finding managers that are an alternative to straightforward 'trend-following' – which can be easily accessed at low cost – but yet still offer a compelling non-correlated return profile with a high Sharpe ratio. The best of these in the space tend to be very-low-capacity strategies and are either already hard-closed or the talent has already been snapped up by some of the big platforms," says Tim Wilkinson, head of investment research at Aurum Research.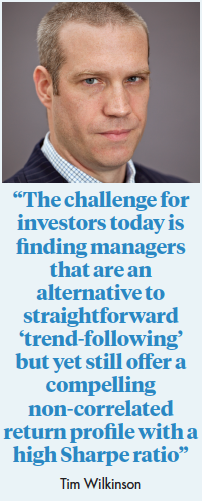 "To achieve this 'crisis alpha', CTAs and managed futures have to be part of a portfolio-construction solution," says Duncan Wilkinson, chief executive officer of AlphaSimplex, the $7bn managed-futures affiliate of Natixis based in Cambridge, Massachusetts.
"When there is a true crisis, as opposed to a correlation, you need something different and additive in your portfolio that has the potential to profit beyond being long equities," explains Wilkinson. The firm's conviction in properly constructed managed-futures portfolios is so strong that it recently hired Kaminski as chief research strategist.
From a performance perspective, the validity of managed futures – a strategy pioneered in the 1950s by Richard Donchian, founder of Futures Inc – in an investor's portfolio remains in question. In 2017, CTAs were only up 3.24%, when equities were still rallying and hedge funds were up 11.41%*.
But asset growth tells a different story. CTA assets grew by 11.3% to reach $279bn by the end of 2017, according to the 2018 Preqin Global Hedge Fund Report. Teachers' Retirement System of the State of Illinois and the Colorado Fire and Police Pension Association were among those that added CTAs to their portfolio in 2017.
Divergent
The two US pension funds allocated a total of $130m to a Paris-based systematic firm called KeyQuant. "As a 'divergent' strategy, CTAs should be a core part of the portfolio to provide uncorrelated returns and emphasise crisis alpha to mitigate risk at a time of global crisis," says KeyQuant co-founder Raphaël Gelrubin.
Although Mick Swift, research director at Abbey Capital, a $6bn managed futures multi-manager, does not see CTAs as a 'crisis' play, he does see a growing need to have them in the portfolio as an absolute-return strategy in their own right. "With interest rates rising, we are going to see the need to rebalance and diversify portfolios with strategies that are uncorrelated over time," Swift says.
Christopher Reeve, director of investment solutions at $8bn systematic manager Aspect Capital, sees CTAs returning to favour but not because of volatility. "CTAs don't make money from volatility itself, but from any sustained directional price trends going on. Divergent action from the central banks and the slower exit from quantitative easing by Europe and Japan may help provide different opportunities," says Reeve.
"We believe that volatility is returning, there are changes to the structures of the underlying markets and inefficiencies could return," says Matthew Sargaison, co-chief executive officer at Man AHL.
But is there another way to gain CTA exposure? The UK's £13bn (€14.7bn) Local Pensions Partnership (LPP) and Sweden's AP1 assume so. LPP has created several asset class investment funds, with the soon-to-be-launched Total Return fund housing a range of strategies including trend-following CTA-style managers.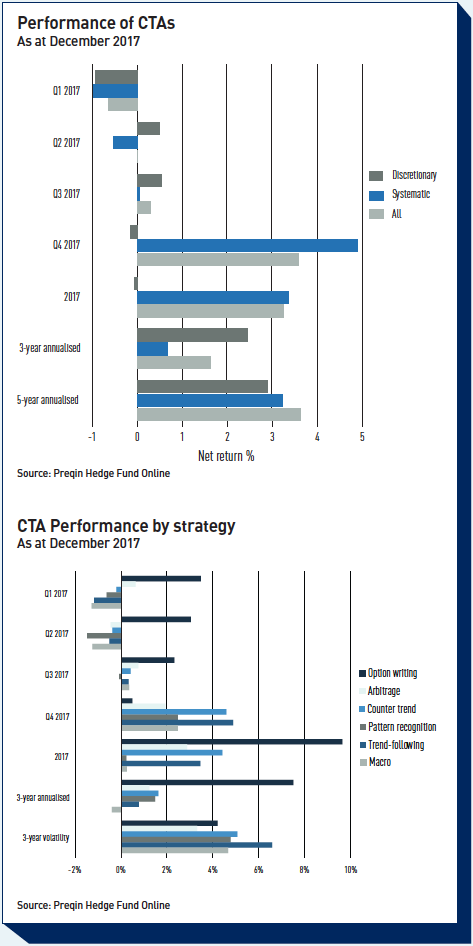 "We look to allocate to many different sources of return, including value, carry, momentum across asset classes on a market-neutral basis; we are also looking at whether we can do some of this ourselves," explains Richard Tomlinson, head of investment strategy at LPP.
"In Total Return we look to allocate units of risk, not units of cash. Unfunded strategies, including CTAs, give us economic exposure to trend-following without a significant cash requirement; with appropriate risk modelling, we can use this liquidity to support more cash-intensive return drivers like property catastrophe reinsurance," adds Max Townshend, LPP's investment director.
"It has been a difficult time for trend-following strategies to generate returns since we started to invest in trend-following. Despite this, we are convinced that the strategy makes a lot of sense for a fund like us to have exposure to, since it reshapes our return distribution in an attractive way," says Martin Källström, head of alternative investments at AP1. "Therefore, we are now taking an evolutionary step to insource trend-following strategies with the ambition of making it more efficient and more impactful," he adds.
"We see the value in having trend-following but it shall not be part of our idiosyncratic alternative-investment portfolio and warrant a capital allocation. We are developing a trend-following return stream internally with some banks on an unfunded overlay basis," Källström explains, adding: "From a fee basis, we only pay for the transaction costs in our trend-following strategies. We are currently selling down our trend-following managers and the new mandate should be complete by the end of the first half of 2018."
Adaptation to survive
So, if some investors no longer see the value in trend-following and other allocators are harvesting the trend-following risk premia themselves, how are the existing CTAs staying in business? Aspect Capital and Man AHL have both diversified their offerings. "We now offer a flat fee, lower volatility, daily fund offering momentum-based returns," says Aspect's Reeve.
"We have done a lot of work outside the trend-following space and applied our quantitative skills in other ways," says Man AHL's Sargaison, adding: "One of our aims with our ongoing research is to provide idiosyncratic returns across more asset classes".
Offering bespoke portfolios is another innovation. "More than 80% of our business today is institutional and we are often asked to create bespoke portfolios. We have spare capacity to trade in the liquid markets, so are able to offer a variety of portfolio solutions," says Sargaison.
Equinox Funds, which runs one of the first actively managed CTA multi-manager mutual funds in the US, recently created Ampersand Portfolio Solutions to offer bespoke portfolios and overlays. "In today's environment, it is important to be flexible on fees and structure. We strongly prefer to be paid for performance," says Rufus Rankin, director of research at Equinox.
"It's true, the emergence of new risk premia players using some of the same levers as the CTAs has seen investors ask 'what are we getting for our money?' But it is important for them to also remember that established players can bring more sophisticated portfolio construction and execution techniques that should improve the eventual returns for investors," says Diane Miller, principal at Mercer in London.
"The challenge for investors today is to understand what they are buying in the spectrum of CTAs but the argument for them, namely diversification, less correlated return generation and liquidity, remains sound," she says.
Hedge Funds: Activist funds turn up the heat
1

2

Currently reading

Managed Futures: In pursuit of 'crisis alpha'

3

4