• Providers are scrambling to boost distribution capabilities for ETFs
• ETF managers have featured in recent merger and acquisition activity
• Some commentators are sceptical if institutional investor interest is genuine
The asset management arms of JP Morgan and Goldman Sachs have bolstered their European exchange-traded funds (ETFs) teams with a series of senior hires, throwing a spotlight on a sector overlooked by pension fund investors.
A combination of growing interest and an expanding market has seen ETFs come to the fore as institutional investors look beyond traditional equities and fixed income opportunities.
"We see strong demand in this category," says Nick Phillips, head of the international retail client business at Goldman Sachs Asset Management.
He is not alone. European asset managers are watching, and looking to institutions as well as individual savers.
"Passive investing – using passive mandates, index funds or ETFs – is now mainstream among pension funds," says Simon Klein, head of passive sales for Europe, the Middle East and Africa (EMEA) and Asia Pacific at DWS, the asset management arm of Deutsche Bank.
DWS has "significantly expanded" its European ETF distribution team, Klein adds.
Last month, JP Morgan Asset Management (JPMAM) listed four fixed-income ETFs on exchanges across Europe. "We see particular opportunities for growth and adoption of fixed income strategies within ETFs, which is why we're heavily investing in this space," says Bryon Lake, the firm's head of international ETFs.
Competition is intensifying. As well as JPMAM's launches, Invesco listed Europe's first ETF tracking the Saudi Arabian stock market last month, while China Post Global launched a smart-beta ETF focused on the A-shares market.
Franklin Templeton listed a range of European ETFs last September, and Caroline Baron, its head of ETF sales for EMEA, says there is still potential for the market to grow. It remains only "a very small fraction of the overall mutual fund world", she adds.
This potential for growth is critical for asset managers, says Deborah Fuhr, managing partner at ETFGI, the research and consultancy firm.
The current European ETF market totals just over $800bn (€689bn), according to ETFGI. Yet conservative estimates suggest that this figure could surpass $1.5trn within five years.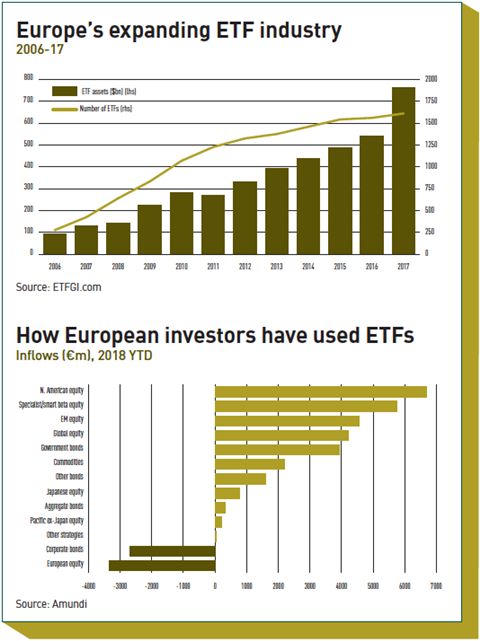 IPE's annual Top 400 Asset Managers survey has tracked the growth of passive investments, which have added assets faster than active strategies for much of the past decade. As a result, traditionally active fund managers have added passive provision – including ETFs – to their ranges.
The wave of consolidation that has swept across the sector includes Invesco's purchases of the $36.7bn ETF arm of Guggenheim Investments last October and ETF firm Source in April 2017.
Also last year, Legal & General Investment Management, acquired Canvas, the Ucits ETF platform of ETF Securities.
As strategies evolve away from 'plain vanilla' index-tracking, branching out into smart beta, interest from institutions and cautious pension funds is growing, says Lisa Kealy, European ETF leader at EY.
"If you look at just equity ETFs, they account for only about 4% of the overall equity industry; and fixed interest for less than 1%," she says. "I think [the sector's] got untapped potential."
According to EY, the industry has been growing at an annual compounded rate of 25% since 2013.
The cost question
While ETFs remain cheap, passive mutual funds have been seen as cheaper. In the UK, the Financial Conduct Authority noted last year that the average passive fund fee was 15bps (compared with 90bps for active). Figures vary as to the average European ETF fee, but in the US some are available for only 10bps – although this doesn't include trading.
This impression could change, however. With additional competition comes increased pressure on fees, and the past few months has seen asset managers cut overall costs.
VanEck recently slashed the fee on its $4.6bn emerging market bond ETF by a third, while BlackRock has moved to reduce costs for 11 of its equity and bond ETFs. In March, Lyxor launched four new ETFs within its 'core' range with charges starting at 4bps – "the lowest cost in Europe", it claimed.
This is a trend "set to continue", says Philipp Schlegel, managing director of international business at VanEck. In response to growing demand, the company is launching further products dedicated to the European market.
Amid the fanfare, not everyone is convinced, however – not least whether pension funds are actually adopting the vehicles as part of their overall portfolios.
"As far as we can make out, pension funds don't use ETFs very much," says Andy Barber, a research consultant at Mercer. "They're not particularly widespread."
Barber's point is not that the market isn't growing exponentially, but that pension funds usually opt for more traditional choices within the mainstream asset management world.
"Most pension funds don't tend to get into very specialist allocations," he notes. "It is very unusual for a pension fund to want to buy the oil or financial sector, which you might use an ETF for. They seldom tend to get that granular."
Barber says he recognises the potential for rapid growth, but finds it unlikely that pension funds are set to follow other institutions – and retail investors – wholesale into the ETF marketplace.
"It may change," he says, "but I don't see much sign of that happening yet."
IPE will publish a dedicated ETF Guide in the autumn