Smaller pension schemes have to overcome hurdles if they are to invest in private equity
Key points

The illiquid character of private equity poses challenges for smaller pension schemes
Schemes may need to give tax indemnities
Private equity funds prefer larger over smaller investors
The biggest barrier is fees
Pension schemes' long-term investment horizons should allow them to take advantage of private equity's illiquidity premium. But this asset class poses challenges for smaller defined benefit (DB) schemes and defined contribution (DC) schemes.
Asset managers are working to tackle these difficulties by developing fund structures which make it easier for a wider universe of investors to allocate to private equity.
The first hurdle for trustees is the complexity involved in private equity investing. Jonathan Greenwold, head of legal, risk and compliance at the Asset Management Exchange, says: "It's very different to holding some units in a unitised fund."
Investing in private equity requires a detailed partnership agreement which is often heavily negotiated between the manager and the investors.
"As private equity funds are usually tax transparent, a scheme becomes an asset owner from a tax perspective which requires taking part in investment committees and carrying out specific due diligence on those businesses," says Greenwold.
Trustees may also need to sit on the fund's advisory committee or board which consults with, and provides advice to, the manager, in particular, on conflicts of interest or valuation questions.
As private equity funds are fiscally transparent, the scheme may also need to give tax indemnities. "In other words, they promise to reimburse other investors if fund investments are unexpectedly taxed because of that scheme's own tax treatment," says Greenwold.
This can be expensive – it cost a scheme as much as £50,000 to £60,000 (€58,000 to €70,000) to carry out this tax due diligence, he says.
While larger DB schemes will have the scale to provide the expertise to meet this governance burden, it is much harder for smaller DB schemes. Philip Dawes, head of sales for UK and Ireland at BNP Paribas Asset Management, says: "These schemes lack the size to access private equity vehicles."
Dawes worked with the UK auto-enrolment pension scheme NEST for two years to start an open-ended diversified private credit portfolio, ensuring it was structured to enable DC master trust to accommodate illiquid assets.
Private equity funds also tend to favour larger investors over smaller ones. "A manager wants a small number of relatively large investors rather than 50 small ones," he says. It can also be harder for smaller schemes to negotiate fees and achieve a diversified portfolio.
Fund managers are developing structures to reduce some of the complexity. These could also make it easier for smaller schemes to broaden their spectrum of private equity investments.
Greenwold says: "The challenge is to convert complex partnership structures into something which looks and feels like a standardised fund."
This would allow investors to disregard the tax and liability issues as well as the complexities of direct private equity investing. Greenwold says: "An investor could instead focus on the net asset value per unit and would receive a quarterly or monthly statement."
One solution is to wrap these investments into a standard open-ended collective investment fund. However, the mismatch between the liquidity of the fund structure and the underlying assets needs to be overcome.
"Providers can seek to get round this by giving a very long lock up – as much as five years – and annual redemptions requiring a notice period of up to 12 months," says Greenwold.
Investors still need to be aware of the potential liquidity mismatch between the fund and assets, as well as any nuances in the investor capital contribution requirements or fee structure, he says.
DC troubles
It is more complex for DC schemes to invest in private equity. Stephen O'Neill, head of private credit at Nest, says: "DC and private equity are not natural bedfellows from a commercial perspective although the investment case is sound."
The biggest barrier are fees. O'Neill says: "Virtually all private equity companies charge a fairly high management fee and a performance fee." Typically managers charge 2% management and 20% performance.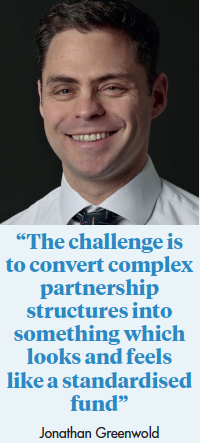 This creates an accounting challenge. The methodology used by Nest to account for fees paid to fund managers makes performance fees on illiquid assets hard to measure. "That's because those fees are only billed to the fund after the performance has been realised while Nest has to accrue this fee on an almost daily basis," says O'Neill.
The other issue is the fees are so high that operating in an environment with an investment management charge cap makes these difficult to accommodate.
O'Neill says: "Even if we were to see value in this asset class, we would only be able to allocate such as small amount that it would not be a worthwhile investment."
One way around this problem is to publicly list the investment fund and for to buy shares in the investment vehicle. O'Neill says: "This is similar to the real-estate investment trust structure."
While this is the simplest way to sidestep the performance fee of a direct private equity investment, it is a compromise. O'Neill says: "The performance of a share in a listed fund can be volatile and correlated to the broader equity market."
It is also hard to determine whether this structure provides value for money. O'Neill says: "Unless you take a forensic look at all the fees in the fund and take a view on whether there is still reasonable net performance, it hard to decide whether your investment is worthwhile."
There is also a governance issue. O'Neill says: "Owning a share in an investment trust makes it hard to have a direct influence over the selection and operation of the underlying assets."
While this is a compromise, this would be the easiest way for smaller DC schemes to access private equity markets as it has a minimal governance burden, he says.
O'Neill says: "This structure makes it much easier for smaller DC schemes to gain a diversified exposure to private equity by investing in multiple funds."
Another model is for the fund manager to securitise some underlying private equity fund holdings. This allows the fees to be treated differently to a normal fund of fund structure.
"Investing in a fund where the underlying exposures are through listed stocks or derivatives which in turn provide exposure to private equity lowers the total fee burden," he says.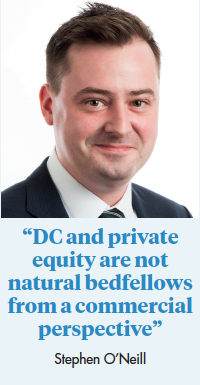 Yet another possibility is to take a private equity stake in a private equity fund so the performance and management fees are paid back to the investor as an owner of the fund. This gives the investor exposure to the underlying assets.
O'Neill says: "This model can be attractive but it is only really manageable for the larger schemes which are able to allocate a lot of money and carry out the required due diligence."
Fees are not the only problem for DC funds. These schemes are net cash flow positive so they need to keep allocating contributions. O'Neill says: "Whatever structure a DC scheme chooses, it needs to be an evergreen fund which keeps deploying capital."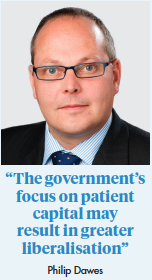 While investment trusts tend to be closed-ended, it is possible to have a company which grows by continuing to issue new shares allowing a scheme to continue to deploy new capital. O'Neill says: "The net-asset value of the fund will continue to grow."
Dawes says: "There has to be innovation in the types of vehicles offered to the market to allow DC schemes to access private equity."
BNP Paribas Asset Management overcame these challenges with the private credit mandate chosen by Nest. Dawes says: "Our fund has an open-ended structure to accommodate ongoing contributions and has a valuation methodology to ensure assets are bought at a fair price."
Regulatory changes may also enable a greater choice of fund structures. Dawes says: "The government's focus on patient capital may result in greater liberalisation increasing the options available to investors."
Private Equity: Finding the right metric
1

2

3

4

Currently reading

Market Access: Barriers to entry