German industry-wide pension fund MetallRente has recorded a reduction in the number of new pension contracts and contributions year-on-year in 2020.
The pension fund has added 53,873 contracts last year, compared to 86,422 in 2019. Growth in terms of new contracts was 11% below the average of the last five fiscal years, it said.
The amount on new contributions slipped last year to €63.91m from €100.08m in 2019. The average employee yearly contribution was €1,201 in 2020 compared to €1,192 in 2019.
The number of overall contracts rose by 5% in 2020 to 823,074 compared to 786,464 the prior year.The number of sponsoring companies in the pension fund grew by 1,900 to around 47,647 last year.
MetallRente's managing director Heribert Karch said the fund was "very satisfied" with its growth trajectory in light of "severe cuts" in all sectors of the economy.
The fund has hardly seen an increasing in the number of exemptions from, or cancellation of contributions compared to a period prior to the COVID-19 pandemic, it said. it has a low cancellation rate of 0.9 %. The share of exemptions from contributions was on average 4.1% over the year.
Quo vadis occupational pensions
Karch is convinced that occupational pensions remain the "most efficient" type of pension provision based on a "collectively secured balance" between opportunities and risks.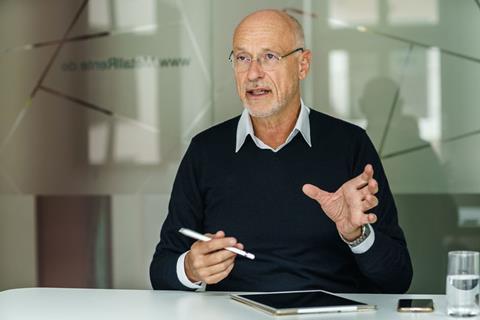 The recent figures published by the Federal Ministry of Labour and Social Affairs in the Alterssicherungsbericht 2020, however, are a cause for concern for the managing director.
The number of people entitled to occupational pensions in Germany has lost momentum in recent years, increasing from 20.5 million in 2015 to 21.0 million in 2019, according to the report published by the ministry.
"Contrary to what many debates suggest, we don't need new forms of subsidies for equities or sovereign wealth funds, but [to exercise] more practice in [finding] a financing compromise," Karch said.
For MetallRente, the second pillar of the pension system is best placed to support the participation of the employees in "productive [forms] of asset" allocation. The law reinforcing occupational pensions, Betriebsrentenstärkungsgesetz, has opened up new opportunities.
"Collective [form of] investments can combine returns with models that provide protection, thus saving the costs of regulatory requirements for guarantees," Karch explained.
MetallRente has put in place a special set of rules for deferring contribution payments for part-time workers since last spring to cushion the effects of the crisis caused by the pandemic.
The new rules, which helped 1,500 employees for an average period of five months, will continue to apply without amendments until at least 30 June.
In addition to the company pension scheme, MetallRente also offers coverage for occupational disabilities. Last year, 18,000 employees signed a contract for private forms of financial protection (AKS) in case of disabilities with the pension fund. MetallRente holds more than 128,000 AKS contracts.
To read the digital edition of IPE's latest magazine click here.