Impact investors must deal with the proliferation of metrics. Measurement and reporting are difficult, but key to success
Key points
• Some asset owners are increasingly interested in investing to achieve a positive social or environmental impact
• This is often based on the UN Sustainable Development Goals
• Impact investing, or 'system-level investing', is distinct from ESG
• More than 130 impact measurement initiatives have been counted
Let us posit that a wind of change is sweeping across institutional investment. If not across all of it then at least a part of it – the part that is already engaged with what will here be broadly referred to as 'responsible investment', albeit with some misgivings about the term.
The wind of change is about a broadening of investment thinking and practice to acknowledge the non-financial impacts that investments have. It is about investing with the deliberate intention of having a beneficial environmental or social impact, or both.
The existing term for this is impact investing. Current developments could also be conceptualised as the rise of 'system-level investing'.
This is how The Investment Integration Project (TIIP), a think tank, refers to "approaches that aim to increase the health, stability and resilience of the broader environmental, societal and financial systems within which they operate and upon which they rely to create long-term wealth".
The term is arguably better in that it captures the pivotal role played by the UN Sustainable Development Goals (SDGs) in spurring or encouraging the development in question. The TIIP says it provided investors with a set of goals "related to systems' health and stability, discrete targets within the goals, and indicators for measuring progress toward the goals and targets".
System-level investing does not seem to have taken hold as a term, however. Impact investing, the term we will therefore stick with here, is different from ESG integration, the approach that has been behind much of the growth in responsible investment in recent times.
With ESG integration an investor includes environmental, social and governance information in the investment decision-making process with a view to improving the risk-return characteristics of a portfolio.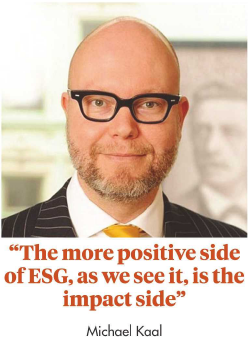 The approach has – at least ostensibly – nothing to do with wanting to make a difference to the world, or less prosaically perhaps, to achieve a positive social or environmental impact. It may have that effect but it is typically not a key objective or stated as such. The focus is on ESG factors as a source of risk or opportunity.
A few years ago the Unilever Dutch pension funds – which have €5.1bn between them – started to create an impact investing portfolio. Michael Kaal, CIO at the funds, reveals their thinking about ESG integration and impact. He says the pension fund saw ESG integration as "negative ESG" in the sense that it would end up with excluding a given company or security if it did not meet expectations after engagement. Although ESG integration would "probably" have an impact it would be over the long term and indirect. "The more positive side of ESG, as we see it, is the impact side," he says.
Eoin Fahy, head of responsible investing at KBI Global Investors in Dublin, refers to impact investing as "a step beyond" ESG integration.
In a similar vein, André Frei, co-CEO at Partners Group, the €62bn Swiss private markets manager that recently announced fundraising for a $1bn (€812m) impact fund, says impact investing takes responsible investment "one step further".
Kajetan Czyż, programme director for sustainable finance at the University of Cambridge Institute for Sustainability Leadership (CISL), suggests impact investing is the third phase of responsible investment, following a phase where ESG integration and risk management was the focus.
In this third, currently unfolding phase, "the penny has dropped", he says. "We have the Paris Agreement, we have the SDGs, we know what we're doing. Regulators are on board – the EU [sustainable finance] action plan is very ambitious – so we don't need to convince anybody about the risks anymore." The focus is now on "doing"; on financing solutions, he adds.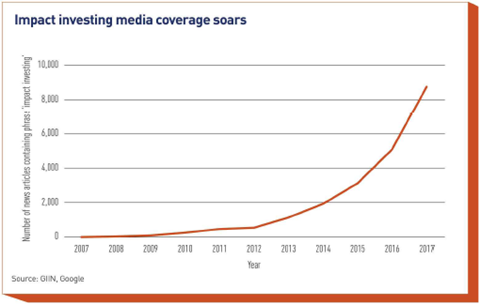 According to the Global Impact Investing Network (GIIN), an advocacy organisation, there has been "tremendous growth and development" in impact investing over the past decade.
Policymakers have also been paying attention to impact investing in recent years. The G8 recognised the importance of impact investing in 2013, when the group of leading industrialised countries – under the presidency of the UK – launched a task force on social impact investment.
More recently in the UK itself, prime minister Theresa May commissioned an industry taskforce to progress recommendations made by an advisory body about how to grow a culture of social impact investment and savings in the country.
In the EU, the European Commission has arguably embraced impact investing for an portant policy initiative, although it does not use the term. It has been clear about its wanting finance to help meet the EU's targets under the 2015 Paris Agreement on climate change. Its sustainable finance action plan has plenty of ideas for getting institutional investors to contribute to this.
Not so simple
As compelling as impact investing may be it is also not that straightforward – conceptually or in practice.
At the UK master trust NEST, which sits on the UK government's impact investing taskforce, head of responsible investment Diandra Soobiah says impact is "at the centre of every asset class decision and every fund manager selection" the pension fund makes. And yet for the moment the pension fund is careful when it comes to positioning itself with respect to impact investing.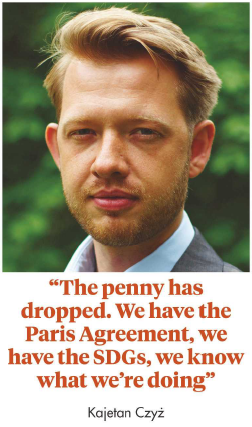 "We're quite reluctant to pigeonhole ourselves in a definition of impact for fear of upsetting other purely impact-focused investors because I think there is some worry and I guess apprehension in the industry at the moment about watering down what impact actually means," she says. "We do think it's important that the term impact is upheld and we wouldn't want to do disservice to that."
Still, she welcomes that it is possible to have discussions today about investments "whereby impact and good returns come hand in hand", as she puts it.
"It's raising the profile of investments so much more and ensuring that these opportunities around impact get considered in mainstream portfolios."
At the same time, barriers have persisted. "I still feel the industry needs to have a broader array of investment opportunities around this space that are investable for a wider range of investors," says Soobiah. "Much more scaleable investment opportunities would help widen the reach."
More also needs to be done around the concept of impact measurement, Soobiah adds. Indeed, it is generally not enough to say one is an impact investor and leave it at that. The GIIN says the commitment to measure – and increasingly to manage – impact is "a hallmark" of impact investing.
Ian Smith, emerging markets portfolio manager at AXA Investment Managers, writes in a forthcoming paper that reporting discipline – "giving a clear indication of the positive societal benefits that have come about as a result of the investment – is key in helping to establish impact investing's credibility in public markets".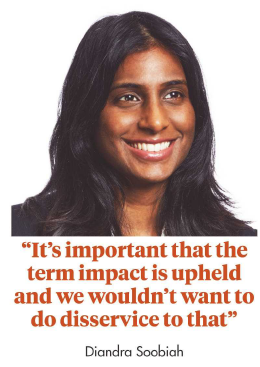 Measuring impact and understanding what it means is not easy, however. But investors and many advocates or 'field builders' are engaging with the challenge. Czyż says that CISL has counted more than 130 initiatives claiming to be working on impact measurement and reporting. Most of these link to the SDGs, but not all, he says.
A couple of years ago the Investment Leaders Group at CISL developed its own framework to help the investment industry measure its non-financial impacts and it is currently tweaking and extending it. Asked why it felt the need to develop its own approach, Czyż says it had not found a methodology that satisfied it. "One of the issues with impact investing is that it is so complicated," he says.
Indeed, the more you dig into it, the more there is to unpack and get to grips with. A lot of work in that vein has been done by the Impact Management Project, a collaborative, multi-stakeholder effort facilitated by Bridges Fund Management, an impact investment firm founded in 2002, and funded by, among others, large institutional investors such as BlackRock, Hermes Investment Management and PGGM. It says there are five dimensions of impact: what, how much, who, contribution and risk.
Another of what could be called the 'original' impact investment firms, WHEB Asset Management last year published data for the first time on the positive environmental impact associated with investing in its fund. It said it was important for the data it reported to be considered "in context".
"The measurement of the positive impact of products and services is still relatively new, with methodologies and protocols still being developed," it said in its 2016 impact report. "There is a range of methodological challenges in the data including concerns over the boundaries of company reporting and the potential for 'double-counting' of impact data, reporting of data over a consistent time period and accurately measuring or estimating product and service level impacts themselves."
Outputs vs outcomes
At KBI Global Investors, Eoin Fahy, head of responsible investment, says measuring and reporting on impact is "very difficult to do". KBI GI gives the example of a company that improves food safety. It is clear that it generates a beneficial social impact – preventing death and illness, the manager says. Less obvious, however, is how material that impact is relative to the size of an investment in that company or to the size of the total investment portfolio.
Another difficulty, according to KBI GI, is that companies' own impact reporting has been lacking and where data is available it is "often oriented towards output rather than outcome or impact".
Outputs, according to the GIIN, are the direct products of an organisation's activities, while outcomes are the changes that result from activities and outputs.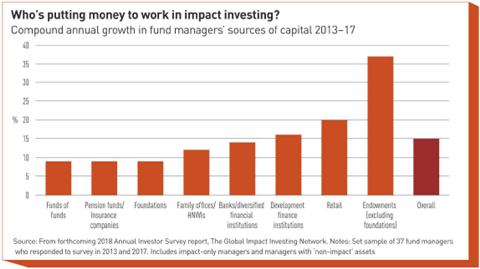 Fahy explains the difference using the example of Jain Irrigation, an India-based irrigation company that KBI GI invests in. The company installs drip irrigation, which uses less water than conventional flood irrigation.
For Jain, says Fahy, the output would be the number of farmers served or number of irrigation systems sold. The outcome would be higher crop yields and lower water use. The impacts, meanwhile, would include better farmer income, improved food availability, and a more sustainable water supply.
KBI GI says it made a "breakthrough" this year in quantifying the revenue impact of the constituent holdings in each of its natural resource strategies, which invest in the equity of listed companies whose products and services seek to address global shortages of clean and safe food, water and energy.
This involved the Dublin-based manager taking the total amount of revenue earned by the companies in the portfolios and then assigning that revenue to various business activities. For each business activity it then decided whether it had a positive, neutral or negative impact on delivering the SDGs. On a weighted basis it then calculated the percentage of any portfolio's revenue that was positively or negatively contributing to the achievement of the goals.
"We think that what we've done is something that in one sense is very simple but in another takes a lot of work," says Fahy.
Indeed, IPE was mistaken in its first impression that the manager could have calculated its impact footprint the day the SDGs were adopted.
Fahy says it may have been possible for the manager to start work on the project immediately, "but certainly not to report the results".
"This project took about six months from start to finish, involving not just very detailed analysis of revenues, but also much debate on methodological issues such as how to weight the results, and especially how to classify certain business activities that were – for want of a better term – "grey areas", he adds.
Measuring and reporting on impact is not straightforward. But it is important for the credibility of impact investing as it gets more attention from mainstream institutional investors. And if the endgame truly is to achieve the SDGs, then knowing the impact institutional investors have on the world is essential.
UN SDGs – friend or foe?
Adopted in 2015 by the UN General Assembly, the UN Sustainable Development Goals are a set of 17 goals to, in the words of the UN, "end poverty, protect the planet and ensure prosperity for all".
Each goal comes with specific targets to be achieved by 2030. Last July the General Assembly adopted a framework of indicators and statistical data "to monitor progress, inform policy and ensure accountability of all stakeholders".
The second goal, for example, sets targets in relation to small-scale food producers and sustainable food production and agriculture, with indicators such as the average income of small-scale food producers and the proportion of agricultural area under productive and sustainable agriculture.
The goals quickly captured the imagination of European institutional investors. APG and PGGM in the Netherlands and Nordic pension investors were quick off the blocks in terms of, variously, expressing commitments to invest in line with the goals, explore their 'investability' and just generally trying to understand how they could use the goals as a framework for their investments.
Today, it seems hardly a day goes by without an asset manager making an announcement about a new investment product or approach that incorporates the SDGs.
But there have been words of scepticism and warning, too. Asset managers such as WHEB and Schroders have questioned the suitability of the SDGs as an investment framework. WHEB's head of research Seb Beloe did it nearly two years ago, when, in a blog post, he concluded that the SDGs offered "rather limited utility as an explicit investment framework".
This March, Andrew Howard, head of sustainable research at Schroders, expressed concern the SDGs were being "misappropriated and misused".
"Most of these measures are directed at systemic challenges that investors and companies have no direct mechanism to address," he wrote in a comment piece.
Special Report: Impact Investing
1

2

3

4

5

Currently reading

Metrics: Change and the challenge of measurement

6

7

8

9