---
Millennials are already changing the face of business and lifestyle. Christopher O'Dea looks at how this new-technology era is affecting economies and investment
At a glance
• The Millennials are the generation of individuals born between 1980 and 1999.
• The demands of this new digital generation are already reshaping the economy.
• Millennials themselves are simply the most obvious manifestation of the development of new technologies.
• These digital natives typically earn less than their parents, are willing to live in small spaces and often socialise in coffee shops.
Books. Films. Academic studies. They have all tried to make sense of Millennials and the idiosyncratic work, lifestyle and economic preferences of the first cohort of the digital age to reach adulthood. A singular explanation remains elusive, but one thing is clear – Millennials are already having an economic impact, if only due to their sheer numbers, and their influence will increase in the next decade.
The most direct impacts will include continued growth in digitally-driven new businesses and the redirection of massive spending power to products, services and providers that are both available digitally and consistent with the social values underlying the Millennials' consumption decisions.
Some less direct, but equally important, effects of the rise of the Millennials will be the emergence and expansion of neighbourhoods that reflect the habits of the digital generation. These are most likely to arise in urban areas that enjoy adequate digital infrastructure, high adoption of online methods of marketing and obtaining goods and services, and a labour force skilled in digital technology and related creative industries.
These trends have already created new industries and thousands of new companies, and the investment industry is taking notice. Major investment firms project that Millennial consumption will continue to spur the formation of new businesses and also create winners and losers among incumbents in sectors ranging from consumer products, hotels, food, housing, fitness and apparel.
As they seek to understand how the digital generation will affect the performance of companies, investment firms are also learning that Millennials want advice on the same terms that they enjoy from other businesses – digitally-delivered, socially conscious, inexpensive, and networking-oriented.
But there are challenges. Pay is low; it remains to be seen how the digital generation adapts its values as it ages, has children, and faces life's ups and downs. And despite the team-oriented chatter that dominates digital workplaces, the digital economy is based on a winner-take-all mentality that brings its own stresses.
Millennials – or generation Y – are people born between 1980 and 1999. By 2025, they will comprise more than 25% of the US population, and the older half will be entering their peak earning years, according to UBS Wealth Management. In 'The Rising Millennials', UBS says that the older half of generation Y will be entering its peak earning years by then. "Generation Y will likely be a significant growth driver for years to come," UBS says. "Companies would be well-advised to align their business models with this generation's consumption needs and preferences. We expect certain innovative technology companies, wellness-focused brands, and service-orientated industries to experience a growth tailwind from the rising Millennial population."
As digital natives who grew up with cable TV, mobile phones and the internet, they incorporate technology to save time in nearly every facet of their lives. More than 60% of the time spent on the internet in the US as of October 2014 was logged via smartphones and tablets, according to comScore, an analytics company. Nearly 60% of Millennials use mobile devices to check user reviews and make in-store price comparisons while shopping, almost double the usage by people of other generations.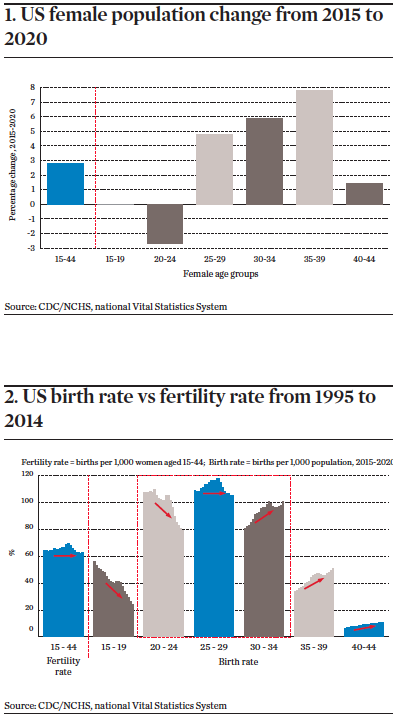 Capitalising on the spending of all these app-slinging consumers can be a tall order. Goldman Sachs suggests investors focus on one segment of the digital cohort. Millennial Moms, Goldman Sachs says, will have the biggest near-term economic impact. "We see the $1trn (€886bn) that parents spend on children each year growing, but also shifting as Millennials' unique set of values and influencers – aided by technology – leads to new choices."
The most populous group of Millennial women, those aged between 23 and 26, is approaching the average age of a first-time mother, 26, while unemployment is improving and household formation growth is accelerating. Goldman Sachs expects that those factors will fuel a "continued increase in the number of annual births, which grew in 2014 for the first time in seven years". It is a powerful trend with staying power, Goldman Sachs says, because "less than 45% of children aged 0-17 had Millennial parents" in 2014 (see figures).
While this spending covers categories like housing, food, transportation, child care and clothing, Goldman Sachs says, "their affinity is greatest towards brands with authentic narratives that deliver a frictionless experience across physical and digital spaces". As if those demands aren't enough, "their attitude towards parenthood strikes us as being more idealistic and aspirational".
So just as the Millennials themselves are a new generation of adults, "many of the companies mentioned in this report did not exist a decade ago", Goldman Sachs says. The active lifestyle of Millennials has spawned a new category of premium pushchairs, including UPPABaby, Bugaboo, and Baby Jogger, which was acquired by consumer conglomerate Newell Rubbermaid in 2014. Baby carriers from BabyBjorn and Ergobaby have led to the reintroduction of hands-free mobility. In consumer electronics, technology has enabled devices like nanny cameras, baby monitors, and bottle warmers, while baby-tuned applications from Sproutling have brought wearable tech to the nursery.
But the impact of digital technology is not limited to helping Millennials buy nappies, or enabling the entrepreneurs in US tech enclaves to dominate distribution. While their sheer numbers have turned their demographic moniker into a brand of sorts, Millennials and their spending are only the most obvious manifestation of the broader shift that technology is causing.
That shift reflects a new set of motivations, social relationships and values that is forming as Millennials invent new ways of using technologies more efficiently or create new ways of resolving everyday concerns. The digitally-driven world that is emerging is a new way of life, says Douglas McWilliams, executive chairman of the Centre for Economics and Business Research, a UK-based think tank.
In his book, The Flat White Economy, McWilliams contends that digitally-skilled young people have created the model for this new economy in north-east central London. Named after the style of coffee preferred by denizens of digital living, the flat white economy is based on online retailing and marketing, the creative services and IT backbone that make online commerce work, and the existence of a pool of labour willing to accept modest compensation in exchange for membership in a social order based on displaying all the outward signs of membership.
The flat white economy blends the consumer demand side of digital commerce with the production and marketing side. Members may typically work in digital design firms to earn their livings, and consume in accordance with the outlines of the digital economy. Overall, says McWilliams, participants in the flat white economy do not have as much money as prior generations, and are willing to live in small spaces, using coffee shops and other café spaces for socialising.
Although short of cash, their spending patterns are driven by the need to self-consciously stay abreast of rapidly changing styles of clothing, dining, and IT gear. "They can't price their styles out of the market so, to keep ahead, their styles have to keep changing," McWilliams says. Work and play are conflated, with socialising serving to expand contact networks more than to relax. This pressure for creative socialising, McWilliams says, is intended to capture moments of "monetisable productivity" from the large workforces that digital companies employ.
That pressure highlights a weak spot in the new order. "The economics of the Flat White Economy startup are less obviously promising than those of businesses in the City," McWilliams says. The result is a skewed, "winner takes all" mentality where "for the few who hit the jackpot," profits can be enormous, while typical flat white companies pay badly – "just enough for employees to subsist in a backpacker's lifestyle".
All that has left Millennials fiercely independent when it comes to money. The financial crisis confirmed doubts young people already had about the investment industry. They take nothing at face value, want to be "shown the maths" and many plan to create wealth through entrepreneurial ventures rather than through investing savings from traditional career earnings. That is according to according to Michael Liersch, director of behavioral finance at Merrill Lynch's Private Banking and Investment Group and author of the report, Millennials and Money.
"We expect certain innovative technology companies, wellness-focused brands, and service-orientated industries to experience a growth tailwind from the rising Millennial population"
UBS Wealth Management
"Very few describe themselves as having a high level of knowledge regarding financial and investment matters," Liersch says. Instead, he says, "this generation harbours certain beliefs that risk preventing them from developing a fully productive relationship to investing."
Having seen the market gyrations of the past decade, only 19% of Millennials in a Merrill Lynch survey agreed that financial advisers have their clients' best interests in mind. Many successful Millennials hold large amounts of cash, and values-based investing and impact philanthropy – where benefits are clearly quantified – appeal to Millennial clients.
Belief in entrepreneurship fuels the flat white economy, and will drive growth in digital companies and the urban neighborhoods that sprout wherever Millennials encamp, says McWilliams. At the same time, Goldman Sachs says although we do not know how Millennials' values will evolve as they get older, the one constant will be change. "We are still in the infancy of this theme," Goldman Sachs says, "and are likely to be introduced to changes in values, companies and business models as it develops."
Demographics: Global Growth - Doldrums ahead
1

2

Currently reading

Millennials: Cafe culture comes to Wall Street