Rising interest rates are feared by bondholders, as they could lead to falling bond prices. Equity holders, on the contrary, traditionally benefit from such contexts, as they tend to indicate an improving economy.
But there are situations where equity holders should fear rising interest rates as well.
Consider a portfolio that is largely composed of shares from highly indebted firms. Such firms are likely to be negatively affected when interest rates rise, as the cost of their debts will rise. Hence the portfolio might underperform the market.
Such portfolios could actually be more popular than one might think. For instance, minimum variance portfolios, widely used in recent years for their defensive nature, are often overweight utilities and telecommunication services, as illustrated in figure 1. These firms are comparatively more indebted.
Indeed, the average debt-to-equity ratio per sector differs quite significantly. This results from the typology of firms that compose this sector. For instance, firms with stable revenues and costly fixed assets, such as utilities or telecommunication services, take more leverage. In addition, the selection of stocks that is inherent to minimum variance leads to a bias to the least volatile ones within sectors. They tend to be shares of firms with more predictable revenues that are more prone to take leverage. Consolidating sector allocation and stock selection biases leads to an average debt-to-equity ratio of 160% for the minimum variance portfolio. This is a substantial increase, as the market average ratio is around 130%.
Consequently, such equity portfolios, where debt exposure is biased towards more leverage, feature a higher sensitivity to duration risk. Figure 2 shows the duration difference between a theoretical minimum variance portfolio and the market. As highlighted, the duration of the minimum variance portfolio is superior to the market the vast majority of time. In such situations, the portfolio is more exposed to setbacks during rising interest rates.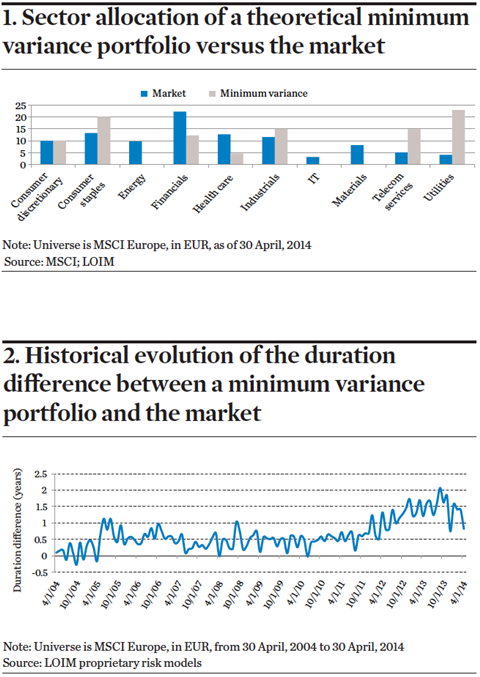 Our computations show that a minimum variance portfolio exhibiting close to one year more duration than the market, as illustrated today in figure 2, would underperform the market by one percentage point, should interest rates rise by one percentage point, everything else being equal. If, in addition, equity markets generated 10% performance, supported by an improving economy, then a minimum variance portfolio could underperform by 5-6 percentage points. This significant underperformance would be the combination of defensiveness and increased duration.
This example illustrates that an equity portfolio holder might not be immune to interest rate risk. Having this in mind, an investor may wish to control this duration bias, either by neutralising it, or by increasing or reducing it. This would depend on its investment objectives.
We believe that an efficient portfolio construction methodology to control duration risk is to combine risk parity, also referred to as equal risk contribution, with an appropriate filtering of the investment universe.
Risk parity is a methodology where capital is dynamically allocated to stocks such as to maintain an equal contribution of risk within and among sectors and/or regions. As such, it places risk at the heart of portfolio construction, as does minimum variance. But it invests more broadly. Therefore, sensitivity to equity market movements and duration can more easily be tailored to investor's needs. This is done by filtering the initial investment universe.
Depending on the expected duration risk sensitivity, the filtering process may exclude either the more or the less-leveraged stocks. This helps to combine the risk parity benefits of a robust, well-diversified, balanced and scalable equity portfolio, with the customisation benefits of an investment universe that has overall an exposure to the duration risk that suits investors' needs.
Mehdi Guissi is head of insurance and pensions solutions at Lombard Odier Investment Managers