Since 2011, PGB has almost doubled its number of participants to 235,700 from pension funds from a diverse range of sectors
Key points
• The PGB pension fund, originally for the printing industry, has absorbed a broad range of schemes
• PGB runs two plans – average salary arrangements against a basic contribution of 24%, and a defined contribution scheme
• PGB's board has started doing scenario analyses for the possible consequences of new legislation
A diverse range of companies and sectors has joined the self-declared 'magnet scheme' PGB pension fund. Among the first were publishing firms which placed pensions accrual of their non-graphics staff with PGB. They were followed by the paint and printing ink industries, as well as by cardboard and flexible packaging. Paper, synthetic materials, rubber and glue followed soon after. The same went for companies in the chemical and pharmaceutical sectors.
Next were the industry-wide schemes for marine fisheries as well as flowers and plants. In the meantime PGB had become a home to company pensions in the financial sector as well as in the dredging and oil industries.
"In 2011, when we had 40,000 active participants, the printing sector was facing an enormous loss of jobs. We expected that two-thirds would vanish," says Ruud Degenhardt, PGB's chairman, the challenge. "We concluded that scaling up was the solution, and that only opening up to other sectors and companies would offer sufficient potential.
"However, growth had also to be restrained, in the interest of the participants," says Jochem Dijckmeester, a trustee at the scheme, "because growth isn't a goal in itself. We want a pace that enables us to properly accommodate newcomers, and to thoroughly integrate their pension arrangements into our structure. New schemes can't join at the expense of our existing members."
Initially, PGB planned to accelerate progress by seeking co-operation with the €6bn non-mandatory sector scheme PNO Media. However, the media scheme did not take up the invitation, as it wanted to see how the consolidation process in the pensions sector would develop.
Initially, PGB had to swim against the tide, as many insurers accused it of cashing in on its position as a mandatory sector scheme to attract other schemes. Degenhardt says: "We found the Pensions Federation on our side, and Jetta Klijnsma, state secretary for social affairs at the time, ultimately concluded that different industries could join a mandatory scheme if both employers and workers wanted to."
According to Dijckmeester, pension funds find PGB attractive because of the flexible benefits as well as contribution-based arrangements it offers. He emphasises that the scheme's goal is not to compete: "We don't do acquisition. Parties just approach us. We continue our growth strategy but we won't extend our scope any further, as we don't want to work in the backyard of the large industry-wide schemes."
He expects that growth will slow down as consolidation has entered a new phase and potential newcomers are larger players now, which would make merging processes more complicated.
Degenhardt says the arrival of the new general pension fund (API) has affected PGB's growth as it is a competitor. However, he also sees a benefit from the new vehicle. "Competition forces us to improve."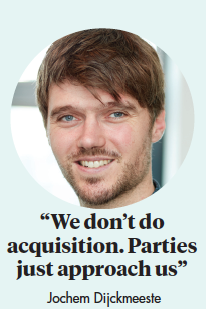 PGB offers two plans: average salary arrangements with a basic contribution of 24% as well as a defined contribution (DC) scheme, offering social partners in the individual sectors the option of variants on these offerings.
Annual pensions accrual in the defined benefit (DB) basis plan is 1.75% of the pensionable salary. Both sectors and companies can make choices about pensions accrual, a partner pension, the franchise – the salary part that is exempt from accrual – as well as exemption from contribution in case of labour disability.
PGB now implements collective DC arrangements for 69 companies and also offers individual participants the option of additional pension saving as long as they stay within the fiscal limits. More than 2,900 participants are using the option. Together they have accrued savings of €45m.
Since 2016, 6,300 workers in the flowers and plants wholesale sector as well as in fisheries take part in a DC plan. And staff of six companies have hybrid arrangements – a combination of a defined benefit plan and a contribution-based scheme – with the multi-sector scheme. From 10 years before retirement, its standard DC plan provides for a gradual transition of individually accrued pension assets to a pension claim in a collective benefits phase.
Contrary to, for example, Syntrus Achmea whose IT systems could no longer cope with the multitude of sector arrangements, the variety of pension plans does not pose a problem for PGB, says Degenhardt.
"Whereas Syntrus Achmea was the product of a recent merger, we have 65 years of sector experience," he says. "And whereas Syntrus was a large outsourcing network, we implement almost everything in-house, and have based all arrangements on the same standard plans. Our own provider, PGB Pensioendiensten, carries out the administration, asset management as well as relationship management."
In Degenhardt's opinion, the dynamic balance management – introduced in 2015 to generate surplus returns for indexation as well as to improve risk management – adds to the PGB's attractiveness. He says that this approach has again delivered additional returns, amounting to €256m last year.
The dynamic balance management ensures that the investment risk moves with the scheme's funding and that the interest hedge – 45% at end-2017 goes in tandem with interest rates. IPE granted the multi-sector scheme the award for best pension fund in the Netherlands last year.
The Netherlands: Pensions reform poses IT puzzle
1

2

3

Currently reading

Multi-sector magnet