ABP's sudden decision to part ways with fossil fuel producers had suggested the Dutch civil service scheme has quickly lost faith in its ability to steer these firms towards a carbon-neutral future.
While ABP is losing its seat at the table, its exit could prove a wake-up call for other shareholders and fossil fuel firms alike.
As recently as last May, ABP proudly published a press release on its website saying "constructive talks" with Shell about reducing carbon emissions had yielded "results".
But five months later, the fund announced it would sell its €600m stake in Shell as well as its stock and bond allocations to all other oil and gas majors.
ABP's U-turn on engagement with the fossil fuels sector has surprised many, not least those that had been campaigning for ABP's divestment from the industry.
"We expected some kind of announcement in the run-up to COP26, but not this," said Liset Meddens, director of Fossil Free Netherlands. Fossil Free was preparing to take ABP to court over its fossil fuel investments but has now suspended the case.
Mark van Baal of Follow This, a campaign group that calls on fossil fuel firms to improve their climate policies through shareholder resolutions, called ABP's divestment decision "abrupt and inexplainable", but he was not disappointed. "We are not sorry ABP is selling its shares, as they have never supported any of our resolutions."
Fellow investors also find ABP's sudden move from cautious engagement to divestment surprising, but believe it fits into a wider trend. "I would say that this reflects a move by many clients in that direction," said Eric Christian Pedersen, head of responsible investments at Nordea Asset Management.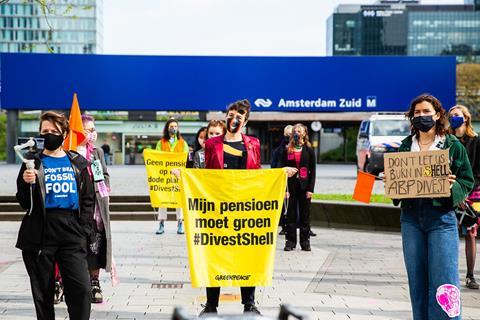 Wake-up call
According to Raj Thamotheram, former head of ESG at the UK's Universities Superannuation Scheme and currently an independent consultant and market commentator, ABP's divestment decision illustrates that half-hearted "tea and biscuits engagement" is bound to fail.
He said: "Hopefully this will be a wake-up call to this fund and all its peers to dramatically raise their game. Either be genuine forceful stewards or divest fully and quickly with a public announcement."
Whether ABP's divestment decision will be more effective than tea and biscuits engagement remains to be seen. Lars Erik Mangset, chief advisor climate change at the Norwegian pension investor KLP, supports the move, though he added that KLP had no plans of its own to divest completely from fossil fuels, noting that KLP already has completely divested from coal and tar-sand activities.
He said: "We welcome this move, recognising that at the moment, it is really not clear what are the best measures to impact the real economy to transition to the level needed. We see clear merits in this strategy as well."
He explained however that "one might get the impression that KLP categorically oppose divestments, that's not the case. In fact, we probably have the widest set of exclusion criteria in Norway. But we stand by our comment, that we remain invested in oil and gas since we want to see if we can contribute in pushing the companies to transition. If not successful, then over time, divestment might become relevant."
"Hopefully this will be a wake-up call to this fund and all its peers to dramatically raise their game"

Raj Thamotheram, former head of ESG at the UK's Universities Superannuation Scheme
While the UN Environment Programme Finance Initiative noted in a recent paper that divestment "removes investors' ability to exert influence", Nordea AM's Pedersen noted that a divestment decision, especially when it comes from an investor as large as €528bn ABP, "sends a clear message to companies that change is needed".
Divestment impact
Though theoretically investors that strive for change see their numbers wither if some decide to divest, it could embolden them too. Speaking during an IPE pre-COP26 workshop on Thursday, Pedersen said the asset manager had its own experience of the immediate impact of divestment from when it sold out of a Brazilian meat packaging company after the engagement was unsatisfactory for a long time.
"What happened right after that was that they brought some concessions to the table for those investors who were still invested," he said, "so I think there's a certain view that you can have, which I think I share personally, that if some leave these companies it will be easier for others to engage".
He added: "Of course where that is different a little bit is maybe in the voting, and we saw the Exxon case (proposal 6 at this spring's Exxon AGM for a "Report on Scenario Analysis" which failed only by about 1%) where the votes were very close. There you could have wished for a few more progressive investors in Exxon that could have tilted the balance. So to me, the jury is still out on what is the best approach."
ABP has announced it will now focus its engagement efforts on companies that are heavy users of fossil fuels, such airlines and car manufacturers.
According to KLP's Mangset, ABP is "very right in taking the demand-side focus approach because it's likely a much more efficient and effective way to transition in the economy".
The big question now is what ABP has learnt from its unsuccessful engagement journey with fossil fuel firms, and how it will apply these lessons in the future.
To read the digital edition of IPE's latest magazine click here.