Climate activists are now targeting the Netherlands' second-largest pension fund PFZW, following their recent success in encouraging civil service scheme ABP to ditch its fossil fuel investments.
About 30 Extinction Rebellion and Christian Climate Action activists occupied the lobby of the PGGM headquarters in the town of Zeist on Wednesday morning. PGGM is the asset manager for PFZW.
The activists' goal is to force the fund to divest from fossil fuels within months. When the activists refused to leave the office by the end of the afternoon, they were forcibly evicted by the police, 14 of which were arrested.
Earlier this year, Extinction Rebellion activists had targeted offices of civil service scheme ABP three times. Now they have picked PFZW as their next target, one of the activists confirmed.
"But the composition of the group of activists is different as some of us are members of PFZW," said Rozemarijn van 't Einde.
The attempted occupation of its asset manager's headquarters has not surprised PFZW, a spokesperson said.
"We had received a number of signals about it. We want to enter into conversation with all organisations that stand for peaceful action. In 2017 and 2019 Fossil Free did a small demonstration at the PFZW office. And Greenpeace protested against our investments in oil sands in 2018," the spokesperson added.
In 2020 PFZW divested from companies that have more than 10% of their revenue come from oil sands.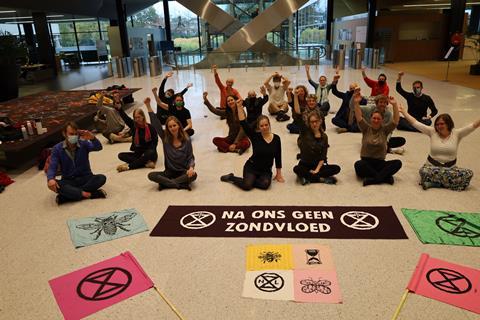 Focus on renewables
The decision by the climate activists to target PFZW is somewhat remarkable, since the healthcare scheme invests less in fossil fuels than most of its peers.
For example, the pension funds for the construction and metals industries, €74bn Bpf Bouw and €97bn PMT, invest more in fossil fuel firms in absolute terms than €261bn PFZW.
At the moment, PFZW's fossil fuel investments account for just 1.6% of the fund's assets.
PFZW also invests more than three times as much money in renewable energy than in the fossil fuel industry, as IPE reported last month. The fund is planning to increase its green investments further over the next few years.
PFZW wants to keep investing in oil and gas firms "to exercise our influence as a shareholder to let these companies contribute actively to the energy transition", a spokesperson said.
"We need their expertise and capital for this very complex and costly transition. They can take much bigger steps in this regard than we can as an investor. If we sell our stake, those who buy our shares may be investors who do not feel any responsibility for combating climate change," the spokesperson continued.
PFZW's fossil fuel investments at the end of 2020 included a €253m stake in Chevron and €162m in Shell.
Climate activist Van 't Einde is not convinced, claiming PFZW is just echoing "the propaganda of oil and gas firms".
She said: "A company like Shell will invest mostly in oil and gas exploration over the next few years. This will not help to make the world any greener. Even the International Energy Agency said earlier this year that oil and gas exploration should stop immediately."
For the original article, go to Pensioen Pro.