The European Commission has said its Green Deal financing plan will create an "enabling framework" to stimulate private and public investment in support of the transformation of the EU economy to meet environmental objectives.
Presenting the plan yesterday, Ursula von der Leyen, president of the new Commission, said: "The Green Deal comes with important investment needs, which we will turn into investment opportunities.
"The plan that we present today, to mobilise at least €1 trillion, will show the direction and unleash a green investment wave," she claimed.
Valdis Dombrovskis, Commission executive vice-president for the economy, said its plan would "create the right regulatory incentives for green investments to thrive".
Unveiled on 11 December, the European Green Deal is the Commission's strategy for the EU economy to become climate neutral by 2050.
Outlining the details of the financing plan, the Commission said that the EU green taxonomy, which has been the backbone of the Commission's original sustainable finance action plan and focussed on institutional investors, will be used by InvestEU, and that it would explore whether it could be used by the public sector beyond that programme.
InvestEU is the successor of the European Fund for Strategic Investments and brings under one roof many other EU financial instruments.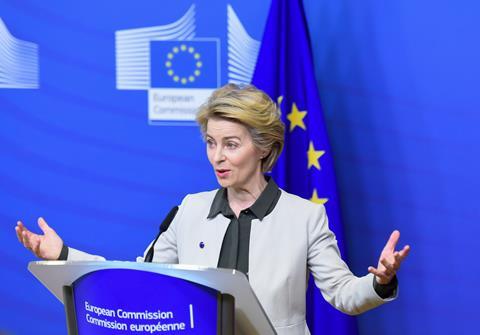 The Commission also announced the timeline for its already known plan for a renewed sustainable finance strategy. It said it will launch a public consultation on this in the first quarter of this year with a view to presenting a renewed strategy in the third quarter of 2020.
It also said it would explore how an EU green bond standard, to be established this year, and "other enabling frameworks", could increase private and public finance for sustainable investments.
Crowding in, improving project supply
The Commission's Green Deal Investment Plan also envisages "crowding in" private investment by leveraging the EU's budget guarantee under the InvestEU programme, with a key role to be played by the European Investment Bank (EIB).
Among other measures, the Commission said it would ensure that EIB operations financed under EU mandates "provide high additionality", both in terms of sectors covered and of the risk profile of financed projects. This would be achieved via improved reporting and monitoring.
The Green Deal Investment Plan also includes measures that respond to a frequent investor call for more suitable sustainability-related projects in which to invest.
"The availability of investment projects that are compatible with the expectations and requirements from investors does not yet match the demand," said the Commission.
To help bridge this gap, practical support is to be provided to support public authorities and project promoters in planning, designing and executing sustainable projects.
Another feature of the Green Deal Investment Plan is a mechanism to alleviate negative socio-economic impacts of changes in the EU economy, in particular the fossil fuel value chain.
The Just Transition Mechanism provides targeted support to help mobilise at least €100bn between 2021 and 2027 in the most affected EU regions.