The European Insurance and Occupational Pensions Authority (EIOPA) has developed two model pension benefit statements with the aim of inspiring national regulators and pension funds in the implementation of their obligations under the IORP II Directive.
Both models were developed for defined contribution schemes, given the increasing trend towards this type of pension provision in the majority of EU member states.
EIOPA said the two designs contained the same information, but "reflect different communication styles".
Both are two-page statements, but differ in their use of colours, visuals and how they illustrate the amount of money that people could receive when they retire (see below).
EIOPA emphasised that the models it has come up with were voluntary and may be further developed and adapted to the national context and/or the characteristics of each individual pension scheme.
Under IORP II, the new EU pension fund directive, pension providers are required to send their members an annual information document. EIOPA set out its initial thinking about the new statement requirement in a report in late November.
According to the EU supervisory authority, the pension benefit statement designs were the result of "exemplary collaboration" between national supervisory authorities, EIOPA staff, and the graphic designers of the European Commission Publications Office.
The designs can be downloaded here.
Pension benefit statement design 1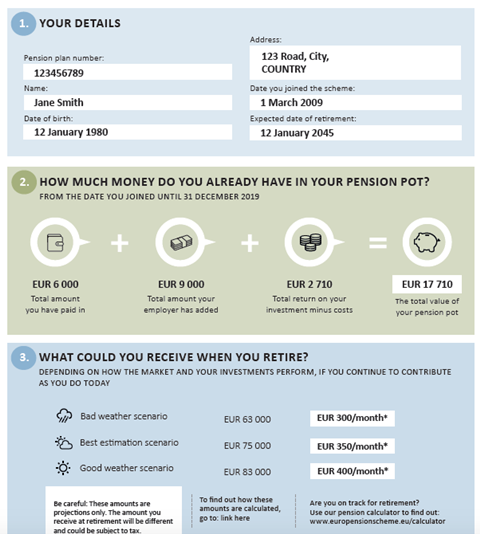 Pension benefit statement design 2