German investors find themselves at odds with political representatives and the public perception over engaging with firms and trying to transform the economy, and excluding them from investments.
Anja Mikus, chief executive officer of KENFO, said the transformation process must be supported while the public, but also certain advisory boards, tend to always focus on exclusions.
"You don't have to always exclude all [investments] categorically, but invest broadly, because other investments make sense over time," she said last week speaking at an event organised by the ESMT business school in Berlin.
Disclosure of investments that might not be in line with sustainable criteria attract the attention of the press, leading to discussions on exclusion in KENFO's board of trustees, whose members are also members of parliament (MPs), Mikus said, adding that the general public might not fully grasp what sustainable investing entails from an investor's perspective.
"We have tried to explain to the [German] government, that if you look to the S&P index, only 2% of the companies are green. If we invest only in those, the transformation doesn't matter at all, and politicians have to understand that," said Hans Joachim Reinke, CEO of Union Investment.
Union Investment holds over 600 engagement talks with the most important invested companies every year to understand their strategies, measures, and their budget allocated for transformation.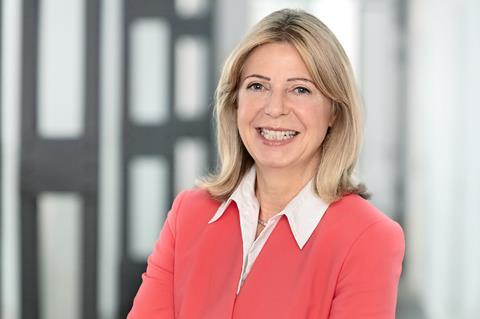 Companies will be more attractive to investors if they can provide a "credible" transformation plan, Reinke said.
KENFO: a return-oriented approach to sustainability
KENFO – Germany's nuclear waste management fund – excludes investment in equities and bonds of companies active in sectors including coal mining and electricity generation, nuclear power plants, uranium mining and with operations in uranium mines, and oil and gas extraction through fracking, among others, according to its 2022 report on sustainability.
For governance reasons, KENFO does not invest in companies from countries that are on the EU blacklist (non-cooperative states in the area of taxes) and the Financial Action Task Force (FATF) Blacklist, which fights against money laundering and financing of terrorism, it added.
KENFO's target return, set at 3.7% per year to finance the storage of radioactive waste, increases if the target is not met, like last year, when the fund returned -12.2%, and now the target is at 4%, Mikus added.
In private equity, KENFO has further developed its ESG approach, finding that it has more access to information for investments than in public markets, having the possibility to talk with the management of the companies it owns on transformation processes.

Luigi is IPE's Berlin-based DACH correspondent. His coverage includes regulation and the latest pensions and investments trends, and, being a native Italian, he also covers Italy's pensions market. He has reported from Italy and Germany on international politics and business for European and US publications including USA Today, Bloomberg BNA and for the investigative magazine L'Espresso. He was previously Germany correspondent for Mergermarket covering M&A.
View full Profile