The International Corporate Governance Network (ICGN) has issued a statement on racial discrimination in the wake of the death of George Floyd while being restrained by police in the US state of Minnesota, saying that by doing so "we add our voice to the millions of people calling for lasting change".
Floyd, a black man, died on 25 May while being restrained by police in the US city of Minneapolis, with video footage showing a white police officer continuing to kneel on his neck even after Floyd was pleading he could not breath. The circumstances of his death have triggered protests across the US and in other countries.
According to the BBC, his death has been declared a homicide in an official post-mortem examination and the charge against the police officer kneeling on Floyd's neck has been elevated to second-degree murder. Three other officers face counts of aiding and abetting murder.
In its statement, the ICGN said Floyd's death and the protests it had sparked "provide a stark demonstration of what it means to ignore inequality, human rights and the fundamental lack of justice and fairness in society".
"Investment institutions and companies cannot divorce themselves from this social and historical context," it said.
The ICGN is an investor-led coalition of governance professionals that counts many major asset owners among its members in addition to asset managers, non-financial corporates, and other organisations.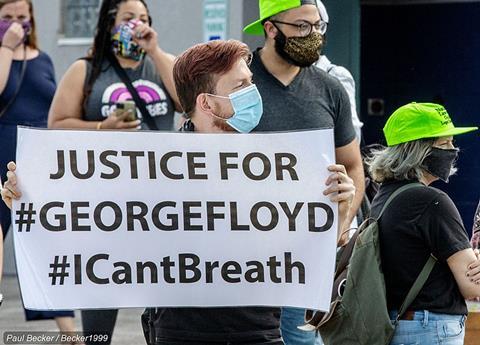 Issued yesterday, the organisation's racial discrimination statement continued: "In the wake of these events, ICGN believes that is our duty to listen; and to continue to educate ourselves and our organisations about racial discrimination and other forms of inequality.
"It is our obligation to take concrete actions to dismantle the culture and structures that advance racial and other forms of discrimination. It is our duty to accept these responsibilities as core to our mission and purpose.
"It is our duty, as investors and companies, to embrace this shared responsibility and to find opportunities to collaborate and cooperate to end systemic racial discrimination and build fairer and more sustainable economies."
"We will continue to listen. We will continue to learn. And we will take our actions forward"

Robert Walker, chair of the ICGN
Robert Walker, former head of ESG services at Canada's NEI Investments and chair of the ICGN, added: "A new generation of African-American voices has emerged to take their place alongside leaders from historical struggles. This statement takes its inspiration from those voices.
"We have done our best to listen and learn and, with this statement, add our voice to the millions of people calling for lasting change. But this is only one step. We will continue to listen. We will continue to learn. And we will take our actions forward. Our efforts will be directed into the world of stewardship and corporate governance.
"We invite others to join us in this endeavour."
Calvert CEO: 'We have not done enough'
ICGN's statement comes after the president and CEO of Washington D.C.-based Calvert Research and Management, said ending racism in America was a responsibility of corporations, and that investors needed to push hard for positive change.
"Although Calvert has been a leader in dealing with inequality and pushing corporate boards to establish greater diversity, we have not done enough," he said.
"As CEO of Calvert and a part of the system, I recognise that much more needs to be done. More open and forceful action is required by investors and by corporate leaders and boards."
The ICGN and Calvert CEO's statements can be found here and here, respectively.
Looking for IPE's latest magazine? Read the digital edition here.