The current economic environment is edging many fixed income investors to the limits of their comfort zones. Just a few years ago investors could achieve satisfactory yields from traditional bond investments, but many are now forced to dip their toes into hotter asset classes in the search for yield. This potentially puts their capital at risk – the last thing they want from their income-seeking allocations. How did this situation come about? And how can investors achieve the yields they seek from fixed income rather than riskier asset classes?
In the wake of the global financial crisis, central banks in developed markets slashed official rates and instituted aggressive quantitative easing (QE) to keep commercial interest rates low. This cut funding costs for businesses and individuals, but also reduced yields for fixed income investors. Initially, yields plunged on developed market bonds alone, but spreads have since tightened on debt issued by peripheral governments, such as Ireland and Spain.
Some investors have turned to longer duration debt, but spreads have contracted here, too. Others have looked to credit, but investment grade credit today provides a mere 100 basis points over government bonds – which may not compensate investors for the increased risk. Even heading down the credit spectrum does not help much – sub-investment grade European credit yields little more than 3.5%. This widespread search for yield is likely to keep spreads low for some time to come.
A number of investors, realising that the situation might become yet more challenging before it improves, are turning to less conventional fixed income solutions. These may involve investing in instruments where illiquidity and an esoteric approach can be rewarded. Examples include asset-backed securities (ABS) in general and European residential mortgage-backed securities (RMBS) in particular.
The US market has shown the potential of these instruments. The housing market boom and bust in the US depressed RMBS prices, creating huge opportunities as the housing market recovered. US non-agency mortgages have performed strongly over the past five years as the US housing market has recovered. And the European market is poised to follow suit as investors look for the next area of spread compression. Spreads on Spanish RMBS (BBB-rated), for instance, are currently over 400 basis points and starting to narrow. In addition, most of the European RMBS collateral is of prime quality, in contrast with that underlying US RMBS. Some of the European RMBS senior bonds are well protected from even the most stressed of loss scenarios.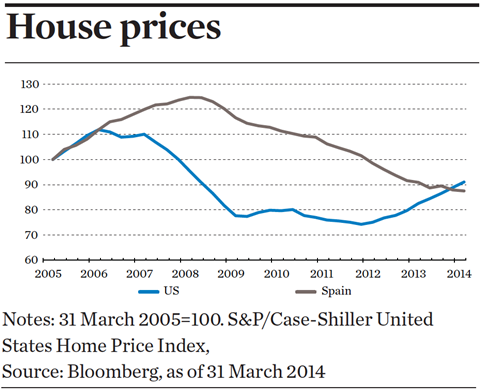 The big question for potential ABS/RMBS investors is whether European markets will recover as strongly as the US residential property market. Well, the fundamentals are all heading in the right direction: the European economy and its housing markets are starting to recover; the value of European RMBS is attractive versus other similarly-rated assets; there is limited supply, and demand should increase once the opportunity is more widely recognised. In particular, economic growth in Spain is outpacing that of most other European countries. And in terms of debt markets, Spanish RMBS offer a good combination of relatively attractive spread and liquidity versus other peripheral markets. In addition, the European Central Bank is discussing further quantitative easing, this time focused on buying European ABS.
Extracting value from RMBS depends on being able to exploit the inherent inefficiency of the asset class. This inefficiency is derived from the heterogeneous nature of the asset class with its broad array of securities with different vintages and collateral quality. This leads to many pricing anomalies and rating disparities.
To capture the complexity and liquidity premia requires considerable skill and sophisticated modelling capability. The US sub-prime crisis showed how important it is to understand the different risks. In addition, expertise and experience is required to source the assets, which are often sourced directly from bank balance sheets.
As a result of the global financial crisis, a large and under-owned collection of legacy securitisations are now available at attractive valuations. Investors may also benefit from inherently lower volatility in the securitised market compared with corporate or sovereign bonds. This is because institutions often sell liquid assets first when markets go down. The opportunity to buy these securitised assets at attractive valuations will prove hard to resist for many fixed income investors.
Christophe Caspar is CIO of Multi-Asset Solutions at Russell Investments