• European banks are maintaining efforts to clean up their balance sheets
• Regulation and investors' demand have created a market for non-performing assets
• Investors can gain exposure through distressed debt funds or investing in securitised assets
A stockpile of nearly €780bn worth of non-performing loans (NPLs) weighs on the European economy, according to the European Banking Authority (EBA).
The figure has fallen significantly over the past three years, partly thanks to regulators. But much credit should go to international distressed credit managers. They have made significant efforts to rid European banks of these bad assets and reward their backers with high returns. The European NPL market is up-and-running, and the ways in which yield-starved pension funds can get involved are multiplying.
Once a source of apprehension for investors, owing to their impact on the banking system, NPLs today are an attractive investment opportunity in Italy. The country's economic outlook has strengthened, and international distressed credit managers have sought to access Italy's stock of NPLs. It is by far the largest in Europe, standing at €264bn in terms of non-performing exposure (NPE) at the end of last year, according to PwC.
The volume and ratio of assets have fallen further this year but opportunities abound. About half of the loans are secured against collateral, with prices ranging between 25 and 30 cents on the euro. Unsecured loans are significantly cheaper and, of course, riskier.
Italian policymakers played an important part in the sector. The former government approved a Garanzia sulla Cartolarizzazione delle Sofferenze (GACS), a state guarantee on the senior tranches of securitised NPL transactions. The GACS is scheduled to expire this month but the Italian treasury is likely to be granted an extension by the European Commission.
The European bank bail-in regime, introduced in 2015, was also instrumental in the market's development. It means, among other things, that banks have to take losses on NPLs before they can access public money to avoid bankruptcy. Indeed, a bank's decision to write down or write off the value of a portfolio of loans is the starting point of any NPL transaction.
Several substantial deals have bolstered the size of the market. The largest and most notable was last year's disposal of €17.7bn worth of bad loans by UniCredit, Italy's largest bank. The assets were purchased by Fortress, a US credit and private equity firm, and PIMCO. In 2017, a total of €64bn of NPLs changed hands, and the sum for this year is expected to reach €70bn.
In theory, the process is simple. When banks are ready to dispose of a portfolio of NPLs, they negotiate with potential buyers. Once the deal goes through, the buyer of the NPLs employs a credit-servicing business to realise the value of the loans. The spread between the ask and bid price represents the return for the buyer. The buyer, however, assumes several kinds of risks.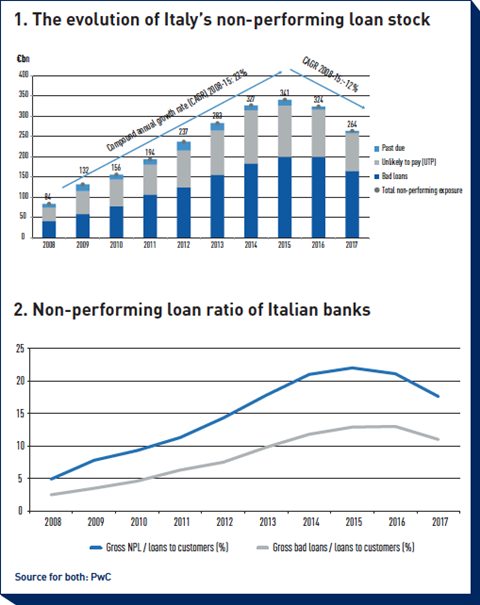 Francisco Milone, partner and head of real estate for Europe at alternative manager Värde Partners, explains: "There's a risk to the value of the assets that were used as loan collateral, which investors come to own once they enforce the loan. Then there is a legal risk, because you are betting on your ability to convert a loan into an assets, and you are making an assumption on how long it's going to take you to go from being a creditor to actually owning the collateral. These two risks are tied to your servicing ability.
"Finally, there is financing risk because in the majority of these transactions there is leverage involved," he says.
For these reasons, NPL expertise lies firmly in the hands of alternative managers or funds with credit-servicing capacity and strong familiarity with local markets. In fact, most significant players in the market have partnered with or acquired a local credit-servicing business.
Värde is a good example. It is based in Minneapolis with a decade of expertise in NPLs and offices across Europe. In 2013, it acquired Aliseda, a Spanish credit servicer with several hundred staff, and in 2016 it bought a stake in Banca Guber, an Italian credit-servicing business with 25 years of experience.
Tim Mooney, global head of real estate at Värde, says: "We have purchased or partnered with specialised servicers in these markets. If you don't have that specialist skill set, you can't compete, because you can't really bear the risks associated with investing in these assets or really understand how to price them."
The difference between NPLs and other alternative credit investment types, such as direct lending, is that with the latter there is potentially more certainty about the evolution of these loans. This is because the capacity of the borrower to repay the loan has been tested, and plenty of data exists on the collateral.
But how do investors get involved, and what is on offer? Panfilo Tarantelli, founder and CEO of Tages Group, says: "Typically, there are two ways of getting involved. Pension funds can invest in distressed or opportunistic credit funds run by firms such as Apollo, Cerberus or Blackstone, which buy in the equity tranche of NPL portfolios. They are commingled fund offering returns that can be in the double digits, with corresponding risk levels. That's one simple way of investing in NPLs."
Tages Group is an active player in the market. It owns Credito Fondiario, one of the leading NPL credit servicers in the country. The Tages-owned credit servicing business has been involved in the major NPL transactions since the market took off. Credito Fondiario is also backed by the well-known American activist fund Elliott Management Corporation.
"The other, more sophisticated, way is to buy the senior component of securitisations," says Tarantelli. "We have begun to see many traditional long-only asset managers access the NPL market in this way." The returns on these assets can range between 4% and 6%.
Credito Fondiario, says Tarantelli, can also co-invest with large institutions. "So far, we have mainly invested our own capital. But if a big institution comes along, we can offer co-investment opportunities. As a matter of policy, we will never offer anything to investors that we haven't invested in ourselves. In some cases, we will even take the most junior tranche and leave the senior tranches to our co-investors."
But why would investors get involved in a market that is dependent on its size shrinking? After all, the supply of investment opportunities depends on the pace at which the stock of NPLs is reduced. Värde's Milone says: "Opportunities in Italy have only just begun to materialise. Just think about the stock of unlikely-to-pay (UTP) loans. These loans are distressed but not in default, and depending on where Italian GDP goes, they will either go into the NPL bucket or go right into the performing bucket. We believe they will be one of the future sources of NPL generation in Italy." UTP loans can sell for between 40 and 60 cents on the euro.
Distressed credit funds are increasingly turning their attention towards UTP assets, according to Marco D'Arrò, founder and managing partners of Real Asset Partners, a London-based advisory business in the alternative assets sector. Banks often offer UTP portfolios following the disposal of NPLs, and existing buyers are often at the front of the line.
So while the stock of NPLs is falling the opportunities are growing. The chances are that alternative credit investors will be increasingly offered access to Italian NPLs and UTPs and similar assets from less mature markets, particularly Greece. And this is regardless of the economic and political outlook. "The market will become very active, and stay active for the foreseeable future," says D'Arrò. "Credit funds will maintain an active and aggressive approach, seeking to buy assets at the lowest prices. Any wobble in the economy will play in their favour. It's a buyers' market."