"On day one, [Joe] Biden will use the full authority of the executive branch to make progress and significantly reduce emissions. Biden recognises we must go further, faster and more aggressively than ever before, by (among other things) requiring public companies to disclose climate risks and the greenhouse gas emissions in their operations and supply chains." That is Joe Biden's 'Plan for a Clean Energy Revolution and Environmental Justice' as it appears on joebiden.com, the official campaign website.
Bernie Sanders's Green New Deal – as detailed on berniesanders.com – focuses on other initiatives to "end the greed of the fossil-fuel industry" as well as the development of green infrastructure and technology. For example, "as president, Bernie will divest federal pensions from fossil fuels", because those investments are at risk. His programme also states that "the federal government must protect and grow those pension funds by instead investing in the clean energy economy". In addition, "as president, Bernie will establish new financial rules through the SEC [Securities and Exchange Commission] and other regulatory agencies to pressure hedge funds, the insurance industry, and other large investors currently invested in fossil fuels to divest or pay for clean energy investments through clean energy bonds."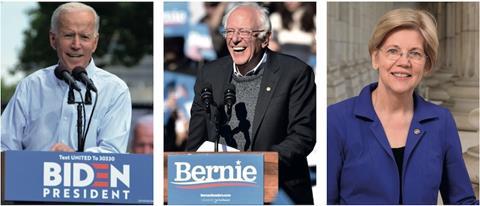 Those are the climate-related promises of the two leading contenders for the Democratic nomination to challenge incumbent US President Donald Trump in the November election. At the time of writing there was one other Democratic contender, Hawaiian representative Tulsi Gabbard, but it is assumed she has no chance of winning the nomination.
Green emphasis
Biden's proposal looks in line with the Climate Risk Disclosure Act that Senator Elizabeth Warren reintroduced to Congress in July 2019. That act would require every public company to disclose information about climate risks, such as greenhouse-gas emissions, to the SEC. It would also compel fossil-fuel companies to release detailed reports, pushing them to switch quickly to cleaner energy sources.
Warren has ended her campaign for the Democratic nomination but she will continue fighting for environmental measures as a senator. One of her targets is BlackRock, the world's largest asset manager. In February 2020, she published an open letter to its CEO, Larry Fink, asking him not only to support her Climate Risk Disclosure Act but also to explain how he will back up his promises of making sustainability "the new standard for investing". Warren asked Fink, for example, to specify BlackRock's definition of exchange-traded funds (ETFs) with a focus on environmental, social and governance issues, because some of them include fossil-fuel companies such as Chevron and Exxon Mobil. If the next president is a Democrat, whether it is Biden or Sanders, Warren will have powerful support behind her green agenda.
Equalising tax incentives
Both the centrist Biden and the democratic-socialist Sanders promise to strengthen social security. However, only Biden's programme has a section about private savings such as 401(k) plans and individual retirement accounts (IRAs). It points out that $200bn (€177bn) of tax incentives goes annually to employees making contributions to such plans. However, these incentives favour affluent families because they are based on the concept of deferral (the contributions are tax free, the savings grow tax free and taxes are paid on the benefits). So Biden proposes to "equalise" those tax incentives "so that low- and middle-income workers will also get a tax break when they put money away for retirement". The campaign does not spell out how this will be achieved.
More importantly, under Biden, almost all workers without a pension or 401(k) plan will have access to an "automatic 401(k)". It does not explain how, but will probably require businesses that do not offer a 401(k) plan to join a state-sponsored retirement savings plan, similar to what exists in Oregon and other states.
Potential transaction levies
As for Sanders, the most dramatic impact of his presidency on the pension fund market could be a financial transaction tax (FTT) that he wants to introduce. It would have rates of 0.5% on stock trades, 0.1% on bond trades and 0.005% on derivative trades. The proceeds would finance his higher-education policy ambitions. Critics from Wall Street and the Republican party complain that the FTT would hurt anyone invested in the stock market, including those with 401(k) plans, 529 plans (a tax-advantaged investment vehicle designed to encourage savings for the future education expenses of a designated beneficiary) and pension funds.
According to a report by the Committee on Capital Markets Regulation, which consists of 35 leaders from the financial, business, law, accounting and academic communities, the negative impact of the tax on US pension funds would outweigh the generation of revenues the proposed taxes promise.
The report mentions studies showing the California Public Employees' Retirement System would pay over $500m annually in direct costs from the tax, and $162m in indirect costs from the widening of bid-ask spreads. The New York City Retirement Systems would face $1.3bn in annual costs.
Finally, Sanders would impose a moratorium on future pension cuts and would reverse the cuts to retirement benefits that have already been made for workers and retirees in multi-employer pension plans.
To read the latest IPE Digital Edition click here