Aage Schaanning, CFO at Kommunal Landspensjonskasse talks to Rachel Fixsen about the challenges it faces in the new commercial and regulatory landscape of Norwegian pension provision
At a glance
• Norway's Kommunal Landspensjonskasse is facing the twin challenges of filling the space left by the withdrawal of two municipals providers in the market and political reform.
• Aage Schaanning, KLP's chief financial officer, expects organic growth to continue.
• Norway's ongoing local government reform will impact KLP.
The adage that life does not stand still is particularly true for the 900 staff at Kommunal Landspensjonskasse (KLP). Barely had the dust settled after a commercial challenge than a political upheaval has it once more ready for more change.
IPE asked Aage Schaanning, chief financial officer at the NOK577bn (€64.2bn) pensions provider how KLP is coping. Firstly, with the increase in activity resulting from Storebrand and DnB Livsforsikring withdrawing from the local government pensions market and the upcoming municipal reforms.
Schaanning says the shift of schemes and assets that happened as a result of the market exit by Storebrand and DnB Livsforsikring has come to a halt.
"Over a two-year period, KLP has received 87 new municipalities and county administrations, as well as 346 enterprise customers as owners and customers in public sector occupational pensions," he says. "This also means that the company has received 156,000 new individuals who will receive, or are receiving, pensions from KLP."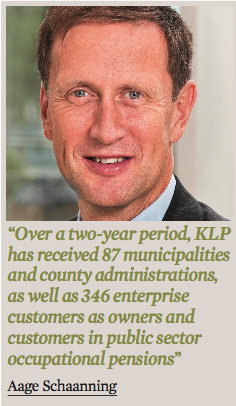 In all, the pension fund has acquired NOK40bn in pension assets from these transfers, and about NOK1bn in initial equity contributions – KLP is a mutual company – and will receive NOK200m in annual contributions, which includes yearly equity contributions and return-guarantee premiums.
What has this increase in business meant for KLP? Schaanning says it has been nice to get so much positive feedback, both directly and through customer satisfaction surveys, with polls showing an 80% level of satisfaction among new customers.
"This is particularly pleasing because many of the customers joined because previous providers withdrew from the market and not because KLP was necessarily the preferred option in the first instance," he says.
But, although the extraordinary growth as a result of this inward transfer was completed in January 2015, Schaanning says the fund's strong organic growth is expected to keep going. "This is a result of the strong growth in employment in the local government sector during recent decades," he says.
"Precision and quality in individual pension processing is one of KLP's most important tasks and a substantial investment is being made – for example, through systems development, to make case processing more efficient in a way that maintains and continues KLP's good quality of delivery into the future," he says.
Since market conditions have changed following the exit of two competitors, the institution is having to reconsider how to evaluate its performance. It is not clear whether there are, in fact, any competitors against which it makes sense to compare its key operating figures, Schaanning says.
"When it comes to financial returns, KLPs goal of long-term, competitive returns stands firm, and this is measured in relation to returns achieved by competitors with similar regulatory frameworks for their asset management.
"There is wide diversity amongst local government pension funds in size, capitalisation by the owners, risk profile and investment options, and this produces a relatively wide spectrum of investment returns, depending on solvency and investment options," he says.
In any case, KLP has a target to achieve a cost ratio of 0.25% of the premium reserve by 2016. "Continuous focus on low costs is important in regard both to maintaining competitiveness and efficient operation," Schaanning says.
Has KLP managed to lower costs per person as a result of its increased business? In the new market situation, Schaanning says, it is important to provide customers and employees with good service. "KLP is experiencing continual growth in customer enquiries and it is expected that this development will continue but, given its size, KLP is able to manage this in a cost-effective way by exploiting economies of scale," he says.
Norway's ongoing local government reform will impact KLP as the pension provider for many of the country's municipalities. However, the final outcome of the reform is not yet clear.
"Today, there are 428 municipalities in Norway, and fewer and larger municipalities are expected to emerge from the local government reform," Schaanning says, explaining that the government wants to have bigger and more robust municipalities.
"The new municipal map will emerge through regional and local processes, in which the municipalities themselves can discuss which municipalities they wish to merge with.
"The results of the local government reform and any consequences for KLP are uncertain and KLP is therefore monitoring the process closely," he says.
Seventy-five municipalities have agreed to merge creating 31 new municipalities.
Six of these newly-defined authorities will include one council that already has its own pension fund, but others that have their scheme managed by KLP.
This is the case, for example, with the agreed partnership of Asker, Røyken and Hurum, of which Asker has its own fund, and Trondheim and Klæbu, where Trondheim has its own pension fund.
While not speculating on whether these new authorities are likely to decide to pool their pension schemes and run them separately from KLP, Schaanning notes that total reserves for these six municipalities within KLP are NOK3bn, equating to about 2% of total reserves.
Pensions in Nordic Region: Iceland - Opportunities abound
1

2

3

4

5

6

7

8

Currently reading

Norway: KLP stays focused after reform

9