New technologies are among factors transforming global energy markets
The supply factors behind the price of oil have brought about a paradigm shift. This time is different, as the forces that have driven global energy markets since the 1970s have transformed. Whereas degrees of co-operation, non-compliance or flat out cheating among Organization of the Petroleum Exporting Countries (OPEC) member states used to determine the world price, those behaviours no longer play the same pivotal role. "An alliance holds together only for as long as its reasons are valid," says Adrian Garcia, managing director at Venture Investment Associates, a private equity investment manager for oil and gas funds.
He notes: "OPEC and Russia need money, and are making less at each lower price level. Traders have decided that the geopolitical risk premium is zero, with oil in storage more than enough to compensate."
Today, new technologies, mainly from North America, are instrumental in setting global supply levels.
The energy market, of course, continues to seek equilibrium between supply and demand on a global stage, as it always has. But higher US production levels have offset OPEC cuts, leaving prices under pressure. Over the recent cycle, demand has been relatively contained; supply forces have the upper hand, "and these seem to be causing larger price movements," says Jonathan Waghorn, portfolio manager at Guinness Asset Management.
Underlying this new model, American onshore production has become short-cycle, capable of being turned on and off in about six months.
"Traders have decided that the geopolitical risk premium is zero, with oil in storage more than enough to compensate"

Adrian Garcia
In contrast, the development of offshore drilling elsewhere, may take 5-20 years to complete. Canada's oil sands, for instance, are long-term projects that require advance planning, as do Brazil's floating production storage and offloading vessels. "Those investments have been in the works for years.
Meanwhile the US acts as swing producer, to bring oil online as needed," says Jacques Rousseau, managing director at Clearview Energy Partners.
US production rose steadily to a multi-decade high of 9.6m barrels per day (bpd) in early 2015, until the market turned down in 2016. OPEC launched cuts in early 2017 to defend faltering prices, which took almost 2m bpd off global supply. These measures achieved limited results, due in part to internal strife within the cartel, and events in Libya and Nigeria, where rebel attacks on infrastructure are a precarious constant. (Both nations, which are exempt from the quota, have recently stabilised output.)
"Demand has not been as strong as anticipated, due to uncertainty over global economic conditions"

Eugene McGillian
Since global inventories remained swollen, OPEC extended quota cuts by an additional nine months until March 2018. Yet it remains somewhat puzzling that OECD inventories have not retreated further, given OPEC and non-OPEC cuts, and considering that demand has remained relatively contained. Analysts at the Guinness Global Energy fund regard this phenomenon as temporary. First, OPEC 'surged' production ahead of the planned January 2017 quota cuts. Next, many OPEC nations exported more than they produced in 2017 by reducing above-ground inventories.
Meanwhile, increased US activity has been fostering another wave of output. Similar to natural gas, fracturing technologies and horizontal drilling have made huge supplies of oil accessible, "which would not have been feasible 10 years ago", says Eugene McGillian, analyst at Tradition Energy.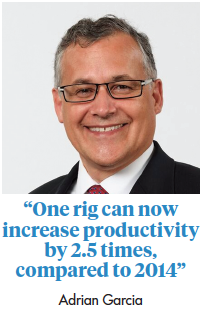 The largest increase has come out of the West Texas Permian Basin, which accounts for a quarter of US oil production, at 2m bpd, behind only Saudi Arabia's Ghawar field in terms of recoverable resources. The Bakken formation in North Dakota also holds promise of recoverable reserves up to an eventual 7bn barrels.
The US rig count had declined with the market pullback in May 2016 to 320 units, before reviving to 600 rigs by early 2017. Even those numbers miss the point, according to Garcia. "One rig can now increase productivity by 2.5 times, compared to 2014," he says. Dramatic innovation and efficiency improvements have resulted from shorter drilling times, longer laterals and more fracking stages, with greater sand loadings. In short, 600 rigs today can deliver the same quantities of oil as 1,500 would have done in 2014.
On the other side of the equation, "demand has not been as strong as anticipated, due to uncertainty over global economic conditions," says McGillian. Some of the weakness in demand is seasonal, Rousseau explains that the first six months of the year are typically lower than the second half, when requirements for more gasoline and air conditioning kick in.
Nonetheless, demand remains robust from the non-developed side of the world, as China in particular moves from an industrial to a consumption-driven economy. Chinese sport utility vehicle (SUV) sales alone have risen 21% in the first quarter of this year, demonstrating "the growth of middle-class consumption", Waghorn notes.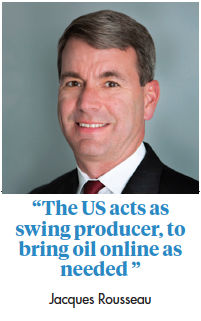 He says that the global car fleet will continue to grow at a good clip, as "lower prices bring demand for bigger cars that drive farther". He observes that the evolution of the electric car industry will barely affect diesel and gas vehicles. While Waghorn does foresee rapid growth in electric vehicles, it must take off from the present tiny base of about one million cars now on the road. "Oil demand will still be driven by the absolute number of internal combustion vehicle engines," he says, which, according to different estimates, might peak in 10-12 years at about 1.5bn vehicles.
Waghorn anticipates range-bound prices over the next 18 months, likely between $45 (€39) and $60 (€52) for West Texas Intermediate (WTI). He questions the 'success' of US shale, observing that currently no firms are producing a return over the cost of capital at current prices, even in the Permian basin.
Garcia has other caveats. "At $45 to $50, producers can make money. But the rate of change is an issue. Total inventories of oil jet fuel and distillates are not coming down fast enough, given extra storage built up."
Consider service costs, too. Fracking requires huge pumps with massive hydraulic horsepower.
"The pumps are all signed up right now, utilisation is high and not enough new equipment is available," Garcia warns. If the service sector can raise prices by 15-30%, there might not be enough money for all participants in the value chain to make money. If economic logic rules, as Waghorn expects, a $60-70 WTI price would reflect the marginal cost of supply.
Saudi Aramco IPO presents investors with a wild card
The proposed public offering of Saudi Arabia's Aramco is another wild card. Considering its market value might rise as high as $2trn, the offering would be the largest IPO in history. The recently appointed Saudi crown prince and heir to the throne, Mohammed bin Salman, has already set out his intentions to diversify the kingdom's economy away from oil and toward more manufacturing by 2030.
"He will use 5% of the funds raised by the IPO to start other industries," says Jacques Rousseau, managing director at Clearview Energy Partners. Such goals include strengthening education and transport, promoting new private business and reducing the government budget deficit.
"With the new heir relatively new to the stage, it's uncertain what he will do," says Eugene McGillian, analyst at Tradition Energy. "He has not tightened subsidies to the population, as he is probably sensing discontent. But he appears to believe it would be in Saudi Arabia's interest to cut production to push the oil price to $50-60, which would make reserves and revenues look stronger."
However, Jonathan Waghorn, portfolio manager at Guinness Asset Management, says "the investment community will look through any supply restraint that brings about a spike for about three months around the time of the IPO. Saudi Arabia needs to achieve a price at sensible levels."