---
Providers can help develop bespoke funds
NEST's default target-date funds have investment objectives related to achieving performance over inflation as measured by the CPI [consumer prices index], rather than market indices.
NEST constructs its target-date funds, and other fund choices, from a range of third-party-managed pooled funds, each of which has its own reference index.
Each of these 'building block' funds represent an asset class in which our target-date funds are invested, either passively or actively, depending on the asset class.
The largest passive allocation (35.8%) is to global developed-market equities. To get exposure to this asset class, we invest in a UBS fund that tracks the FTSE All-World Developed index.
UBS has also developed, with our input and collaboration, its Climate Aware World Equity fund. The fund overweights or underweights companies in the FTSE All-World Developed index depending on their alignment with the transition to a low-carbon economy. The allocation to this UBS fund is the second-largest passive allocation, at 9.4%.

Some of the funds we allocate to track a custom index that the fund manager has developed on the basis of an existing one. Obviously, for passive mandates these indices are critical to how the manager constructs their portfolio, while for more active mandates the index benchmark may only be used as a reference for performance measurement.
NEST regularly engages with index providers in the normal course of investment research. Index providers are a vital part of the asset management industries ecosystem. However, we haven't had reason to formally work with an index provider on a custom index to date.
When awarding a mandate to a passive fund manager, the index against which they manage their portfolio is critical. To date, these have tended to be pre-existing pooled funds managed against seasoned indices. But we engage with index providers when researching new asset classes and particularly if we are looking to develop a more bespoke fund.
Indices must reflect our investment policy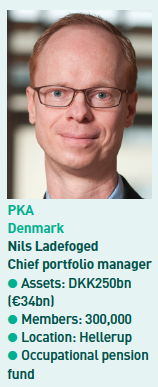 Our custom benchmarks are derived from the MSCI All Country IMI [Investible Market index], which represents the full investment universe. It contains all we consider sufficiently liquid and investable and includes developed and emerging markets, large and small caps. We asked MSCI to customise the index for us on three levels.
First, we want the index to take into account our withholding taxes, which are different from the MSCI version.
Second, we want the index to reflect our currency-hedging policy. This consists of hedging the main developed market currencies such as US dollar, pound sterling and yen. When MSCI calculates the benchmark for us, it takes into consideration our hedging policy, to make sure we compare hedged returns from our portfolio to a hedged benchmark.
The last customisation relates to our SRI [socially responsible investment] policy. We have compiled a list of about 175 companies we cannot invest in for ESG reasons. MSCI calculates the benchmark without those companies, so that we are on equal footing when we compare returns. This means excluding around 4% of the index, which contains over 8,000 names.
In our experience, index providers are very professional and have a very methodical approach to index construction.
Fine-tuning the MSCI World

AP7's Equity fund uses a custom MSCI All Country World Index (ACWI) benchmark calculated with a bottom-up methodology. The benchmark is expressed in Swedish krona, with net return for EU and emerging market countries and gross return for rest of the world.
The index has been customised to meet four criteria. First, our custom index excludes blacklisted companies. AP7 bans companies that are involved in breaches of international norms on human rights, environment and anti-corruption.
The index also overweights emerging markets, by applying an additional 5% weight to countries included in the MSCI Emerging Markets index compared with the MSCI ACWI.
We added leverage to the index to reflect the leverage level that is applied to the fund. The benchmarks used for this are the MSCI AC World daily total return (gross dollars). The custom benchmark also takes into account the cost of leverage that the fund bears.
AP7's fixed-income fund uses an index provided by Handelsbanken, the Handelsbanken Sweden All Bond 1y-3y capped index. The index comprises government and secured mortgage bonds.
AP7 works both with index providers as described above and investment managers that provide passive exposures to the fund. The share of assets with passive exposure represents the majority of the fund's assets.