We asked chief investment officers of three of Sweden's AP funds about how they view emerging market equities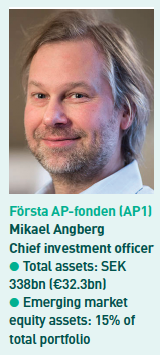 We expect long-term EM outperformance
For the last year or so, we have been increasing our exposure to emerging market equities. About one year ago, the allocation was 10% of total assets. It now stands at 15% and we might increase it further.
The underlying reason for this investment is that we expect EM equities to outperform in the long term. EM countries are in a much better position than they have been in the past. This is particularly true when you look at classic macroeconomic indicators such as external debt, foreign exchange reserves and current account balance.
Although there are some notable exceptions, particularly Turkey, EMs are generally not as susceptible to funding crises as they had been previously. Furthermore, because of the sell-off some years ago, valuations look good. This is why we have increased our allocation fairly aggressively. It has paid off extremely well until this year.
Despite the recent wobble, we still see the fundamentals as being positive. Emerging market stocks are still comparatively cheap. I see no reason to reduce our exposure to the area.
In terms of how we allocate, we start from a strategic asset allocation, and look at EMs as a broad spectrum. We then take a view on individual countries and stocks as part of our active management decision-making process, which essentially has two parts: an internally-run tactical asset allocation part, which is implemented through passive indices; and an external management programme.
We let our external managers use their own investment process to generate outperformance. We use passive management to optimise liquidity and costs. However, we do see the greater potential for active management in emerging market equities.
We discuss geopolitical risk in emerging market equities a lot. By taking into account geopolitical shifts, we think we can avoid disasters.
More specifically, we have discussed how a potential trade war would impact our EM investments. The conclusion has been that until trade issues remain the object of rhetoric and skirmishes, the impact will be limited. If they were to escalate, they would have a real impact on growth, and we would have to reassess our exposure.
All part of achieving a diversified portfolio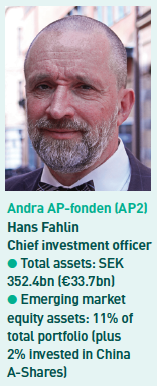 We invest 11% of total assets in emerging market equities, plus 2% in China A-Shares. Additionally, 5.5% of our portfolio is invested in local currency emerging market bonds, 1% in hard currency emerging market bonds and 1% in Chinese government bonds.
We increased our allocation to emerging market equities to 11% in 2012, and we invested in Chinese A-Shares in 2013. The allocation has been stable since then. We doubled the allocation to Chinese A-Shares in 2016 and added Chinese government bonds. Those are the most significant changes that have occurred recently.
Our allocation to emerging markets is a long-term one. Our model takes into account the fact that emerging markets are a more volatile asset class. The recent bout of volatility in this asset class does not concern us too much.
We have had questions on the diversification of our portfolio. With our emerging market investments, we are adding exposure to economies that are less integrated in the global economy, to some extent. Some of the economies we are exposed to are quite sensitive to the global economy but, in general, through these investments we are adding some non-correlated return drivers.
We have been building up EM exposure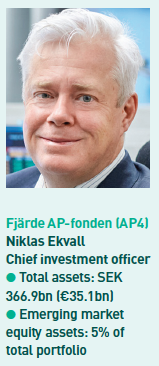 Our current allocation to emerging market equities is about 5% of the total portfolio. This represents a neutral allocation within our global equity portfolio, hence no significant under or overweight with respect to the MSCI AC index. The allocation consists of two passive funds and an active Asian manager. All have an ESG focus. The passive funds implement the exclusion list of the AP-funds' Ethical Council and furthermore, one of the these funds replicates a low-carbon index.
We do not have any explicit allocation to frontier markets at the moment. We acknowledge the great return potential in some these quickly growing markets. However, for a fund of our size, it is difficult to build a meaningful exposure that will have an impact on our bottom line. Also, we run the fund with tight cost constraints which also have implementation implications. However, an allocation to frontier markets might well occur within the broader funds that we own or will own.
Developing our EM exposure has been one focus area for us during the past months. It is not unlikely that we will gradually increase the exposure to EM equities. We expect to see a strong structural growth in EM economies during the coming decades, which also in the longer term is likely to translate into higher equity market returns. Of course, this will not be a smooth ride as the recent market sell-off demonstrates. EMs will be a more risky place to be in, but the hope is that the longer-term return expectations should compensate for this.
Interviews by Carlo Svaluto Moreolo