---
Open-mindedness is key
Pension funds seem to be very appealing to Austrian investment professionals at the moment. This is partly because within pension funds they can cover a whole range of investments.
Pension funds do not offer the highest salaries. This partly depends on what assets pension funds manage on their own. APK manages part of the fixed-income portfolio internally but we do not manage equities or special segments of fixed income, which may require a lot of travel, for instance.
At the same time, we feel that our staff are remunerated in line with their responsibility towards beneficiaries.
In general, pension funds have appealing features that can make up for the salary gap.
First, we really work to provide good solutions for beneficiaries, rather than just selling a product. This makes a big difference, and it is something investment professionals working for pension funds can participate in.
Within pension funds, there is also perhaps less emphasis on high performance. Of course, pension funds are under pressure to deliver returns, but not in the same way that asset managers are.
Pension funds don't necessarily have a 'hire-and-fire' policy like asset managers sometimes do, given their focus on products. A pension fund like APK has fairly stable assets under management, which means job security is potentially higher.
The stability of the team is a special aspect of working at APK. The core team is small, but we make sure everyone feels that they fit within the team thanks to their capabilities.
All this makes for a different environment, but it also means we need open-minded professionals. Everyone is encouraged to bring their ideas and intellectual vision. This is a fundamental aspect of what we do and how we deliver results.
True skill should be remunerated
APG offers investment professionals a long-term investment career where they can develop their skills to become world-class investors. APG places high value on its investment talent, and encourages investment professionals to develop their own careers and abilities within the organisation.
Competition for investment talent in the industry has grown exponentially in terms of the volume of candidates available on the market, but also due to the speed at which they make decisions to join one firm over the other. Change in the pension industry is contributing to this scenario. Pension funds, often perceived as slow and cumbersome, are now seen as more modern and are more in vogue with investment professionals.
Pension funds have come a long way in their remuneration policies to ensure their survival, but are still far from being safe. The bonuses in asset management are often so compelling that pension funds are unable to reach a certain level of talent acquisition. This influences the ability to retain a specific pool of talent. Money remains a key driver.
The challenge for asset owners is to avoid paying for alpha while receiving an obfuscation of beta. Consequently, the ability to truly separate alpha and beta and remunerating investment professionals on that basis is key. True skill should be remunerated higher.
A chance to be influential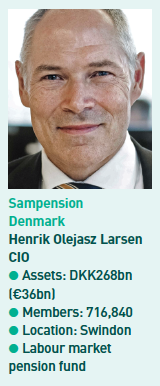 Our department is fairly small and covers a broad set of areas. Therefore, there is limited scope for internal development of investment capabilities. However, we think it is preferable to combine the two approaches – on one hand, developing internal capabilities, and scouting for talented professionals from around the industry on the other.
Competition for investment talent within the pension industry peaked in 2006, on the eve of the financial crisis. It then dipped during the crisis, but we find that it is now back to strong levels. This is especially true for professionals with skills and experience in alternative investments and compliance.
For investment professionals, the appeal of working for a pension fund is that they can set the agenda and work with a longer time horizon.
There is a gap between pension funds and asset management groups in terms of remuneration, but pension funds offer better job security. Furthermore, professionals working for a pension fund can enjoy a more direct link with their customers. Understanding and fulfilling customer needs, rather than just delivering what sales departments demand, is a priority.
The salary gap between them and asset management groups should be kept within limits.
In terms of what our pension funds offers to investment professionals, we focus on flexibility, an opportunity to be influential and access to education.
Interviews by Carlo Svaluto Moreolo