---

Discipline is crucial
Since the markets entered into a low-yield environment we have shifted out of European listed fixed income and into the global high-yield and loan markets. We have also allocated to more illiquid markets, such as private debt, collateralised loan obligations [CLOs] and, more recently, regulatory capital transactions.
Having a global portfolio means we have had to deal with the FX [foreign exchange] component and the cost of hedging, which has been high at times. It has also meant we have increased the share of fund investment in the portfolio overall, while traditionally we managed the listed side of our fixed-income portfolio internally.
In general, alternative credit offers a very heterogeneous opportunity set. We have clearly concentrated on the areas where we have the ability to analyse the investments ourselves. For example, while the CLO portfolio is run by external managers, we look after it very professionally within our organisation. As a result, CLOs have become one of our core strengths.
In terms of private debt, we lend directly to local companies, but we also invest in private debt strategies with external managers across different geographies. The goal is to harvest the illiquidity premium.
We are aware of the decline of lender protection in the credit markets. When you go into illiquid markets, loan covenants are a key element. To mitigate risk, we assess credit quality and do prudent due diligence on managers we want to cooperate with. We avoid cov-lite transactions. We find that in the lower mid-market, and smaller markets, the trade off between lender protection higher risk-return profiles is clearer. So far, we have seen very good discipline in these markets. Discipline is crucial for managers. It is what investors expect.
De-risking mindset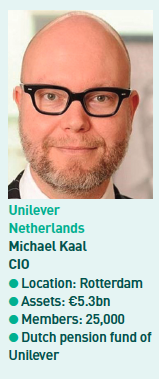 We have invested in senior loans for several years and are expanding into other areas. We also have direct investments in mortgages.
Recently, we created a diversified income fund to invest in asset-backed securities, senior real estate loans and real assets, particularly infrastructure, among other things. Other Unilever pension schemes can use this fund to diversify their fixed-income portfolio.
If you run a pension fund with a deficit, you might be looking for a serious pick up in returns, and might therefore consider investing in cov-lite loans. It might work well for the next couple of years, until default rates start to increase. However, because we manage a large DB [defined benefit] scheme with high coverage ratio, and a smaller DC [defined contribution] scheme, we do not need the extra risk and the extra return from cov-lite loans. In general, investments might be good or bad depending on whether they are appropriate for your portfolio. You have to ask yourself why you need to invest in the first place.
We have started to deploy money in the ABS [asset-backed securities] market. We have begun with senior real estate debt. To diversify further, we have been considering opportunities such as student loans or securities issued by Dutch water councils, which are backed by the Dutch government. We feel that ABS provide more security than the purely interest rate-driven products. Theoretically they should be less correlation with other fixed-income markets.
No place left to hide

Around 5.5 % of our portfolio is invested in high yield, loans and direct lending. We have a further 5.8% invested in asset-backed finance, which to us also has the character of alternative credit.
We have noticed the adoption of less restrictive covenants in leveraged loans and other asset classes, and it worries us. We try to handle this development very carefully and will not accept terms that are unbalanced. In our view, this development could lead to the next credit crunch, as soon as money supply from central banks dries up. To us, central banks are actually the main driver for this trend, having flooded the markets with liquidity.
In times of economic stress, or a rising default environment, a portfolio of cov-lite loans could blow up, especially as the low-yield, low-spread environment has already eroded value from almost every fixed-income segment and there is no place left to hide.
The only way to offset these risks is to be disciplined and not accept everything. But because no one knows how long this period will last, it's a tough call. By being particularly selective, you can be sure that one day will be right, as either central banks become more hawkish or the economy slows down. Until that day you may experience a tough time.
Interviews by Carlo Svaluto Moreolo