---
Automation is improving efficiency

As a pension fund, we want to be cheapest in terms of admin costs and we want to have the most satisfied customers. To do that, we simply need to invest in IT and to use cutting-edge technology such as machine learning.
We have been using robots to process insurance claims for some time and with great success. Before that, we were providing personalised digital advice to customers. We use an application called Portrait Dialogue. This application captures all the information from our websites and databases, as well as from public databases. The system learns what kind of advice and answers our customers might need in different situations. For instance, it will recognise members who are close to retirement and provide the right advice automatically through that member's preferred communication channel. Thanks to this application, over the past two years we have seen a huge increase in member logins on our website and members contacting us through the various channels.
Last year we also began experimenting with how a machine learning system could automate our email-answering work. I am confident that this year a very high share of emails will be answered automatically. The system should be able to reply with the right information, in the right language, and even understand the tone of the request by the individual customer.
To carry out these projects we collaborate with two strong Danish data science companies but we are also developing our own team.
Our board takes data protection and cybersecurity seriously. We have a chief data-risk officer and a team specifically dedicated to monitoring our systems and the systems provided by our partners. We do not implement anything unless it has been tested thoroughly.
Facilitating in-house management

RPMI's technology is managed internally by two IT teams, a central one and a specialist one that supports our investment activity.
In the RPMI investment business, we have recently completed our investment transformation programme (ITP) which included a major systems programme. This has enabled us to manage assets in-house, as well as providing enhanced risk oversight and integration of externally and internally managed assets with a total portfolio approach.
Given the complexity of our scheme, we adopted a 'best of breed' approach, as there were no suitable integrated solutions at the time. We have implemented Charles River as our portfolio management system, Eagle as our data warehouse, Ortec Pearl for performance and attribution, APT for risk analytics, and Opus Nebula for client reporting.
Integrating these applications is challenging, particularly in ensuring timely, accurate, and consistent data. We are starting a programme of optimisation, using a number of fintech tools to manage our data lineage and improve our data governance and data reconciliation capability.
To deal with cyberisk, we have been rolling out staff awareness training, penetration testing, intrusion detection systems, and are evaluating options for cyber insurance.
A growing focus on customer services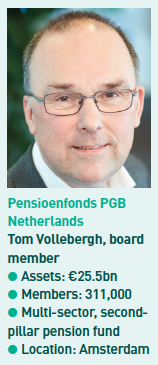 A separate legal entity fully owned by the pension fund, called PGB Pension Services, carries out our admin work. Our policy is to implement IT solutions available in the market. Among the key software packages we use are Maia (pension policy administration for DB and DC schemes), Paymaster (accounts payable), CODA (financial administration) and Bwise (risk and auditing).
In terms of new developments around technology, we have focused on customer services. We recently implemented improved web portals for participants and employers. The main goals have been improving self-service tools and providing up-to-date and tailor-made information.
Recently we also implemented a protocol for obtaining salary and premium data from employers' salary systems. The protocol focuses on DC customers and delivers this data on monthly basis, saving efforts and improving timeliness and quality of the required data.
We have also worked on shortening the reporting cycle and providing flexible management information. We introduced a risk management dashboard that provides better insights.
In terms of cybersecurity, as well the usual technical measures, we will spend more resources on the 'human factor' – risk awareness, password protection, safety procedures and reporting of attacks and identification of corrupted emails.
Interviews by Carlo Svaluto Moreolo