The suspension of a GAM fund manager has revived the discussion about due diligence. We asked three pension funds how they deal with it
Checks and balances
For us, carrying out due diligence means identifying the checks and balances that prevent individuals from causing damage to the organisation. It is important to look at the systemic risk within an organisation, too. This means, first and foremost, understanding how they have organised their risk management systems. We will look at whether there is separation of roles between risk management and portfolio management, and whether the risk management function is really independent. We will also look at the methods employed and whether they are organised efficiently to ensure rigour.
It is not sufficient to know that there is a system in place. We want to know the details of how it works. We will ask what happens if the risk management function identifies an issue and the processes followed to resolve that concern. We will try to understand how the risk management process deals with idiosyncratic behaviour.
Managers that have a well-structured risk management process are usually very proud to present it.
We want to be notified immediately of personnel changes within the portfolio management team and why those decisions have taken place, particularly when they involve senior portfolio managers.
If there was an issue with a fund run by a company we invest in, even if we do not invest with that particular fund, we will check whether the issue was due to idiosyncratic behaviour caused by systemic weakness.
For us it is important to have a long-term dialogue with the external manager that allows us to gather all the information we need.
The challenge is that different strategies and products require different approaches to due diligence. However, in general, understanding the decision making process – and how the decisions are made – is paramount.
Relationships are everything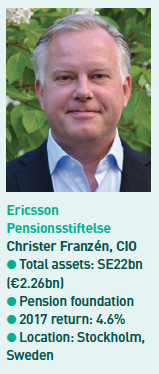 We have developed a due diligence framework based upon due diligence questionnaires (DDQs) designed by the Institutional Limited Partners Association (ILPA). This includes questions on all aspects of running an asset management firm, including operations, administration, legal and tax aspects and, of course, risk management. In our framework, the relevant specialists in our organisation analyse their fields of expertise.
When we evaluate a manager, we start from the business proposition, but if we find that their operational capabilities are not adequate, we will not invest. Often smaller managers have good pedigree but cannot cater for institutional clients.
We also look at the manager's business model. Is the firm trying to grow revenues and fees, or are they focusing on making good investments?
Because we are a small organisation ourselves, we need time to get to know each manager. We are unlikely to invest with unknown managers prior to the due diligence process. We often prefer managers that have been recommended to us by other parties with which we already have a relationship.
It is impossible to completely insulate yourself from managers that misbehave. However, with experience, you learn how to mitigate the risk.
There's no 'invest and forget'

There is no universal approach to fund due diligence that works in all cases and for all assets. It should be an ongoing process for existing fund investments. An invest-and-forget approach does not work in the long run.
We prefer segregated mandates and managed accounts, which increase our influence, ensure transparency and flexibility and cut investment costs.
We start with collecting information about the target asset class from sources other than the investment managers. Comparing managers will also help us understand what constitutes best-in-class. This is the basis for asking the right questions.
We carry out analysis of the amount and quality of staff and information systems available and of the governance structure. We prefer investment committee decision processes and a deep bench instead of sole 'star' approaches.
Larger investment management groups with centralised compliance and risk management departments should provide better protection against mismanagement, but there are exceptions. Bolt-on investment teams acquired may not be fully integrated. Economic strength is necessary to achieve good governance. We avoid unregulated managers, if possible, and those that are based offshore.
We study legal documents thoroughly, checking for vague statements and lack of policies. What is not in the contract may be as important as what is in it. It is also important to find out how assets are stored and registered.
Interviews by Carlo Svaluto Moreolo