Industry-wide pension schemes have worked quickly to find new administrators to replace Syntrus Achmea
Key points
• Syntrus Achmea Pensioenbeheer suddenly announced last November that it would stop servicing 22 sector schemes.
• Its market share had more than halved since 2008.
• Pension funds were initially concerned they would face serious obstacles in finding a replacement provider.
• Most sector schemes managed to appoint established pension administrators, such as PGGM, AZL and AGH.
To most in the Dutch pensions sector, it came as a shock last November, when Syntrus Achmea Pensioenbeheer, the Netherlands' largest pensions administrator, announced that it would cease servicing 22 sector schemes. It said it could no longer cope with their complicated pension arrangements.
The administrator indicated that the funds would have to find a new provider within two years. Although some of the larger schemes were already looking for an alternative, many felt the pressure of entering a seller's market in unfavourable conditions.
Quite surprisingly, things seemed to have already been settled by July. The departing schemes have largely been scattered among new providers such as PGGM, the NN subsidiary AZL and AGH. Some have liquidated and joined other industry-wide schemes. Five have opted for the IT firm Centric – a relatively new player – as their new provider.
In November, Syntrus Achmea said it had become clear that its new IT system could not accommodate the sector schemes' various pension arrangements and their numerous exceptions. Resolving the issue within a reasonable timeframe would not be possible, it made clear. At the time, industry-wide pension funds accounted for about two-thirds of Syntrus Achmea's business.
The firm made its announcement as it was in the process of installing a new IT system to replace several old ones. It had inherited the hodgepodge of systems thanks to the merger of Interpolis and PVF – both the results of a merger themselves – in 2008. In that year, Syntrus Achmea had a market share of 39% in terms of participant numbers.
Since then, its turnover has fallen by more than half to €110m in 2015, as a result of clients leaving. IPE's Dutch sister publication, Pensioen Pro has concluded that the slump was largely the consequence of a merger that was not properly implemented.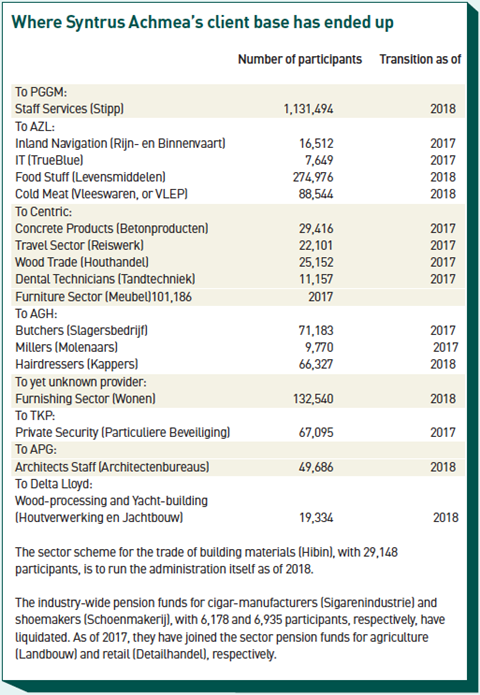 Syntrus Achmea's new IT system was meant to increase accuracy and cut costs by at least 20%. Its purpose was also to address complaints about the quality of Syntrus Achmea's services, which had already led to the departure of large clients. During the past two years, they have included the pension funds for the retail sector (Detailhandel , €19.5bn), confectionary (Zoetwaren, €2.4bn) and the tyre and wheel industry (Banden en Wielen, €611m). In November, several other schemes had already made arrangements with new providers or were discussing leaving the firm.
Tom van der Spek, director of retirement provision at Syntrus Achmea, told Pensioen Pro that his company would need to invest millions of euros to keep the old system running. "Given the declining client numbers, the investment would not be justified," he explained.
Syntrus Achmea's troubles started in 2008, when the €46bn metal scheme PME – one of its largest clients – left to join MN, the provider of its €69bn sister scheme PMT . According to a former Syntrus Achmea board member, quoted by Pensioen Pro, this turned out to be a watershed. The board member said: "Since then, it has become more common for pension funds to change providers." Other leaner and meaner pension administrators, such as AZL and the Aegon subsidiary TKP in particular, have managed to attract sector schemes.
In 2010, the pension funds for bakers (Bakkers, €3.8bn) and private road transport (Vervoer , €20bn) left for TKP. In the same year, the pension fund for cleaners (Schoonmaak, €4.5bn) switched to APG . Two years later, the sector scheme for disabled workers working in a sheltered environment (PWRI, €8.3bn) also went to APG, while the €16.3bn scheme for the agricultural sector (Landbouw ) joined TKP. Some departing schemes also cited lower costs at their new provider.
"Initially, the pension funds were concerned they would face serious obstacles in finding a replacement provider"
Meanwhile, Syntrus Achmea was trying to turn the tide by streamlining its organisation through cutting staff numbers, closing three of its five offices and migrating data of several pension funds to its preferred new system, Maia. However, keeping its various IT systems running and transferring data of its departing customers put an additional burden on its limited capacity, Pensioen Pro found. It also noted that Syntrus Achmea's management changes probably contributed to the problem.
Initially, the pension funds were concerned they would face serious obstacles in finding a replacement provider. Several schemes regretted their poor negotiating position, while others expressed doubts that the market would be able to accommodate a significant number of large schemes within a short space of time. At the time, René Lahoye, employee chair at Kappers, the €781m pension fund for hairdressers, said: "We now have to knock on the doors of other providers." Kappers was still using one of Syntrus Achmea's older systems, as it lacked confidence in the new one.
Looking back, Lahoye said he was surprised but pleased that his pension fund had quickly found a new provider in Rijswijk-based AGH. However, he emphasised that his board had spent a lot of energy in the process and indicated that Kappers had incurred considerable costs. He added that his pension fund was still engaged in leaving negotiations with Syntrus Achmea.
Most schemes have managed to find established pension administrators, such as PGGM, AZL and AGH, as their new provider. However, five pension funds, with more than 189,000 participants in total, have moved to Centric, which also provides services such as communication, board support, financial administration and legal advice. The Gouda-based administrator had initially been negotiating a collective transfer with eight sector schemes.
Centric will take over 85 staff from Syntrus Achmea, which will keep on working for the pension funds until the end of the year. Syntrus Achmea will also continue to service SBZ , the €5.2bn non-mandatory sector scheme for healthcare insurers. Adri van der Wurff, the scheme's chair, said that SBZ had "relatively simple" pension arrangements, and that continuity of administration was not at risk because its pension arrangements were not managed on the system Syntrus Achmea wanted to drop. Zuivel, the €155m non-mandatory pension fund for the dairy sector, is also to stay with the firm.
Syntrus Achmea said it would refocus on the almost 50 company schemes and occupational pension funds as well as its new general pension fund (APF), run by insurer and Achmea subsidiary Centraal Beheer. Its parent company, Achmea, indicated that it would also target asset management growth through its €100bn subsidiary, Achmea Investment Management. According to Achmea, it was too early to say what would happen to the remaining staff, as they would be needed for transitional work and reporting until mid-2018.
Dutch pensions: Aiming for full transparency on costs
1

2

3

Currently reading

Outsourcing: Funds over Achmea debacle

4