James Kavanagh says visionary thinking is needed to meet Ireland's pension challenges
This year will be a defining one for the Irish pensions system as the revised EU pensions directive (IORP II), covering governance, cross-border pension schemes and communications, becomes law.
Last year, the Pensions Authority (PA) undertook a consultation on the reform and simplification of the Irish pensions system, in line with the thrust of IORP II. The PA also wants to reduce the number of occupational pension schemes and is considering how multi-employer schemes will support this.
How did 2016 end for Ireland's funded, unfunded and state pensions based on the most up to date available data?
There are 67,939 funded occupational pension schemes in Ireland, with 746,739 members and total assets of over €115bn. Only 2% of these are defined benefit (DB), of which half are in deficit. This is a concern for the PA.
The Department of Public Expenditure and Reform published a figure of €98bn as the estimated accrued liability for public service occupation pensions as at 31 December 2012. The expenditure for state pensions was €5.4bn in 2015, for 531,453 beneficiaries (see figure 1).
Evolving challenges
The implementation of a pension system has been a key Irish social policy achievement, but discussion has moved to the resulting demographic and budgetary pressures. Population ageing is likely to put pressure on the ability of pension schemes to redistribute income from younger to older generations (figure 2).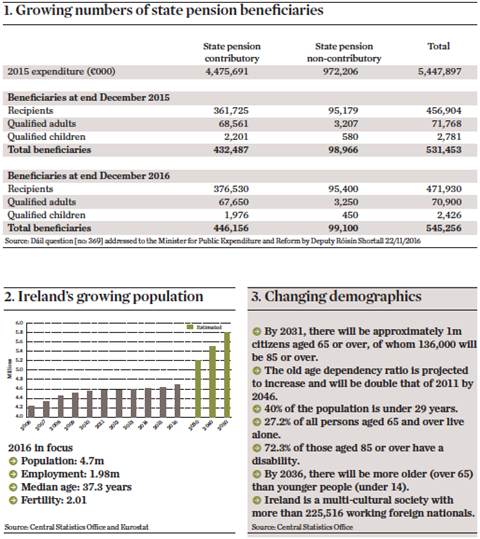 The increase in the dependency ratio threatens not only the fiscal integrity of the pension system but the solvency of the state. The number of recipients of the state pension contributory has been increasing by about 15,000 annually, while the number of state pension non-contributory recipients has been stable. This, together with Ireland's changing demographics, highlights the pressure on the state finances (figure 3).
The main cause of pension-related expenditure is the ageing population. Social welfare legislation provides that an actuarial review must be completed every five years and presented to both houses of the Irish legislature. The last review – The Actuarial Review of the Social Insurance Fund, 2010 – was carried out by KPMG and published in 2012. This projected (as part of its base case assumptions) that the number of persons aged 65 and over in the population would increase from 514,000 in 2010 to 750,000 in 2020 (a rise of 46%) before reaching 1,034,000 in 2030 (a further increase of 38%). This review does not include the numbers of pensioners on a scheme-by-scheme basis, but the breakdown will be included in the next review, which is imminent.
Visionary thinking
Against a backdrop of changing demographics, globalisation and continued global capital market dysfunction, the Irish state pension system is reported to be unsustainable in its current model. There are no easy solutions, as all the possible options include difficult policy decisions.
Private funded pension schemes are under pressure, with a growing number of DB schemes closing, while defined contribution (DC) schemes grow in number. This means more employees having to fund their own pension provision and carry the investment risk. Interest rates remain low, while annuity rates remain high, which perpetuates the so-called 'liability crisis'. This is putting pressure on employers' willingness to continue to fund private sector schemes. The government knows this, and it will be interesting to see how plans for a Universal Pension for Ireland (known as MySaver) will progress.
Terms such as 'pension crisis' and 'pension timebomb' have been used to describe the sector's complex issues. A good example of a fragile pension fund is the Independent News & Media pension scheme, which was reported last year to be €23m in deficit with the sponsor withdrawing its covenant. Public and private sector comparisons too often dominate the pension debate, but much less attention has been paid to the fact that DB schemes are in a deeper crisis than during the fallout from the 2008-09 financial crisis.
There would appear to be a switch of responsibility from state to individual, meaning individuals' basic income is under threat. This requires visionary thinking and action at a time when consumer confidence is at an all-time low. The issue of 'need' as opposed to 'entitlement' is back on the agenda. Ultimately, sustainability is the biggest challenge for the Irish pensions system.
James Kavanagh is managing director of Trustee Decisions
Pensions In Ireland: Funds still under pressure
1

2

3

4

5

Currently reading

Pension Challenges: Sustainability key to survival