Mick O'Byrne provides an update on the accounting deficits of defined benefit pension schemes of Irish listed companies and state entities
The results of the 2015 LCP Ireland Pensions Accounting Briefing highlight that many companies remain under pressure in maintaining their defined benefit (DB) pension schemes. Falling bond yields over 2014 had a dramatic impact on corporate balance sheets despite the positive performance of equity markets. One scheme was wound-up in 2014; benefits have been cut in others and more are implementing deficit funding programmes.
The introduction of the Funding Standard Reserve, while likely to result in a welcome reduction in risky asset holdings, comes when many companies can least afford it. Our 2015 analysis shows that despite stringent deficit management initiatives and contributions well in excess of accruals, the average funding level has fallen to 83%, the same level as in our 2009 report despite the significant contributions paid in. We expect scheme closures, enhanced transfer value exercises and capping of future increases will continue into 2016.
The survey covered 15 of the largest companies (by market capitalisation) listed on the Irish Stock Exchange and other exchanges that have Irish DB pension arrangements. It also covered 11 semi-state/state-controlled companies with DB schemes that have published pension accounting information for their 2014 financial year.
The accounting standards look at scheme assets and funded liabilities at the accounting date. Of the 26 companies analysed, only one reported sufficient assets to meet its funded liabilities.
The average funding level analysed fell from 86% in 2013 to 83% in 2014 (see figure 1).
This fall was a result of the drop in yields on high-quality corporate bonds (used to place a value on the accounting liabilities) in 2014. The deterioration in funding levels would have been greater had it not been for the strong rise in scheme assets (equities and bonds) in 2014.
Deficits rise in 2015
We considered the movement in the pension scheme balance sheet positions during 2015. On the asset side, global equity markets rose during 2015 before falling sharply during the third quarter against weakening economic growth in China, previously an engine for economic growth over the past decade, and uncertainty about US interest rates.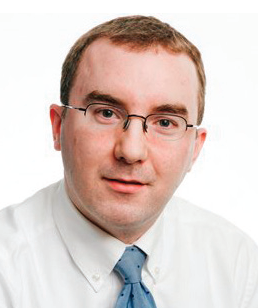 On the liability side, high-quality corporate bond yields as of the end of August 2015 were about 0.30% per annum higher, on average, than the end of 2014. These higher yields mean that IAS19 liability values have decreased during 2015 and provided some respite against the continued increase in pension liabilities.
LCP estimates that the aggregate pension deficit for the Irish funded schemes analysed stood at €5.6bn as at 31 August 2015 (€5.8bn at 31 December 2014).
As figure 2 shows, there can be significant volatility in the deficits from month to month as equity values and bond yields fluctuate. Indeed, when bond yields fell to the lowest point in April 2015, it is estimated that the aggregate pension deficit exceeded €10bn.
One company included in last year's survey made a final contribution into its Irish DB plan and it was subsequently wound up. Another scheme, which included elements of DB and defined contribution (DC), was closed to new entrants and a new DC scheme introduced.
The replacement of guaranteed pension increases with discretionary pension increases linked to funding was another change observed.
Allocation to equities fell
The level of exposure to equities fell from 49% in 2013 to 45% in 2014. The allocation to bonds increased from 34% to 36% and the allocation to other classes increased from 17% to 19% (as illustrated in figure 3).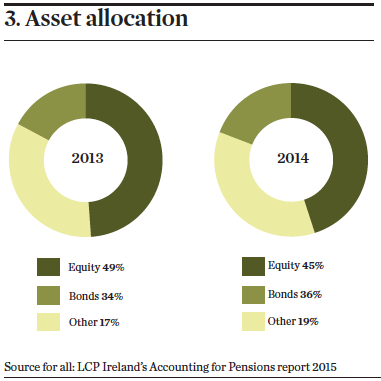 There is evidence that trustees are actively reviewing their investments and implementing de-risking strategies. We expect this to continue as many schemes review asset strategies as part of recent funding proposals.
In previous years, we reported that Irish pension schemes had higher allocations to equities when compared with other jurisdictions. Our current analysis continues to support thi s. For example, in the UK, about 30% of pension scheme assets were allocated to equities at the 2014 year-end compared with 45% for schemes in this report.
Company exposure to schemes
Figure 4 shows the size of the pension accounting liabilities relative to market capitalisations. The total pension liability, expressed as a proportion of market capitalisation, fell slightly over the year (from 27% in 2013 to 26% in 2014).
The companies analysed paid substantial contributions, over €1.27bn, to their pension schemes in 2014. It is clear that pension schemes remain one significant cost for these organisations.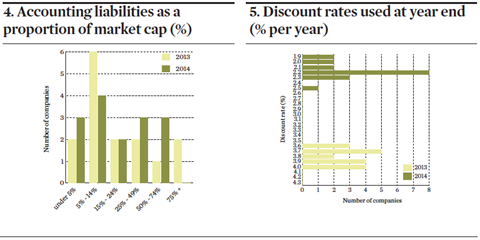 Our analysis of the accounting disclosures shows that most pay contributions in excess of the cost of benefit accrual under IAS19 as attempts are made to reduce past service deficits. On average, companies paid contributions of just over 2.2 times (2013: 2.7 times) the cost of benefit accrual on the accounting basis.
The key assumption – discount rate
The discount rate is the key assumption used to value pension liabilities. Under IAS19 and FRS17, this assumption is based on the yields available on long-dated high quality (typically AA-rated) corporate bonds in the currency of the liability at valuation date. The yields on high quality corporate bonds, and hence the discount rates, will fluctuate from day to day in line with market conditions.
In figure 5, we have analysed companies reporting with December 2014 year-ends. As this shows, there was a significant fall in the discount rates disclosed compared with 2013.
Most disclosed a discount rate in the range 2% to 2.2% per year. The average discount rate for companies was 2.2% at end-2014 – a fall from the average discount rate of 3.8% as at end-2013, reflecting the commensurate fall observed in corporate bond yields over 2014.
We continue to see convergence of the discount rates used by companies in their pension disclosures. This is welcome and makes it easier for readers of annual reports to compare the pensions' exposure of companies on a more consistent basis.
Mick O'Byrne is an actuary at LCP Ireland. The 2015 LCP Ireland Pensions Accounting Briefing is available to download at www.lcpireland.com
Pensions in Ireland: No universal solution
1

2

3

4

5

Currently reading

Pensions Accounting: Deficit pain lingers