Like their international counterparts, Austrian Pensionskassen must find new sources of return. Barbara Ottawa reports on the potential opportunities
For Günther Schiendl, CIO of Austria's largest Pensionskasse, VBV, a reason for its outperformance against its peers last year is that it has not invested in emerging markets since 2010.
At a glance
• Emerging markets provide investment opportunities.
• Further diversification is hindered by macro-economic issues and regulation.
• Growth in the second pillar has stalled due to lack of political commitment.
• Sponsors are still wary of making pension promises.
However, if you analyse the portfolio, central and eastern European markets are – and have been – making a significant contribution over the last years. "They are 'extended Europe' not 'emerging markets' in our wording," explains Schiendl. This way of thinking outside labels led the fund to invest in EU periphery countries as "developing economies" when it made sense.
Also, emerging market corporates remained in the portfolio but as part of the corporate debt strategy. Only emerging market equities have been a no-go recently.
At the €4.3bn APK Pensionskasse, CEO Christian Böhm identifies fear regarding emerging markets, although he believes a "very differentiated approach" is required. For Böhm, political governance indices are a good indicator for investment opportunities. Investee countries should also have another source of income aside from commodities and invest in education, he believes.
"It is unwise to write off emerging markets in general, but there is a case for heightened caution with some countries – just compare Portugal to Brazil, which have the same sovereign rating but a huge difference in bond rates," says Böhm.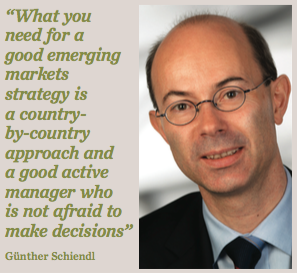 For 2016, Schiendl sees renewed opportunities in emerging market debt, especially as local currencies have suffered major drawdowns recently and the US Federal Reserve is unlikely to raise rates again in 2016. "This means the fear of emerging market investments is going down," he says. "What you need for a good emerging markets strategy is a country-by-country approach and a good active manager who is not afraid to make decisions outside the mainstream".
Christian Schön, a member of the executive board at Erste Asset Management, confirms the increased interest in emerging market debt "not only by Austrian institutional investors but also by their German and international counterparts". He says the heightened interest is because interest rate risk, particularly in emerging market corporate debt, is smaller than in developed markets. Furthermore, Erste manages a dedicated emerging corporate bond fund with an overall 25% share in financials. "Other corporate indices have up to 40% which means our investments are much more closely linked to the real economy," he explains.
Long-term strategies
For 2015, the overall investment strategy meant the €6bn VBV Pensionskasse returned 3.5% versus the multi-employer fund market average of 2.27%.
According to a long-term ranking of multi-employer funds compiled by Mercer Austria, Allianz Pensionskasse has been the best performer over the last three, five and ten years. VBV Pensionskasse came second in the five-year ranking and third in the three-year list, trading places with Bonus Pensionskasse in the rankings. Over 10 years, APK Pensionskasse took second place followed by Valida Pensionskasse.
For Böhm, a problem with a long-term investment approach has been central banks distorting the bond markets: "As a retirement provider, we should be able to think and invest long-term but this perspective is buried under macro-political issues," he says. "We have to make more tactical adjustments to the portfolio than we would like to," he adds.
Böhm stresses many prominent analysts had to discard their 2016 forecasts by February. "For a long-term investor, it is very difficult to be confronted with so many contradictory reports."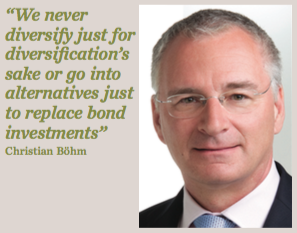 On the other hand, he is convinced that structural changes like demographics and energy transition are here to stay. "Very often, when such major structural changes are happening too fast, much gets destroyed over the short-term and you have to be aware that some past assumptions might no longer hold up," Böhm says, although he cautions against over interpretation.
While Böhm mentions the positive long-term effects of refugees for an ageing European population, he also sees short-term challenges: "In the short term, we have to cope with cultural problems and the national states are overwhelmed and cannot cope," he says. "We are confronted with many external events where we cannot assess their effect on the real economy, so we have to keep a cool head, which is not always easy."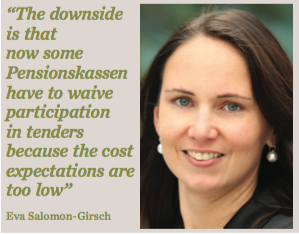 In his portfolios, Böhm retains the principle of "robust diversification without over-diversification". He says: "Today, valuations are becoming much more important and we have to identify overvalued investments or at least have a much better indication of the risk-return profile." For APK, diversification means including indirect real estate loans or looking for niche areas that can be properly evaluated. "We never diversify just for diversification's sake or go into alternatives just to replace bond investments," he stresses.
Regulatory disruptions
In VBV's portfolio, Schiendl is seeking to be "slightly more opportunistic in real estate investments" and to capitalise on opportunities in the euro-zone periphery. Other possible investments could be in commodities (excluding agriculture) where few investors are venturing. But Schiendl admits the environment is difficult. The situation is not made easier because some domestic providers do not embrace new asset classes or strategies, although foreign players fill the void. Schiendl sees a lack of understanding of broader Austrian financial market interests and of the implications of losing out to competition. Active engagement with the authorities is needed, he believes.
Schön at Erste Asset Management also sees difficulties with the financial authorities: "While the German regulator is willing to discuss new, innovative fund solutions in advance to help the asset managers structure them accordingly, its Austrian counterpart often waits for the finished product and may apply a fine if it does meet the regulations."
One of the problems for Böhm is the uncertainty regarding interpretations and the actual application of legal provisions, such as those regarding the use of derivatives or macro hedges. But, he points out the Austrian financial market authority FMA – unlike their European peers – has little leeway in adjusting regulatory requirements to the economic reality. "They cannot run to parliament for every small change to the law but they are often very understanding of the problem," he adds.
The other 'low interest' problem
Apart from the low interest rate environment there is also a 'low-interest environment' among Austrian employers towards pension funds: only a quarter have a second pillar arrangement. SMEs in particular are reluctant as they feel the contracts are too complex. And even those with a pension fund option similar to the deferred compensation model in their industry's collective bargaining agreements shy away from setting up a contract.
Nevertheless, Thomas Wondrak, an independent consultant in Vienna, sees increasing interest in occupational pension plans and says the inclusion of occupational pension models in collective bargaining agreements is "starting to change people's mindsets" Pointing to the tax advantages, he says: "Many companies are interested, what they need is information on the complexities of the system."
But the various tax incentives for occupational pension schemes are not widely known, Wondrak adds, even though they have been negotiated by the social partners. "But neither the Chamber of Commerce nor the trade unions are promoting these options to their members", he says. "We do not need major changes to the tax system or the second pillar in general, we just need to make sure the current options are being used."
In order to deal with the long-standing problem of the high annuity conversion rate embedded in many old contracts, Michaela Plank, principal at Mercer Austria, suggests promoting the life-cycle model Austrian pension funds are obliged to offer, if clients demand. They have a maximum conversion rate of 4% according to FMA regulations, whereas some old contracts still apply a rate of up to 6% or even higher.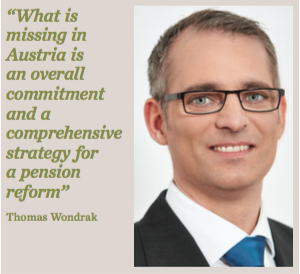 Plank suggests abandoning the conversion rate for active members, as it is confusing and is only applied upon retirement. "For active members, it only creates expectations that might not be fulfilled," Plank says. From this summer, the maximum rate to be applied to new contracts will be lowered from 3% to 2.5%.
Eva Salomon-Girsch, managing director at Willis Towers Watson in Austria, is worried employees are overwhelmed by choices like life-cycle models as they are not used to thinking about their pension. "Most remain in the default portfolio because the easiest option is not to make a choice," she says. Nevertheless, Salomon-Girsch argues against an automatic transfer to different risk portfolios according to age "because everybody has different financial needs at different stages of their life". Only one Pensionskasse has implemented automatic transfers to different risk categories according to age, others allow a free choice.
Employers thinking of offering a pension scheme should act fast because they are unlikely to get better fee conditions than now. Over the last year. prices have been driven down to increase membership and, in particular, to land the Austrian universities as clients. "The downside is that now some Pensionskassen have to waive participation in tenders because the cost expectations are too low," explains Salomon-Girsch. This vicious circle will be hard to break.
"What is missing in Austria is an overall commitment and a comprehensive strategy for a pension reform," says Wondrak. This was also proven by the fact that an announced pension reform proposal scheduled for 29 February turned out to be a minor agreement on a minimum pension for certain individuals – so it might be that Austrians have to wait for another leap yearfor a new policy.
Looking back at the 2013 coalition agreement between the social democrats and centre-right conservatives, Wondrak notices many unfulfilled promises: "Only the issue of increased transparency for Pensionskassen members has been addressed." The promised evaluation of the second pillar has not yet taken place.
Disentangling Volksbanken
Barbara Ottawa
The insolvency of the Austrian Volksbanken group has created a new player in the Austrian Pensionskassen and Vorsorgekassen markets.
After the financial crisis, the Volksbanken group suffered major losses and the government decided to break it up and create a new structure. This included sales of non-core business structures like Volksbank Invest, the asset management arm.
This was sold to Germany's Union Investment. With the new acquisition, Union is moving its Austrian representation from Linz to Vienna and the historic stock exchange building.
Union Investment Austria, as it was renamed in December, now has €5bn in assets under management.
A further sale was Volksbanken group's share in the Victoria-Volksbanken Pensionskasse and its provident fund (Vorsorgekasse).
In 2012, as part of the German Ergo insurance group, the Victoria-Volksbanken insurance business was renamed Ergo Österreich. It was also co-owner of the Victoria-Volksbanken Pensionskasse and Vorsorgekasse, together with the Volksbanken group. When the Volksbanken group started insolvency proceedings, Ergo announced its intention to sell its share in the Pensionskasse and Vorsorgekasse to facilitate a 100% sale of the insurance entity.
The bidding was won by the Bonus group, co-owned by Generali and Zurich Insurance Group. Market insiders confirm there was a consensus not to allow Fair-Finance's Markus Zeilinger to enter into the Pensionskassen business. The purchase was simplified as both were acquired by a single entity.
This year, the Bonus group will merge the listed companies and will continue co-operation with Ergo on the insurance side and with Volksbanken branches for distribution and sales, Peter Deutsch, its chairman confirmed to IPE. He is relieved and elated how "well the co-operation with the authorities" has worked. He says the Austrian financial market authority FMA, as well as the European authorities were "excellent". He had been doubtful that the transaction could be finished before the end os 2015.
Deutsch does not expect changes to asset allocation in 2016. And for now, Union KAG, which has taken on Volksbank Invest, continues to co-operate with Bonus on the management of the Victoria-Volksbanken assets in the Pensionskasse and Vorsorgekasse. Merging the two company structures takes priority because use of the Victoria-Volksbanken name has a time limit.
In total, the Bonus Pensionskasse will be managing €1.4bn with €730m coming from the purchase. In the Vorsorgekasse, Bonus will be managing €800m with €230m from the deal. This increase in assets will earn Bonus a 10% market share (up from 7%) in the Vorsorgekassen segment and 6.7% (up from 2.5%) in the Pensionskassen market.
Last year, Bonus' Pensionskassen assets were boosted by the integration of Generali's company pension fund into the multi-employer provider.
Since mid-December, a trio of managing directors – Wolfgang Huber, Georg Daurer and Peter Deutsch – have been installed both at the Vorsorgekasse and the Pensionskasse. Marita Hofer, formerly on the board of the Pensionskasse and Vorsorgekasse at Victoria Volksbanken was appointed to represent these entities.
Asked about the future of the pension fund business in Austria – excluding the mandatory severance pay funds which are set to grow in any case – Deutsch, like the Pensionskassen association FVPK sees potential in the SME sector. "They need simple solutions which are easy to explain to any carpenter, IT start-up or shop owner running their own business with a few employees," stresses Deutsch. Although pension funds can offer individual, simplified solutions for clients, it would make sense to set up solutions across the industry, Deutsch argues.
As regards the Vorsorgekasse segment, Deutsch says the sustainability accreditation that Bonus, like most providers, receives from the Austrian association for environment and technology (ÖGUT) is a must-have: "We would be at a competitive disadvantage, if we did not have it," he says. In the Pensionskassen market, however, there is as yet insufficient pressure from clients to boost sustainable offerings, he notes. The Bonus Pensionskasse is so far the only one to have at least part of its portfolio certified by the ÖGUT.
Pensions in Austria: Broadening the horizons
1

Currently reading

Pensions in Austria: Broadening the horizons

2