Baltic second-pillar pension funds face common challenges in a low-return environment, such as searching for yield and illiquid opportunities in a challenging regulatory environment, according to Reeta Paakkinen
At a glance
• Pension funds' asset allocation in all three Baltic countries remains conservative with a notable exposure to fixed income.
• Equity portfolios are heavily invested in the euro-zone and the US.
• Baltic equities are shunned by many funds as illiquid investments.
• Pension companies in all three countries would like to see more new investment vehicles introduced.
• Pension managers cite strict regulations and limited scope of local economies as main factors complicating the launch of new investment vehicles.
Asset allocation in the Baltic countries remains conservative with considerable exposure to fixed income and European and US equities. In Latvia, investors would like to see new vehicles introduced, but the size of economy makes expanding the product range difficult, says Dace Brencena, CEO of SEB Open Pension Fund in Latvia.
Latvia's second pillar has €2.7bn assets under management and 2.26m pension savers. The corresponding figures for the third pillar are €300m of assets and 255,000 participants.
SEB's asset allocation is similar to the average asset allocation of Latvian pension funds overall, both in the second and third pillar. Some 53% of SEB's pension assets are invested in bonds, 27% in equities, 9% in cash, 7% in alternatives and 3% in term-deposits.
"We are interested in new investment tools developed in the Baltic States. Real estate and timber funds would be nice to add to our portfolio. However, the small scale of Baltic economies limits the possibility to create new financial instruments. It is quite expensive to create and manage funds in a small economy where there is no guarantee that a pension fund will invest in the new product, even if regulations allow its creation," Brencena explains.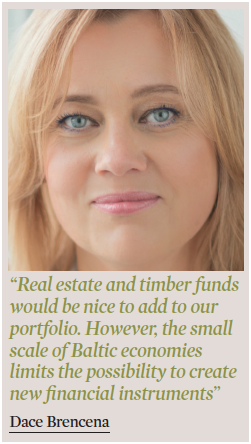 The Latvian government should be more proactive in boosting private pensions, Brencena adds. This could be done by encouraging municipalities and state investment funds to finance the launch of new investment vehicles. "One good example of what could be done is the green energy bonds Latvenergo, the listed state energy company, issued this year," she notes.
During 2016, Latvenergo Group issued green bonds totalling €100m. The funds raised will be channelled to 'green' projects the group is financing. According to Latvenergo, more than 20 investors, including asset management companies, insurance firms and banks in the Baltics and Europe have purchased the bonds.
A common feature across Baltic pension investors is that their equity portfolios are invested in non-Baltic stocks. SEB in Latvia invests in Latvian equities only on selective basis as the domestic market is so limited.
Sven Kunsing, head of investment management at SEB Wealth Management in Tallinn, notes that in Estonia, SEB's funds are not keen to invest in domestic equities. SEB manages €600m in second and third pillar pension assets in Estonia and similar amounts in Latvia and Lithuania.
The assets of SEB's largest pension fund in Estonia, with a size of €465m, are invested in equities (30%), fixed income and cash (67%) and private equity 3%. The equity exposure is lower than the maximum 50% that local regulation allows. The company, which manages six pension funds, has minor exposure to property funds which it acquired prior to the financial crisis of 2008. It has not made any property investments since. During the first half of 2016, SEB's second-pillar funds yielded a return varying from -1.5% to +1.0%.
In Estonia, SEB has exposure to the Baltic markets only in high-rated government and quasi-government bonds and private equity. Kunsing explains: "In recent years, we have not invested directly in Estonian listed equities or local unrated corporate bonds, as they are basically a liquidity trap. The local market is very narrow and shallow."
Investing in Estonian forests
Swedbank is one of the main investors in Birdeye Timber Fund 2, a real estate investment fund investing in Estonian forestry. It launched in October 2016.
Birdeye Capital is the first timber fund manager in Estonia independent of the local industry and supervised by Estonian regulator. Birdeye Timber Fund 2 is the second fund launched and is aimed solely at institutional investors.
Investing to profit from biological timber growth rather than from harvesting activity, is new in Estonia says Tõnis Nõmmik, pension and investment funds project manager at Swedbank Investment Funds.
"Until now, the main industry players in Estonia have been building up their forest portfolios with the aim of securing their future logging reserves. This the first time Swedbank Investment Funds has invested in forestland fund which targets yield mainly from forest biological growth over the longer period. The fund targets returns over 6% per annum after the end of its investment period," he adds
In addition to biological timber growth, some consolidation premium is also expected. Currently in Estonia, 75% of privately-owned forestland is held in parcels of 50 hectares or less.
SEB in Estonia is interested in new investment options, but regulations on liquidity requirements complicate diversification into less liquid instruments.
"Currently, the main challenge for Estonian pension investors is regulations, which are very strict. Interest-bearing instruments are rated as low risk investments and most other asset classes are essentially considered as high risk. Funds are classified similarly actually for the whole Baltic region," Kunsing says.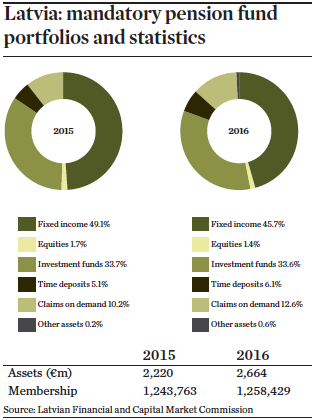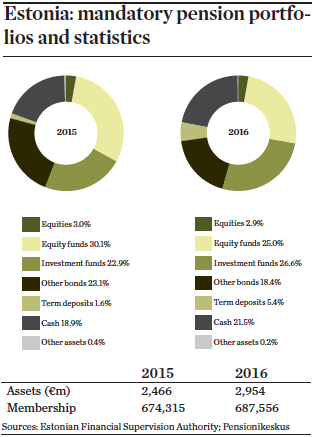 Olli Enqvist, fund manager at Nordea Pensions Estonia, adds that the strict investment regulations are tricky, especially in the current low-yield environment. "Regulations in Estonia cause challenges for conservative funds, because they can only invest in low-risk bonds, where yields are currently extremely low," Enqvist says.
Nordea's largest fund in Estonia has 43% invested in equities. Most of the exposure consists of US and global equities. "In choosing the equities we invest in we do not have a strong view on any individual emerging market country. Instead, we favour a diversified strategy across the asset class," says Enqvist.
Kunsing notes that despite the regulatory challenges, SEB is keen to diversify its portfolio and is looking at options. "We are probably going to make some new private equity or infrastructure investments and invest maybe also in real estate," Kunsing says. "The problem is that currently these markets are living in an era of negative returns. All investment vehicles charge quite high fees and I wonder what lies ahead when the interest-rate cycle turns. Therefore, we are not rushing these decisions."
The Estonian pensions market is reactive to the political environment, especially following the formation of a new government under Jüri Ratas of the Centre Party in November 2016.
"Everybody here agrees pension assets are currently growing at a fast pace, but we are concerned that the government might be tempted to dip into the pension fund 'honey pot' when they face challenges with their spending plans," Kunsing says.
"We have not invested directly in Estonian listed equities or local unrated corporate bonds, as they are basically a liquidity trap. The local market is very narrow and shallow"
Sven Kunsing
"They may follow the lead from Poland and Hungary to plug holes in the budget. At least, we have not heard that this wouldn't be considered as an option. Luckily, however, Estonia has been the shining example of strict government finances," Kunsing adds.
Estonia's general government debt-to-GDP ratio stands at 10% or €2bn in monetary terms. The net assets under management of second-pillar plans in Estonia total €2.98bn.
Kunsing says the government has been criticising managers for low returns, but has not understood that the current regulations – especially around liquidity requirements – actually promote short-term thinking among managers whose returns are compared on daily basis.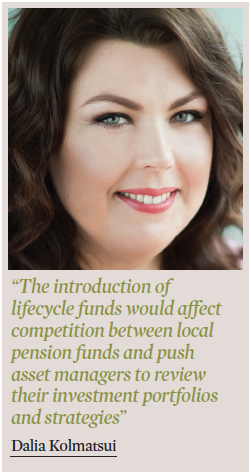 "This is ridiculous, but it is a fact and we have to live with it. A long-term view is a must for pension investors. We are very far from that in Estonia – a lot of people are moving between pension funds and providers very frequently. This is not a good environment for making really long-term investments," says Kunsing.
In Lithuania, global political instability is the key risk from an asset manager's point of view. "Fortunately, current political issues in the Baltic states, Europe and the United States have not affected major markets yet, but that could change any time," says Vaidotas Rūkas, CIO of INVL Asset Management.
The fixed income component in INVL's balanced pension funds consists of risk free and riskier assets with a bias towards emerging Europe and exposure to corporate and government fixed income instruments. "Being active managers in fixed income, we constantly make active bets," Rūkas notes.
On the equities side, the firm has a passive strategy to replicate the MSCI World index, but it leaves room to invest up to 10% of the equity allocation in Baltic listed stocks, real estate or private equity. This means that three quarters of INVL's equity allocation is invested in developed markets and the rest in emerging markets including the Baltic states.
Latvian inertia
The Latvian pension system underwent a radical reform in 1995. The flat-rate pension scheme with benefits depending only on the length of service was replaced with a notional defined contribution earnings-related scheme. Dace Brencena, CEO of SEB's Open Pension Fund in Latvia, notes that although Latvia's private pension system was established more than 20 years ago, the growth of assets as well as the ratio of people investing privately in pensions is still too low.
Latvian third-pillar pension assets total €300m today, 5% of total GDP, and are managed by six companies. Second-pillar assets total €2.7bn and the number of participants is 1.26m.
"Compared with developed economies, this is a really small volume. We need to see more rapid growth in contributions. The OECD also says all employees should automatically have pension plans, and in the UK the automatic enrolment system is a good example of boosting the system." she says.
"The fact that only 25% of Latvians save for private pensions and only 6% of contracts are corporate pension plans, is not the result we would like to have."
"We believe emerging markets may bring better returns in the medium term as valuations in the region, compared to developed markets, are more attractive," says Rūkas. "We are looking for new investment opportunities in real estate, infrastructure, as well as timber. Currently, there are is opportunity to invest in local timber vehicles, but we hope to see this soon," he adds.
One new investment vehicle that could be introduced in Lithuania is lifecycle funds. Dalia Kolmatsui, head of pension funds and retail sales of INVL Asset Management, says the Central Bank of Lithuania initiated a plan a long time ago. "The introduction of lifecycle funds would affect competition between local pension funds and push asset managers to review their investment portfolios and strategies," she says.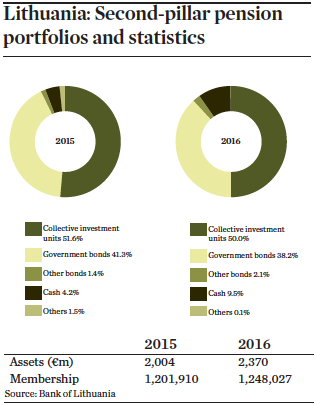 However, Lithuanian pension savers lack awareness of the pension system and forecasts of their future benefits, says Kolmatsui, referring to recent calculations of Lithuania's Central Bank. "More than 50% of participants have chosen the wrong pension fund taking into account their age. More than two-thirds are passive investors and choose one pension fund for their whole life. Only 2% of all participants changed their pension fund or company in 2014-2015. Active clients follow short-term results and 92% made the wrong decision during the financial crisis in 2008. This shows more education on investment options is still necessary," Kolmatsui concludes.
Lithuania expects reforms
Lithuania's pension sector is expecting the new government, elected in autumn 2016, to reform the pension system. The Peasant and Greens' Union included several pension-related proposals in its successful electoral platform. More than 90% of the working population in Lithuania are covered by a second-pillar plan.
The industry is now waiting for the upcoming changes, says Dalia Kolmatsui, head of pension funds and retail sales of INVL Asset Management.
The key proposal is that privately accumulated personal pensions would form one pillar in future, combining the existing second and third pillars. The possibility of cancelling contributions from the state social insurance budget to pension funds and the establishment of occupational pensions has also been discussed.
"The programme is still being discussed. Pension investors expect all possible changes will be analysed exhaustively before any decisions are taken," says Kolmatsui. Lithuanian second-pillar pension funds participants are aware of Polish and Hungarian examples where pension assets have been nationalised, she adds.
"From our point of view, the risk that the pension fund system will be changed again, is the biggest obstacle to the stability of our pension funds system right now," Kolmatsui says.
Since the inception of the pension fund system in 2003, the laws and regulations on pension funds have changed 24 times. "Both participants and companies would like to see more stability," Kolmatsui underlines.
Pensions in CEE: New dawns for Baltic pensions
1

Currently reading

Pensions in CEE: New dawns for Baltic pensions

2

3

4

5

6