Gail Moss assesses the effect of two new regulations on the asset allocation of Irish pension funds in a continuing low-yield environment
At a glance
• Irish DB schemes are subject to a new risk-reserve requirement.
• Equity allocations are falling, with lower-risk bonds and alternatives favoured.
• Many DC scheme members are turning to growth assets to save through retirement.
A new risk-reserve requirement for defined benefit (DB) schemes took effect on 1 January 2017. Pension funds must build a buffer equal to 10% of liabilities, less any liability-matching bond and cash assets, plus an additional margin to reflect the impact of a 0.5% decline in bond yields on asset and liability values.
Meanwhile, the permissible recovery period for schemes in deficit may be extended if there is a greater allocation to lower-risk assets in the portfolio. A risky asset is defined as any holding other than cash, euro-zone sovereign bonds or high-quality euro-denominated corporate bonds.
How have these new measures affected the asset allocation of Irish pension schemes? Pension schemes have, over the past few years, been reducing risk both in terms of equity and within their bond portfolios, says Paul Kenny, investment partner at Mercer Ireland.
"Bond allocations are around 50% now, with a further 15% in alternatives," he says. "Meanwhile, in percentage terms, equity allocations have dropped from the mid-60s to the mid-30s over the past 10 years."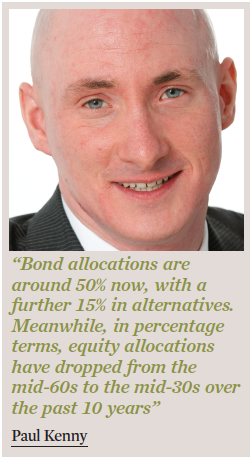 Kenny observes that, prior to the 2008-09 financial crisis, Irish pension funds reduced their holdings of government bonds in peripheral countries such as Italy, Spain, Portugal and Greece, focusing instead on Germany, France and the Netherlands.
"More recently, there has been a reflection of the current levels of core sovereign yield available, with pension schemes responding by moving down the credit risk spectrum into corporate and high-yield debt to try to increase the yields on their bond portfolios, at an acceptable level of risk," he says. "In addition, some pension schemes have shifted some assets into higher-yielding global government bond mandates."
At the close of 2016, core euro-zone bond yields were 50bps lower than at the start of the year because of increasing geopolitical uncertainty, and views that inflation will remain low and monetary policy accommodative for a prolonged period.
"If there was a change in the yield environment, for example, if yields were, say, 1% to 1.5%, higher," Kenny says, "we would likely see an increase in the allocation to bonds beyond the current approximately 50% average allocation."
According to Padraig Flanagan, senior investment consultant at Willis Towers Watson , the combination of scheme maturity and a regulatory drive for increased bond exposure has forged a trend for more – and better diversified – government bonds and matching assets at the expense of growth assets.
He adds: "For many schemes on this gradual de-risking journey, the decline in yields in recent years has challenged the affordability of such switches. So last year's Q4 bounce in government yields was timely and welcome. It will enable more schemes to remain on track with their funding plans and facilitate further de-risking."
But the low-yield and low-return environment remains a problem, says Flanagan. "DB investors are trying to make assets work harder," he says. "Derivatives-based liability-driven investment approaches are finally finding favour, as they meet a number of needs, including the ability to hedge more liability, interest rate and inflation risk per unit of capital, and the ability to free up capital previously held in bonds to seek out increased returns."
Construction portfolio
The Construction Workers Pension Scheme (CWPS) is managed on a segregated basis, with a pensioner fund worth €260m out of an overall value of €1.44bn at the end of September 2016. The CWPS is a DB scheme as it pays pensions out of the scheme assets invested in the pensioner fund, but it is defined contribution (DC) during the accumulation phase.
The pensioner fund is used to pay pensions, and future outflows are fully matched with a "very robust and highly-rated bond portfolio", according to Anne Keogh, head of trustee secretariat services at CWPS. The portfolio, a mix of high-quality bonds, is run by a single manager.
At the end of September 2016, the portfolio, as a whole, was invested 30% in alternatives, 24% in equities, 5% in property, 27% in bonds and 14% in cash. Geographically, 49% was invested globally, and 37% in Europe, with the rest in cash. Alternatives include commodities, currency funds, hedge funds, credit and global tactical asset allocation funds.
CWPS has increased its allocation to alternatives as a way to generate additional returns for members in this low-return environment. "Carrying out proper due diligence and spending time on monitoring these investments has added to our members' annual investment return," says Keogh.
Despite the performance of equity markets, pension schemes are looking elsewhere for returns, Flanagan says. "Equity markets continued to perform strongly in 2016, but there is a growing concern that this exceptionally long equity rally must ultimately end, and pension trustees are seeking ways to better protect their schemes," he says.
"This has been to the benefit of a range of asset classes and investment strategies, including diversified growth funds, alternative credit, alternative betas and illiquid assets such as real estate and infrastructure."
Within credit, Flanagan says the European Central Bank's purchases of euro-zone investment-grade issuance has accelerated a trend towards global credit mandates and beyond investment grade corporate debt – a small subset of the global credit markets – to other 'alternative' credit assets.
Mercer, meanwhile, is tackling the need for equity-style performance by proposing emerging market equities or debt. "Emerging markets have had difficult periods over recent years and can be volatile, but the longer time horizon of pension funds means they can tolerate an allocation in that space," says Kenny.
The fundamentals of emerging markets are still valid despite the low-yield environment. "The long-term growth trajectory is better than for developed markets," Kenny says. "The demographics are more favourable, with a younger population and more people of working age in relation to those who are retired."
DB investors with a long-term time horizon are showing interest in less liquid assets, which can provide secure income streams. "These assets – such as long-lease property, ground rents and social housing – offer higher returns than equivalent credit assets in return for their illiquidity, but with the added comfort of an underlying asset as security," says Flanagan. "Secure income assets are well established in other markets such as the UK, but recently we are seeing a growing appetite for such strategies in Ireland, and this is beginning to be met by investment managers."
Kenny says Mercer is discussing unlisted infrastructure equity and private debt with clients. "Furthermore, in the broad absolute return space there are a number of vehicles with a cash plus 3 or 4% target, such as funds of hedge funds or diversified growth funds," he says. "The forerunner was the Global Absolute Returns Strategies portfolio from Standard Life, and now there is a wide range of funds in this space attracting interest from both DB and DC schemes."
Defined contribution
Within the DC sector, the Pensions Authority – Ireland's regulator – continues to highlight the need for trustees to consider their members' capacity to exercise investment choice and the risks they face when deciding on the options available to them.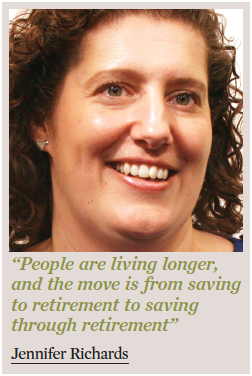 Some 18 months ago, CWPS made changes to its asset allocation by introducing dual lifestyling. As before, all members' funds are invested according to their age profile, but after reaching age 55, their funds are de-risked according to their projected retirement fund.
If the member's pension pot is above a certain value, it is taken as a mix of cash and pension; if it is below that value, it may be all cash. Both these options are subject to taxation.
"The lifestyling concerns risk, rather than return. For those members taking their full retirement savings as cash it derisks them towards cash at the point of retirement," says Keogh. "For those taking cash and buying a pension it derisks them to an appropriate asset allocation for that outcome."
Meanwhile, the alternative to an annuity purchase – moving into the approved retirement fund (ARF), which continues indefinitely with regular drawdowns providing the retirement income – has been in existence in Ireland for several years.
However, according to Jennifer Richards, head of investment distribution for Standard Life Ireland, the high cost of annuities has prompted a surge in popularity for this route.
"This strategy has increased," she says. "Before, the solution for DC members nearing retirement was a lifestyling approach, ending up with 75% in a long-bond fund and 25% in cash. But that is changing, with the realisation that retiring DC members are not actually buying an annuity, they are either taking all the money as part of their tax-free lump sum, or taking out an ARF, as an annuity represents poor value."
She continues: "People are living longer, and the move is from saving to retirement to saving through retirement. This also means having a diversified portfolio all the way through, looking for growth but with low volatility. Lower volatility managed funds and absolute return funds in particular are becoming very popular as a way of achieving this."
ESB's RetireSmart scheme finds engagement improves over sandwiches
• Founded: 1991
• Corporate DC pension fund
• Assets: €160m
• Members: 1,750 active and 350 deferred
• Annualised performance: 5% (one year)
• Choice of three lifestyle investment options
• Innovative member communication – simplified website, eye-catching literature
• Enhanced co-ordination with third-party administrator
In 1991, the ESB Defined Contribution (DC) scheme was founded as the pension plan for employees in subsidiaries of ESB, Ireland's electricity supply group. ESB also ran a defined benefit (DB) scheme, open to employees of the company.
The DB scheme was closed to new entrants in 2010, with new employees now joining the DC scheme by default. One problem in building up the replacement scheme has been member engagement.
Paul Duignan, pension service manager at ESB, says: "Each year, we e-mailed everyone inviting them to a meeting giving an overview of the scheme, including presentations from investment managers, but less than 80 people turned up out of 1,500 members. We were able to see how many members simply deleted their e-mails without opening them – and it was too many."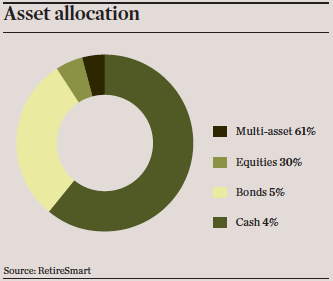 However, other aspects of the scheme met with more success with those members who took advantage of them. ESB paid for financial consultants to give an hour-long one-to-one advice session to those members who had 10 years' service with the company, or were aged 55 or 63.
"Everyone who used this said it was brilliant and would recommend it," says Duignan.
In mid-2015, the pension scheme explored how it could more successfully engage with members. It hired Gallagher Shilling as external communications consultants. "We wanted to be funky, different," says Duignan.
One immediate finding was that 'pensions' turns people off, but 'savings' will excite more interest. Another was the need for simplicity.
So the scheme was renamed RetireSmart, with the three core areas of contributions, investing and retirement choices branded SaveSmart, InvestSmart and LiveSmart respectively. 'Smart' echoes terminology like 'smart energy', as used by ESB's sister companies.
The company now runs an induction day for recruits, covering company policy, health and safety and pensions. The pensions presentation, lasting 15 minutes, was simplified to a single slide and 10 minutes of questions and answers. ESB found this led to increased interaction, with people learning from each other.
It also used behavioural analysis to gain insight into what engaged members. This extended beyond the format and content of meetings. Breakfast briefings now include rolls, while sandwiches are provided at lunchtime meetings. "That has brought people in – give them food and they will come," observes Duignan.
The consultants also operated focus groups among employees and brainstorming sessions between pension scheme staff.
On the product side, the investment range was streamlined by eliminating the actively managed specialist strategy. The passively managed global equity strategy was retained.
The scheme had one lifestyle option (medium risk) as the default; the rebranding introduced two lifestyle options – low and high risk. Members may opt for a personalised lifestyle option if they do not want to go with the standard options.
On the marketing side, changes have to be co-ordinated with the third-party administrator – currently Aon Hewitt – so that all parties work as one team.
For instance, the administrator has to invest members' contributions. Before the scheme can agree a date to issue new booklets and a date for switching investment options, it has to agree dates with the administrator so it can process member options.
Meanwhile, the scheme website is undergoing incremental improvements. Again, simplicity is the watchword; its url is www.retiresmart.ie.
The main aim has been to make it easier for members to use, down to a member's ability to reset his password. The focus groups had revealed that the log-in process was too difficult, with three stages before a member could log in.
The layout of the website has been simplified, with shorter blocks of text and better graphics. But the functionality remains the same: members can see their pots, and how much they have paid in in contributions, including additional voluntary contributions. There is also a projection tool to forecast how much the pot will be worth at retirement, and how much income members will receive.
The improvement in engagement was striking: in a two-week period after the website's relaunch, 40% of active members and 34% of all members logged in, compared with only 20% of members having logged in before.
At a more traditional level of communication, the aim is to create an appealing approach, while making a virtue of member apathy. For example, after 10 years with the scheme, the company will match 1% additional contributions made by the member. This works as a default, so members who do nothing pay the 1% extra contribution automatically.
At a visual level, mailshots are more colourful – and not just the brochures themselves. Furthermore, brochures are eye-catching, with information in bite-sized chunks.
Along with specific ideas which have successfully been used to improve member engagement, Duignan believes a healthily sceptical relationship with the communications consultants has helped: "We didn't always believe what they said, and we often challenged their ideas," he says. "We told them what works and what doesn't, from our focus groups. You also need to have ideas yourselves as to what you want."
RetireSmart will continue to innovate. "It's still work-in-progress; you are never finished," Duignan concludes.
Pensions In Ireland: Funds still under pressure
1

Currently reading

Pensions In Ireland: Funds still under pressure

2

3

4

5