Carlo Svaluto Moreolo reviews recent mandate activity of large Nordic institutional investors
A rundown of mandate activity from Nordic pension funds over the last six months suggests they are fretting about the threat of a longer-than-expected period of low yields and further doubts about European growth.
The vast array of strategies implied by the latest deals suggests Nordic investors, in order to guarantee stable returns, are focusing on diversification and building increasingly complex asset allocation strategies.
Albin Rosengren, partner at East Capital, an independent Stockholm-based asset manager, says the rotation out of bonds is continuing.
But the question is where investors are putting their money instead, and Rosengren's answer is "a bit all over the place".
Bond portfolios are being shaken up. One example is Danish pension fund Lønmodtagernes Dyrtidsfond (LD) which increased its exposure to corporate fixed-income by DKK1.8bn (€242m) in September. LD is also committing DKK1bn to senior debt in the third quarter.
In an anxious search for stable, attractive yield, Nordic pension funds are increasing exposure to infrastructure and real estate.

Real estate is still a priority on many funds' agendas, but opportunities are no longer easily available, notes Rosengren. In October, Sweden's Sparinstitutens Pensionkassa (SPK) announced that it had hired JP Morgan Asset Management to manage a SEK960m (€105m) global developed market core infrastructure strategy.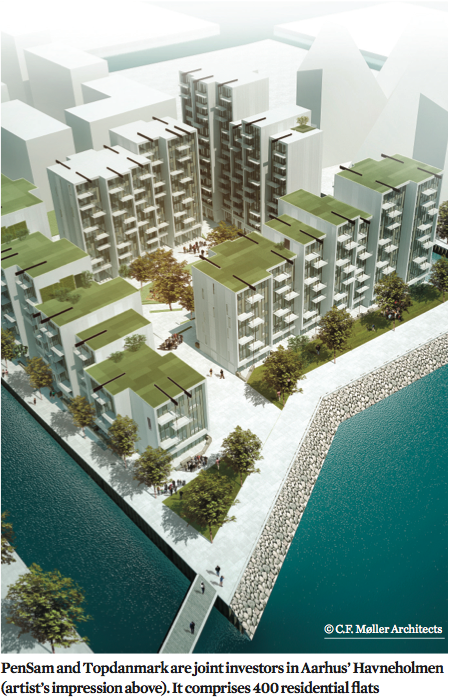 INTEXTLINKTEXT and Topdanmark are joint investors" src="/Pictures/web/m/p/h/Pensam-and-Topdanmark-are-joint-investor_449.png" />
In two real estate deals – both made in the Aarhus area in May – PenSam and Topdanmark jointly invested DKK600m in a residential development and Industriens Pension committed DKK140m to a new office building. This was the first property investment for Industriens.
SPK is also ramping up its real estate exposure, as part of an overhaul of its asset allocation that saw the fund move from two to 10 asset classes and reduce fixed-income holdings.
Alternative risk premia strategies are also becoming mainstream. SPK is among the pension funds that have added this asset class to its portfolio through a SEK1.92bn mandate assigned to RAMIUS Alternative Solutions. During the summer, Swedish buffer fund AP3 selected a market data firm, SuperDerivatives, as a supplier of investment analysis, valuation and real-time market data and news.
The economic uncertainty is also compelling funds to rethink equity allocations. Rosengren says that funds are allocating to developed markets, particularly US and Europe, where sound companies with relatively good value can still be found. Investors are biased towards large-caps with stable balance sheet, stable businesses and predictable dividend flows, where they believe they can find a much better risk-reward profile than at the long end of the yield curve.
In July, LD awarded Boston-based MFS Investment Management a DKK6bn mandate in global equities.
Nevertheless, some funds are still exploring small-caps and private equity. In April, Sweden's AP4 said it had invested €125m in two engagement funds with GO Investment Partners (GO), to seek exposure to European and Japanese small-caps.
PensionDanmark has announced its investment in Altor IV, a private equity fund focused on medium-sized Nordic businesses. AP2 is also exploring new private equity investments, having published a tender to create a portfolio management system in that asset class.
But within this sketchy picture, a clear trend is emerging. After two quiet years, emerging markets are back on the Nordic pension funds' radar. That is where investors see further protection from economic volatility.
LD announced last summer that it had chosen Fisher Investments to manage a DKK2bn emerging market equities mandate.
"Investors who took up their emerging market exposure in the last couple of years, are not looking to exit today," comments Rosengren. "The broader emerging markets have underperformed recently, but that has made their valuation quite attractive. Therefore, investors feel comfortable with owning emerging markets – it's a cushion if the developed market portfolio gets hit."
But this trend is more evident in the frontier markets space. Nordic pension funds have started to shift exposure towards frontier markets, a sector that has seen exceptional growth in the past year and is still undervalued compared with emerging markets.
Peter Curry, assistant director at Baring Asset Management, says: "One of the key drivers that investors are looking at are uncorrelated returns. Last year, we saw emerging market equities and debt are correlated downwards together. Investors are looking for protection from that, and frontier markets is where they may find it, given their negative correlation to both developed and emerging markets. On the whole in frontier countries, you don't have the same current account deficits that you do in some emerging market countries."
Rosengren notes that frontier market funds have seen 4% growth in AUM per month over the past year, moving from $13bn (€10.3bn) to the current $24bn. This, compared with the $800bn market capitalisation of emerging market equities, suggests there is some way to go. "Investors are becoming more sophisticated about emerging and frontier markets," he says.
The frequent changes in emerging and frontier markets indices, with countries moving between the two because of economic and geopolitical reasons, are something that investors should be monitoring closely, adds Rosengren.
Aside from portfolio issues, the Nordic market is also seeing structural changes involving multi-line investment businesses. "These organisations are streamlining their management selections teams into one consolidated group," says Curry.
Rosengren adds: "The smaller pension funds are being consolidated, or joining collective schemes and, as a result, they may group their mandates.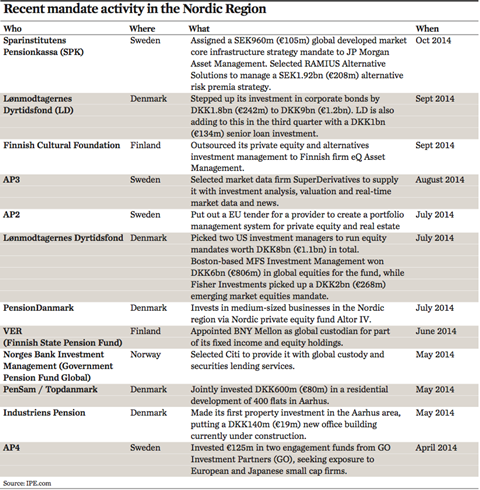 Christer Franzén, chief investment officer at the €2bn Ericsson Pensionsstiftelse, the pension fund of the Swedish technology company, says the number of managers has been reduced, "to be able to concentrate on the ones that we have".
A snapshot of his funds' portfolio provides some practical examples of the wider trends in Nordic pension investment. Franzén says his fund is focusing internally on equity derivatives.
External mandates are being maintained for the fund's sophisticated credit portfolio. This covers the spectrum of instruments from high- yield to structured credit, and had beaten the equity portfolio every year since its inception in 2009, until last year.
Franzén says one of the ways his fund is managing risk and achieving stable returns is by making equity investments in large-caps, while investing in small-cap senior secured credit.
Geographically speaking, the fund has reduced its US credit exposure and is overweight in northern Europe. Emerging market exposure has been reduced – the fund is now focusing on emerging market debt with long/short mandates to offset potential volatility in those markets.
Infrastructure and real estate remains a staple for Ericsson's fund, which directly owns Swedish social infrastructure assets.
Pensions In Nordic Region: Time for action on carbon
1

2

3

4

Currently reading

Pensions In Nordic Region: Efficient frontiers

5

6

7

8

9