KLP is on track boost its position as the country's second largest public pensions provider following the exit of Storebrand and DNB from the local authority market, writes Rachel Fixsen
Norway's pensions provider Kommunal Landspensjonskasse (KLP) is in the process of regaining much of the pensions business it lost in the 1990s when the public service pensions market became more competitive.
During that period, several Norwegian local authorities whose pension schemes had been managed by KLP put them out to tender, with some opting for the commercial providers Storebrand and DNB Livsforsikring (Life insurance).
But these have now decided to exit the public service pensions business altogether, which means the 3% and 5% of the market they respectively managed could flow back to KLP and its competitors.
In June 2013, DNB Livsforsikring – part of the Norway's largest financial services group DNB – said it was moving out of the public service pensions business because of the combination of ever tighter banking and insurance sector regulation, and the intense competition in public service pensions.
Anders Skjævestad, chief executive of DNB Livsforsikring, has complained that after many years of work in the sector, there was still no obligation on public service employers in Norway to put their pensions out to tender, meaning this business was only accessible to a limited extent to the private sector.
At that time, DNB Livsforsikring said it had around NOK40bn (€4.9bn) under management on behalf of 64 municipalities and 220 public enterprises.
Olso-based life insurer Storebrand, meanwhile, withdrew in December 2012 because of the investment needed to continue in the business.
Carrying on business in that market would have required investment in systems and processes, and the client volume it had was too low to justify such investments, the company said. Storebrand said it would wind up the public service pensions business over a three-year period, but would continue managing and administering pension funds for the public sector.
At a glance
• KLP is on course to add 58 municipalities and 200 enterprises to its client roster by the end of 2014 as Storebrand and DNB exit the public pensions market.
• DNB claims the public service pensions market is still only partially accessible to private firms and Storebrand blames cost of necessary investment in systems and processes.
• KLP says the market is still competitive given the presence of SPK, Oslo Pensjonsforsikring and a number of municipalities that run pensions independently.
• The new business should have little direct effect on KLP's asset allocation, whose equity weighting has increased at expense of bonds.
KLP has expanded its business since it was formed in 1949 by two local government organisations.
In the mid-1980s, it branched out into group life and accident insurance for local authority employees, and became a sizeable lender to the local authorities themselves, helping them finance development projects.
As a result of the exit of Storebrand and DNB Livsforsikring from the market, KLP – now the biggest life insurance company in Norway – is on track to add 150,000 additional members by the end of 2014.
In the first half of 2014, 42 local authorities and about 50 enterprises took their pension schemes to KLP, and a further 16 local authorities and 150 enterprises are set to transfer to KLP before the end of December, the organisation said in its half-year report.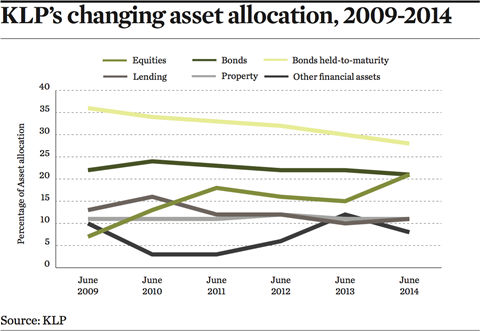 It is set to boost its position as the second largest provider of public sector pensions in Norway — after the state-run Statens Pensjonskasse (SPK), which has 49% of the market.
With a 31% share of the market now, KLP stands to absorb much of DNB Livsforsikring and Storebrand's combined 8% slice of the market — and has said it would do everything it could to make offers to those former DNB Livsforsikring municipal clients that wanted to put their pension plans out to tender.
The rest of the market is in the hands of Oslo Pensjonsforsikring with 6% and independent municipal pension funds, with 7% between them. DNB Livsforsikring's 5% of the market consisted of 64 municipal customers and 220 corporate clients.
KLP now manages pension funds for 409 municipalities, most government hospitals and 2,500 public sector companies, covering 400,000 active public sector employees.
"These transfers to KLP represent the largest influx of new members to KLP's pensions schemes ever," says Ole Jacob Frich, the institution's head of communication. He says this wave of transfers is prompting KLP to continue its focus on offering good value with good returns, low costs and good service.
The company is not having to take on any extra staff to manage the new customers, he says. "In other words, the overall cost reduction will have a long-term benefit for both KLP's owners and clients," Frich says.
He also emphasises that the new members KLP is taking on are fully reserved – including for longevity – and that their membership contributions are being made into the mutual entity rather than a subsidiary.
Frich also claims that the market exits of Storebrand and DNB Livsforsiking have not killed competition in the Norwegian public sector pensions market. "While KLP is the only provider of insured pension products to the public sector, a number of municipalities have opted to set up proprietary pension funds, so maintaining competitive pressure in the market," he says.
Despite the extra inflows, KLP has no plans to make changes to asset allocation, although low interest rates present a challenge. "To maintain high quality in investments while at the same time maximising returns, KLP has increased its investments in direct loans secured by mortgages or guarantees and other products that have the same high credit quality as normal bonds held to maturity that may have a liquidity premium, or other supplements for bespoke drawdown or repayment schedules," says Frich.
The institution's long-term objective is to maintain a solid level of financial buffers so that it can maintain a stable long-term investment strategy with a strong emphasis on bonds held to maturity or instruments with similar characteristics. "This has proved to be a successful recipe in achieving good returns on customers' funds," he says.
Pensions In Nordic Region: Time for action on carbon
1

2

3

4

5

6

7

8

9

Currently reading

Pensions In Nordic Region: Still a competitive market