Uncertainty over Greece is only one of several factors that have influenced trends in asset allocation over the past year. Gail Moss reports
At a glance
• Pension funds are increasing equity allocations, and also investing more outside of Europe in equity and fixed income.
• Peripheral debt is used for yield pickup, but funds distinguish between risk profiles of different countries.
• Some funds are protecting against rate rises by shortening durations and using alternatives.
As with other European institutions, Spanish occupational pension funds were hit in June by the widespread uncertainty over Greece, affecting returns for the 12 months to the end of June 2015.
According to the country's Investment and Pension Fund Association (Inverco), the funds returned 5.57% over that period, in marked contrast to the 10.61% returns for the 12 months to end-March 2015, and 10.25% for the 12 months to end-June 2014. However, funds recovered in July, almost to pre-crisis levels, said Inverco. The latest figures do not of course take into account the summer's market gyrations
In terms of asset allocation, the gradual shift towards equities of the past few years has continued, with 56.3% invested in fixed income at end-June 2015, compared with 61.6% 12 months before. Meanwhile, equities allocations rose from 19.5% at the end of June 2014 to 21.4% at the end of June 2015.
Trends in asset allocation have been about more than a reaction to the Greek debt crisis. Ricardo Pulido, director, global investment practice, Aon Hewitt in Madrid, says: "There have been significant changes over the past year, caused by important changes in markets and pension funds' expectations. Equity weightings have increased, mainly in the euro-zone and the domestic Spanish market. There has also been a slight increase in alternative investments."
Pensions Caixa 30, Spain's largest pension fund, is ahead of the game here, having continually reduced its fixed income holdings in the past five years, and now with only a modest amount in investment grade which it considers domestic such as EU bonds.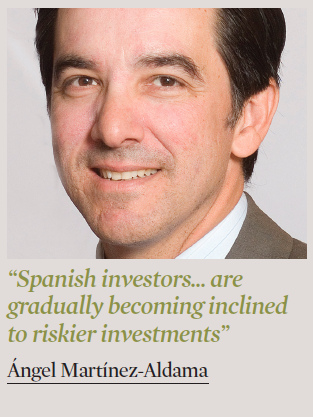 Antoni Canals, president, Pensions Caixa 30, says: "We consider the EU, not Spain, to be our domestic market and are constantly diversifying outside this area." A very significant part of its bond holdings, including emerging markets, high yield and some hedge funds are managed through external global investment vehicles.
While fixed income investments as a whole have been trimmed, there has still been activity within the asset class. "Because of the low level of returns, the weighting in Spanish government debt has been reduced in favour of euro-zone corporate bonds," says Pulido. "And across the asset class overall, funds have been reducing durations, or switching from fixed income to variable interest bonds."
While Spanish national government debt is seen as less of a risk than it was two or three years ago, the bonds issued by regional governments are also being seen as a more secure offering than before, as the regions' austerity measures gradually bring stability to local economies.
Xavier Bellavista, principal at Mercer, Barcelona, says: "Exposure to Spanish regional debt has been reducing during the year, as yields also moved to a lower level. There is still a relevant exposure because of the yield premium that the asset class is offering, but much lower than the percentages that we were seeing in 2012."
He says the move from Spanish to other euro-denominated assets has been uneven among Spanish pension fund managers.
"Some have moved to euro-zone government assets with longer duration, while others have moved to corporate assets. What has been a key factor in this change from peripheral assets is not the Greek debt crisis, but the reduction of yield that took place during 2014 and first few months of 2015." He adds that the introduction of alternative fixed income assets as private debt and loans is slow but is increasing.
If anything, the Greek crisis has affected attitudes rather than results. Pulido says: "The latest developments have helped the perceptions of the strength of economics like Spain, Italy and even Portugal, compared with Greek debt. Although there were times when Greek debt led to an exit by investors from all peripheral debt, now the market distinguishes between the different risks of the different peripheral countries."
David Cienfuegos, head of investment, Towers Watson, Spain, notes the ability of most fiduciary managers to exploit any yield pickup by combining, for example, Spanish and Portuguese debt.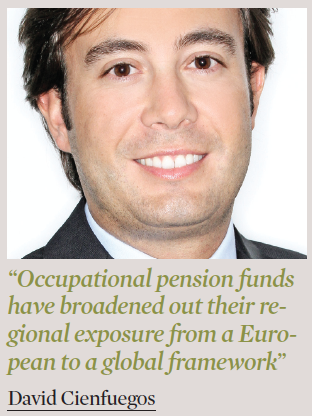 Pensions Caixa 30 says it has made some opportunistic investments in Italy and Spain according to peaks in the risk premia. Ángel Martínez-Aldama, chairman, Inverco, says: "Apart from Spanish debt itself, peripheral country debt positions have a residual value in Spanish pension funds. In any case, Spanish investors have experienced a change in their risk perception, and are gradually becoming inclined to riskier investments, with a higher equity exposure. This trend is also showing clearly in other products like investment funds, and may be the reason for a decrease in domestic public debt."
Jon Aldecoa, consultant at Novaster, agrees that the hunt for high yields continues, but in new directions. He says: "Spanish schemes are seeking alternatives to low yield fixed income but are still reluctant to increase the allocation to equities in their portfolio. One of the alternatives we favour is certain high yield bond funds, which can give some return with few shocks, as we are in a period of low default rates."
He also suggests to clients that other solutions could include a good infrastructure fund – although this might be expensive – or loan or diversified growth funds, and that equity-based exchange-traded funds could be used to add return in a predominantly fixed income portfolio.
Aldecoa says: "Although it appears untrue, a portfolio with a small equity content is more secure, in terms of real return, than a portfolio which is 100% in fixed income."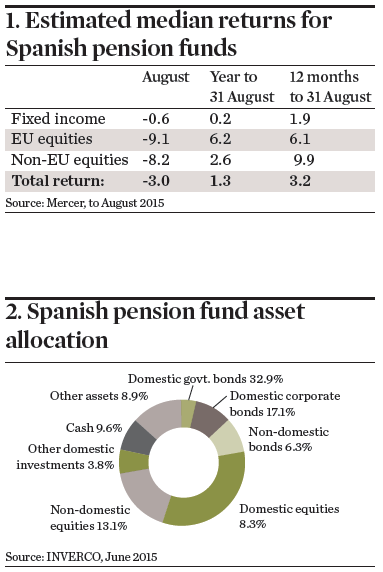 According to Inverco, 62.1% of assets were invested domestically at end-June 2015, but this was down from 66.8% in June 2014.
"The allocation to non-euro fixed income assets is probably the most significant change in geographical terms in asset allocation in the last years," says Bellavista. "Four or five years ago, there was just a residual exposure to this asset class, but it now constitutes up to 6% of the pension funds' allocation. It includes government and corporate non-euro assets, and also emerging, high yield and a small percentage in alternative fixed income, as private debt or loans."
On the equity side, he says that while euro equity assets previously represented two-thirds of equity investments, they now make up just half of total equity exposure.
Cienfuegos says: "Occupational pension funds in Spain have broadened out their regional exposure from a European to a more global framework, especially for equity and fixed income allocations. However, this new framework is very limited in terms of depth as it has been only for a very small proportion of total assets. Meanwhile, as fiduciary managers are diversifying into global sovereign bonds, high yield and emerging market debt their geographical exposure is changing."
In terms of global expansion, Pensions Caixa 30 is again forging ahead, with non-EU holdings – including equities and fixed income – now making up over half of its portfolio.
However, it is emerging markets equities which have produced the fund's worst performance, with a 10.58% negative return for the year to 4 September 2015 year to date. Due to its average weight of 6.76% of the portfolio the performance attribution is a negative 0.67% year to date. Canals says: "We consider the EU, not Spain, to be our domestic market and are constantly diversifying outside this area."
However, emerging market equities have produced the fund's worst performance, with a negative return of 10.58% from the start of the year to 4 September 2015. Owing to its average weight of 6.76% of the portfolio the performance attribution is negative at -0.67% over the period.
Meanwhile, Inverco says that Spanish pension funds are getting their best returns from Spanish and other European equity investments, and their worst from emerging markets.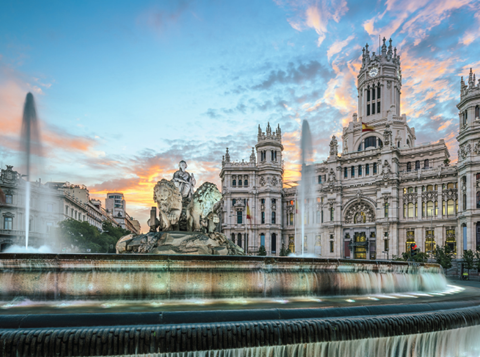 In the fixed income space, Cienfuegos says: "Pension funds are now taking advantage of yield compression as well as some of the benefits of diversification, that is dollar gains against the predominant euro exposure. In terms of the worst returns, we could possibly say that investment grade credit has been a drag on performance."
Pulido says the continued low interest rates have produced good returns from Spanish government bonds which were bought at high coupons during the Spanish debt crisis.
However, there are mixed views as to how soon interest rates generally will rise.
Pulido says pension funds are anticipating a rise in the US and Europe, and protecting their portfolios by reducing allocations to fixed income and shortening durations.
He adds: "They are also increasing floating interest rate bonds and diversifying through increased use of mutual funds."
However, Cienfuegos says: "We have seen a trend towards increasing duration within European fixed income allocations which makes us believe pension funds do not expect that a rising interest rate environment could be considered as a base case scenario, at least for Europe."
Pensions Caixa 30 is protecting against rate rises by further reducing its allocation to global bonds, while increasing private equity, hedge funds and real assets. More generally, over the next 12 months it also expects to reduce emerging markets and high yield bonds.
Looking ahead, Cienfuegos says: "As market volatility kicks in and uncertainty about interest rates continues, we expect to see occupational pension funds seeking more flexible investment strategies, which could lead to increased allocations to alternatives. This is a trend that we have already identified, but could intensify over the next 12 months."
Pulido says another trend in the past 12 months – likely to continue – is diversifying through mutual funds instead of direct investments, and looking for value in other markets (Latin America and some Asian markets) and in other strategies, such as hedge funds.
Fonditel: Economic environment leads to rethink of asset allocation strategy
• Fonditel
• Location: Madrid
• Assets: €2.9bn
Diversification, risk mitigation and capital protection all play a significant role in the investment philosophy of Fonditel, asset manager for the €2.9bn-worth pension plan of Spanish telecommunications giant Telefónica.
Against the current economic backdrop, these considerations have led to several changes in the fund's asset allocation over the past 12 months.
The fund is running an ambitious alternatives programme, spanning private equity, senior loans, direct lending, real estate and infrastructure. There is a clear and defined plan to increase the base of asset classes, diversify between projects, manage the alternatives portfolio and increase its weighting.
However, Fernando Aguado, CIO, Fonditel, who joined last July from BBVA, says: "Since the end of the first quarter this year, we are more cautious in terms of risk, and this means we are combining short equities, long put spreads and stock replacement."
At present, Fonditel is enjoying strong outperformance in its Spanish equity portfolio, year in year out, which Aguado ascribes partly to the "great team" selecting stocks. Its highly-diversified alternatives portfolio has also performed well. Aguado adds: "However, although we sold our China positions before the turmoil, unfortunately we maintained the rest of our emerging exposure."
As regards fixed income, he says: "It's difficult to see value in bonds over the medium term, so we are quite flexible, moving towards short duration in core euro-zone, long periphery, credit and high yield euro. We are trying to look for issuers with a pick-up in yields, both in govvies [government bonds] and corporates, with medium-maturity and proven repayment capacity."
For Fonditel, as with other asset managers, a key question is when, and how far, interest rates will rise from their historical lows. So it is analysing the risks, the environment and its own outlook, to establish a medium-term policy, while preparing to be flexible.
Aguado says: "It's obvious there is no protection for a rise in actual yields, but at the same time there's no rise forecast in Europe's medium-term horizon, and we foresee a very smooth path in the US, hoping inflation will not arrive in the short term."
He adds: "Everybody is searching for yield, both in credit and in duration spread. We are doing it too, mainly in the credit spread, and analysing the liquidity and market risks which it can produce. If in doubt, we decide it's better to stay out."
Aguado says that while central banks can hold down interest rates for a while, this cannot continue for long if there are clear improvements in growth. "However, we are sceptical about how this growth can be achieved," he adds. "So we will be increasingly cautious in every asset class as time goes on."
The coming months will see more innovative approaches to investment. "Innovation is in the DNA of Fonditel," says Aguado. "We will continue the diversification process in alternative assets, considering new investments such as cat bonds and loans, broadening our core of strategies – for instance, smart beta, risk factors, and thematic investments – and analysing new trends in the industry."
Pensions in Spain: Hit by uncertainty
1

Currently reading

Pensions in Spain: Hit by uncertainty

2