---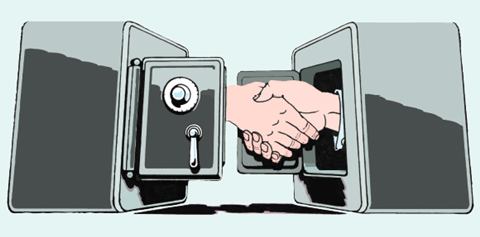 Insurance companies have to re-define their role in a world in which guarantees are too expensive. But in German pensions they have to keep promises given in the past
Key points
• The German insurance market is becoming more heterogeneous
• Analysts expect more sales of multi-employer Pensionskassen
• Large insurers are vowing to keep their pension and guarantee promises
German insurers do not like the term 'flexible', they prefer 'variable' when talking about guarantees comprising fixed elements as well as payouts that might vary according to market trends.
This concept is still new to the German market, both in life insurance as well as in occupational pension insurance contracts. These Direktversicherungen (see box on Pensionskassen) are often used by smaller and medium-sized companies (SMEs) to fulfill the legal obligation of providing pension plans when asked by employees.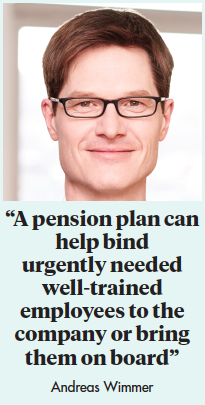 "Most of the growth is currently reported in the Direktversicherungen segment," says Andreas Wimmer, a member of the board of management of Allianz Leben. "SMEs are choosing this instrument to offer retirement provision because it is easy to use and has no administrative burdens," he says. These structures include guarantees on future pension pay-outs and large players in the occupational pension market such as Allianz, Alte Leipziger, R+V und Stuttgarter are adamant they will stick to their guarantees.
"We will continue to offer all variations from 100% solid guarantees to index products and hybrid policies," says Ralf Berndt, managing director responsible for sales and marketing at Stuttgarter Lebensversicherung. However, he is convinced products with variable guarantees and a different investment strategy to seek higher returns "will be more in demand in future".
Wimmer notes Allianz also has moved towards products with modified guarantees as well as the traditional fully guaranteed models. "We offer our customers several products with different risk-return profiles – also in occupational pensions – and this is where we want to position ourselves," he says.
"The German market has changed and there is more heterogeneity among the providers. Some have chosen not to offer classic insurance products with fixed guarantees any longer to remain competitive, and are concentrating on different market segments," says Peter Schwark, managing director at the German insurer association GDV.
The run-off debate in Germany
In autumn 2017, German newspapers were filled with the term 'run-off'. In insurance-speak this means a company closing part of its business or products to new clients. In the continued low-interest-rate environment this operational decision was made by providers, especially when it came to their fully guaranteed life insurance policies.
However, it did not grab the media's attention until the Ergo group tried to sell its life insurance subsidiaries and 6m associated policies to a third party. These platforms are known as run-off companies. In the media, 'run-off' soon became a synonym for sell-off with a negative connotation.
Ergo cancelled its plans. But at present three run-off platforms are operational in the market: Athene, Viridium and Frankfurter Leben.
The demand for pension solutions continues to grow given the good economic situation and high employment levels.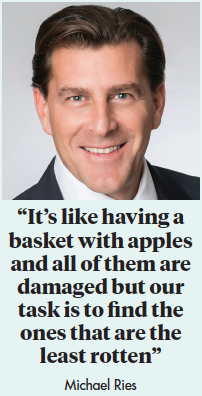 "The German occupational pension sector is still a growth market," confirms Reiner Will, managing director of insurance rating company Assekurata. "But there are a few disruptive factors," he says. "One is the product shift among life insurers towards products with more variable guarantees or even without guarantees. As there is a lot of change, there is also a lot of uncertainty."
Advisers criticise the new products as lacking transparency. "Insurers want to get rid of guarantees and they are including a lot of backdoors in many contracts. This leaves the insured unaware of what to expect in the end," says Michael Ries, managing director of occupational pension consultancy Ries Corporate Solutions. He is pessimistic about the current role of insurers in the market: "It's like having a basket with apples and all of them are damaged but our task is to find the ones that are the least rotten."
And then there is the problem of existing guarantees. As mentioned, the main market players are ensuring customers they will keep their promises. "It is part of our defining trade as insurers to be able to honour guarantees, finance them ourselves and continue to grant guarantees that have been made," Berndt points out. Wimmer adds: "Paying a lifelong pension is one of the USPs of insurers and this is something we have to keep offering."
Other market participants have chosen to sell off parts of their guarantee business (see box), one of them in the occupational pension segment – and others might follow. "In the German media, the term 'run-off' has become associated with 'liquidation' but in its core sense 'run-off' is simply closing part of a business for new clients," says Schwark.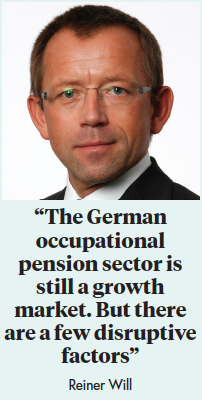 At a panel discussion in Berlin this February, he conceded this business strategy was new in the German market. It had started with international listed insurers closing their German business branches and has spread to other parts of the business. Some of these closed business parts have been sold off to specialised platforms. "Consolidation on platforms like these means the costs per unit for the individual client can be kept low. Otherwise shrinking membership would always lead to an increase in costs because of administration and handling," says Schwark.
In Germany, there is also a difference in the historical tradition and the business model between listed insurers and Versicherungsvereine (mutual insurance companies). "I think that we will see more insurers dropping out of occupational pensions", says Ries. "Many Pensionskassen like pro bAV never really made any profit", he points out. In February, AXA sold its Wettbewerbs-Pensionskasse to the run-off platform Frankfurt. Will adds: "There will be further sales of Wettbewerbs-Pensionskassen to run-off platforms because these vehicles were created in a difficult interest rate environment."
In 2002, Germany created a market for the Pensionskasse, with guarantees. When the legal framework changed in 2005 many companies opted for Direktversicherung (see box on Pensionskassen). "If a Pensionskasse had not reached the critical mass by then it never will again," says Ries. So numbers have shrunk from 22 to 16 today.
As interest rates fell, these Pensionskassen still had to maintain the high interest rates granted in 2002. "Their active/passive matching is off because they are still accruing capital which they have to invest in a low-interest-rate environment", explains Will.
So for providers, the market is difficult because of existing guarantees and the regulatory requirements that come with them. One of these is the Zinszusatzreserve, an interest rate buffer which has been criticised by many as requiring high levels of assets. "They are hoping for the new government to amend this requirement," says Will.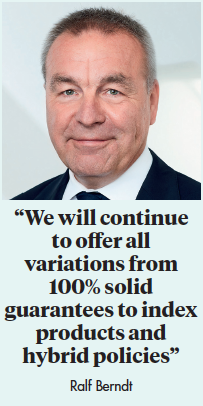 As selling off guarantees is a new strategy there might be some legal questions left to be answered. Ries hints at possible errors in advice given. "Many consultants did not look at the sustainability and the balance sheet of the Pensionskasse but only at who is selling it," he says. When the market started in 2002 some "insurers just used their company's rating to sell this new product", says Ries. "The question today is whether consultants who did not do due diligence can be held liable for the Pensionskasse they recommended." Legally employers are not liable if a provider they chose returns less than the competition. "But what if the product fails to deliver even a minimum return?"
Regarding run-off platforms, Will is questioning whether "these are offering the same service level to employers as the original providers they signed the contract with".
Will notes transparency, good products, competence and stable financials are "more essential than ever" in choosing a provider for occupational pension products. "As many employers are aware of this they currently tend to choose well-known big names in the insurance sector, leading to a significant concentration," he says.
And one of the big names benefiting from this uncertainty is rumoured to be Allianz. The insurer offers a Pensionskasse which is "still open for new clients", Wimmer confirms and adds: "Others might think they can make money in the run-off business, but we are sticking to our business model."
The role of Pensionskassen
In 2002, the German authorities created a new vehicle for occupational pension plans, the Pensionskassen, to allow for the application of the EET tax principle. This means contributions to pension plans are tax exempt during accumulation and taxed upon pay-out.
At the same time, it was made mandatory for employers to provide pension plans if asked for by their staff – even if the company did not make any matching contributions (Entgeltumwandlung). However, in 2005 this tax model was also applied to insurance contracts directly bought by employers for their staff.
However, Pensionskassen, that is insurance-based occupational pension plans, had been around much longer than that, either for a specific company or a certain industry. Examples include the Hoechst Pensionskasse (founded in 1886), the BVV formed in 1913 for the finance industry or the bakers' pension fund created in 1899 which was re-shaped into the multi-employer Signal Iduna Pensionskasse in 2002.
In 2002, there were 22 providers, today, they total 16 (not all of which are open to new business): Ara (Wüstenrot), Allianz, Alte Leipziger, Debeka, Ergo, Generali, Gothaer, HDI, neue leben (Talanx), Nürnberger, Prudentia, R+V PK, Signal-Iduna, Sparkassen-Pensionskasse, Swiss Life and VGH Provinzial .
Overall, Germany has well over 100 Pensionskassen, most of them company or industry specific. These players have capped profits and must adhere to a different regulatory framework from those competing on the open market.
Germany: A pensions transition
1

Currently reading

Germany: A pensions transition

2

3

4