Barbara Ottawa asked pension figurehead Prof Bert Rürup about pension reforms past and future
Almost every European country needs regular pension reforms to ensure the sustainability of the system. But Germany took a step back last year and needs to catch up. Prof Bert Rürup, president of the Handelsblatt Research Institute and a former member of the federal government's panel of expert economists, says the country has "deviated at least temporarily" from the pension policy course steered over the last 25 years.
Since the early 1990s when pension levels from the first pillar started to decline as the financing of the system became unsustainable, successive governments have tried to cap spending by increasing the contribution base. To compensate, supplementary pension plans like the Riester-Rente have been subsidised through top-ups and tax allowances since the turn of the millennium.
Then, in 2014, the government increased compensatory payments for those who missed contributions for childcare reasons, financing this from the first pillar pension pot. Further, those who paid into the system for over 45 years were allowed to retire without any reduction in pension before reaching the statutory retirement age of 65, a measure known as 'Rente mit 63'.
Rürup highlights that these amendments help "certain groups while the majority of contributors and pensioners, directly and indirectly, have to pay for it". Thanks to these measures the contribution rate to the first pillar was not lowered in 2014 as planned and pensions were not increased. This has brought forward the date at which the replacement rate falls short of the legal minimum of 43% (from the first pillar only) by three to four years – some time after 2030.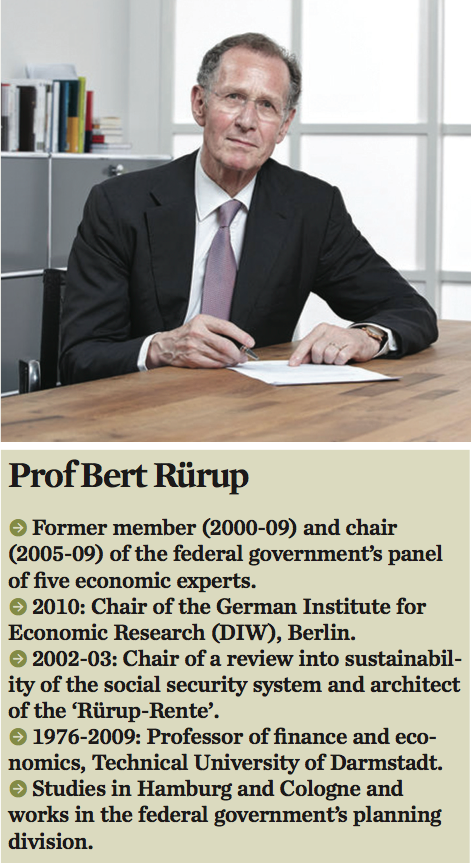 This will coincide with a critical demographic period in Germany, which Rürup places between 2025 and 2045. We are currently in a "demographic pause", according to Rürup: "The weaker post-war cohorts are retiring while the baby boomer generation is still working". But from 2025 the latter will have all reached retirement age whilst the number of people at working age will decline.
However, Rürup points out this demographic pressure will significantly decline once the baby-boomer generation dies out and fewer people enter retirement. "We will go from dual ageing – based on a low birth rate and increased life expectancy – to single ageing only, defined by changes in life expectancy."
And there's the rub. Even though demographics will change considerably from 2045, people will continue to live longer. Since 2012, the statutory retirement age has been set to rise to 67 by 2029. But Rürup argues for a further increase to 69 by 2050. "This would keep the so-called relative pension pay-out period, the ratio of the average contribution phase and the average pension period, roughly stable," he explains.
Rürup also calls on the government to realise long-standing plans for a pension system that would benefit part-time workers and others with lower incomes. According to OECD statistics, Germany is second to last when it comes to replacement rates for low and average earners.
As a third measure to "steel the German pension system for challenges beyond 2030", Rürup mentions improved conditions for a combination of work and family life. "This would increase the employment rate and help meet the demand for specialist employees," he points out. It would also require re-training of employees and use of partial retirement options.
"We will go from dual ageing – based on a low birth rate and increased life expectancy – to single ageing only defined by changes in life expectancy"
Looking at the second pillar, Rürup welcomes the proposal to introduce sector-wide pension plans (see separate article), depending on design. One option to ensure the expansion of occupational pensions would be soft compulsion with an opt-out clause, he points out, noting that sector funds would make it easier for employees to switch companies.
Overall, Rürup affirms that the German second pillar is "rather too complex" with its different retirement vehicles – currently five. "This often leaves both employer as well as employee incapable of finding the most efficient way to set up a pension plan suiting their needs – as a consequence they have a tendency to do nothing," he says.
This is also an obstacle for the dissemination of occupational pensions. But knowing the German retirement sector well, Rürup notes that "changes are difficult to implement given the very varied interests" among the stakeholders. Nevertheless, he proposes the creation of "one simple and clearly structured" pension plan offering, which might eventually prevail in the market.
Positive pressure to simplify occupational pensions might come from Europe though, perhaps through the EU's initiatives in the field of occupational pensions.
Sector fund proposals: A new tune for German pensions?
1

2

3

4

5

Currently reading

Interview: Prof Bert Rürup - A critical view on policy

6

7