Bail-in regulations: Questions on rules
First-pillar pension funds for white-collar workers are being treated differently when it comes to protection from bank insolvency
KEY POINTS
Italian pension funds are protected from deposit losses if banks become insolvent.
Casse di previdenza, first-pillar funds, have been denied explicit protection.
Gaps in legislation affect the status of casse di previdenza.
The funds' involvement in Atlante, the fund set up to save ailing Italian banks, has been called into question.
A large section of the Italian pension industry has been exposed to bank insolvency risks, despite the recent approval of rules to protect institutional investors. 
Casse di previdenza, a group of pension funds managing €75bn of assets on behalf of 1.5m members, are not defined in the recently approved Italian budget law as institutional investors. As a result, they are not protected by the consequences of 'bail-in' rules. The rules imply that creditors are partly exposed to banks become insolvent. The new law has specified that any liquidity that pension funds or other institutional investors have in the insolvent bank is not affected, but this guarantee is not explicitly provided to casse di previdenza.  
Casse di previdenza are first-pillar pension schemes for self-employed, white-collar employees, such as physicians or lawyers. They have large allocations to real estate, but are diversifying into bonds and other assets classes, including alternatives. 
The fact that casse di previdenza have been refused the same protection as other pension funds is a mystery. It could be a blunder or, as some critics suggest, a Medici-style revenge. Casse di previdenza did not give in to the government's pressure to invest in Atlante, the private fund set up to offer respite to the country's ailing banking system in 2016 by buying Italian banks' non performing loan (NPL) portfolios. The disparity could be payback for this decision.
"For sure it is a paradox," says Maurizio Sacconi, labour minister in Silvio Berlusconi's fourth cabinet (2009–11), and now chairman of the Senate's labour and welfare committee. "The original proposal of the amendment to the budget law included casse di previdenza, then it changed." 
In his opinion, the problem is wider: "Casse di previdenza don't have specific rules about their asset allocation. In 2011, when I was in charge of the department of labour, I proposed that the Italian pension fund authority would supervise casse di previdenza too. That provision was approved but it needed an executive order by the ministry of economy and finance about how casse di previdenza could invest. The decree was never issued. However, everybody knows that [the decree] would have required a prudential policy, so investing in something like Atlante would not be permitted." Nonetheless, Sacconi is not too worried, believing that the government will work with the European authorities and avoid any bail-in.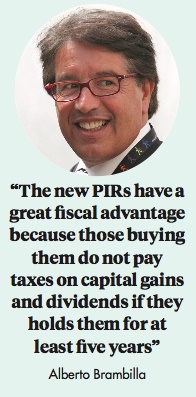 The situation of casse di previdenza shows that there is confusion about pension funds in Italy, according to Alberto Brambilla, chairman of the think tank Itinerari Previdenziali and former undersecretary of the welfare ministry who was in charge of pensions between 2001 to 2005. "Not only casse di previdenza are not protected from a bail-in," Brambilla explains. "The same situation applies to bank foundations, religious institutions, and casse di assistenza sanitaria, which provide private health insurance to 9.5m members. They are all institutional investors that manage considerable liquidity through bank accounts." 
Brambilla draws the attention to another oversight in the budget: "The new PIRs [Piani individuali di risparmio, individual saving plans] have a great fiscal advantage because those buying them do not pay taxes on capital gains and dividends if they holds them for at least five years. That is unfair to members of pension funds who pay 20% [tax] on returns". The current administration cannot change this, according to Brambilla, because new elections are expected in 2017. "Let's hope that the next administration will solve these problems," he concludes. 
Meanwhile Gabriele Discepoli, a spokesperson for ENPAM, the general practitioners' pension fund, says: "Nobody should be interested in destabilising casse di previdenza, which hold considerable amounts of cash because they manage the liquidity necessary to pay monthly pension benefits." 
ENPAM speaks with authority, given that its chairman Alberto Oliveti is also the chairman of AdEPP, the national association of all casse di previdenza.
According to Discepoli, casse di previdenza did refuse to invest in Atlante. "One year ago", he recalls, "former prime minister Matteo Renzi and the minister of economy and finance, Carlo Padoan, asked casse to invest in Atlante2 [a reiteration of the original fund] We said we were supporting the initiative, because we understand that banks' problems are everybody's problems including self-employed professionals'. However, we asked for three things in order to be able to invest in Atlante2. First, we needed a written, official statement that casse di previdenza are private entities, because if they are public institutions any investments made by them could have been considered state aid under EU regulation."
"Second," Discepoli continues, "we required a written authorisation to invest in NPLs. If casse must follow a prudent investor rule, they don't want to be accused of violating their fiduciary role. Third, we wanted to analyse the figures and the business plan of the operation, so that we could figure out potential risks and returns. They were three very simple and reasonable requests, but we didn't get any answer. So it was impossible for casse to join Atlante2."
The Atlante project has attracted criticism from other investors. Giuseppe Guzzetti, chairman of the Cariplo bank and of ACRI, the association of Italian banking foundation and savings banks, is not happy with the €538m that bank foundations invested in Atlante: "We'll see how much we'll get back," he says. "But, for sure we'll not give another single euro to Atlante."
Regardless of the success of Atlante, the affair shows how the status of casse di previdenza needs to be addressed. As former public, now privatised, first-pillar welfare organisations, they retain a hybrid public-private status, which could affect their behaviour as investors.