Changing regulation on fiscal and investment matters never ceases to be a challenge for pension funds, finds Rachel Fixsen
At a glance
• The Italian government is cutting tax on investments in the real economy to promote domestic growth.
• Current rules promising tax credits on growth-supporting investments are seen as complex.
• The 166/14 law on investment freedom has changed the landscape for pension funds.
• Pension funds are forging links to pool skills in alternatives.
Efforts by Italy's government to revitalise the domestic economy are feeding through into reforms — particularly fiscally — for the country's pension funds.
While a combination of hikes in tax on pension fund investment and promises of tax credits for real economy investments appears to have failed to encourage local investment, politicians are revealing their new ideas to achieve the same goal.
Stefano Gatti of Milan's SDA Bocconi School of Management, highlights a potential move to cut tax on investments in Italy's real economy as the key regulatory issue.
Tommaso Nannicini, undersecretary of state to the prime minister, Matteo Renzi, spoke in May about the possibility of reducing the fiscal cost for pension funds deploying their money in this way.
"It is one of the government's priorities, so it could well be part of the stability legislation package to be put before parliament by the autumn," Gatti says.
When and if they materialise, these new conditions are likely to create incentives by abolishing capital gains tax on returns from investments on certain projects seen to help the development of the real economy.
Claudio Pinna, managing director of Aon Hewitt in Rome, says last year's amended tax rates for pension fund investment, aimed at incentivising investment in the real economy, are just too complicated to be effective.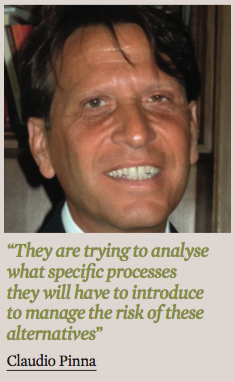 While the overall tax rate was increased, real economy investment is subject to rebates. However, the conditions that have to be fulfilled to receive this tax credit are labourious and unclear on certain points, Pinna says.
"So the final result of the proposal is that most pension funds won't be able to get this," he adds. Without this element in the new tax regime, taxes have increased for pension funds, which is contrary to the government's intentions of incentivising pension saving. Nevertheless, Pinna says this unintended consequence will be corrected in the next budget law.
Silvio Bencini, managing partner at European Investment Consulting, says that 2015's increases in capital gains tax on pension fund investments have not had much impact because, even after the tax increase, pension funds are still treated better than mutual funds and direct investments. "Few funds are already investing in the assets eligible for the tax rebate of 9%, mainly infrastructure and credit," he observes. The main problem has been the uncertainty, because it seems clear that the second pillar is also exposed to the political risk of changing rules, he adds.
The new law on investment freedoms, 166/14, has changed the landscape for Italian pension funds, according to Gatti. "This contains a principles-based rule, meaning that as long as you can demonstrate your fund has the skills to understand the complexity of a financial instrument, you are free to invest in it," he says.
Antonio Iaquinta, head of institutional business for Italy at State Street Global Advisors (SSGA), says the legislation is now at the stage where pension funds are getting the last pieces of paperwork finished. "The 18 months of grandfathering following the 166 decree of 2014 are now over, so complementary pension schemes are finalising the last formal aspects related to the new regulatory framework," he says.
But, on the other hand, the casse di previdenza – first-pillar funds for white-collar workers – are waiting for their own '166 decree' to appear, he says, which seems to be under discussion.
"These are some formal steps that need to be taken care of, for instance, conflict-of-interest policies, definition of regulated markets and updating the relevant documentation of the pension schemes. As far as casse di previdenza are concerned, there have been rumours that the appointment of delegated managers should follow the strict rules of public tenders," he says.
Iaquinta says SSGA has seen many schemes taking advantage of the flexibility allowed by 166/14, mainly through increasing their exposure to high yield or emerging markets – both equities and bonds.
"This has come at a time of revision of strategic asset allocation for many investors, also to take into account the current and future environment of slow growth and low yields," Iaquinta says. "Many were impacted by the restrictions on currency exposure, so had to revisit the hedging policy that was in place. On the other hand, we have seen very few examples of exposures to alternative asset classes, meaning private equity, private debt or infrastructure."
Pinna says because of the requirement within 166/14 that pension funds have to prove their competence to manage the risks of new investment classes, the funds are now considering ways of collaborating in this area in order to pool resources and save costs.
"There are several alternative asset classes that pension funds are considering taking on to get a higher return or regulate the volatility in the market. In order to do this, they are trying to analyse what specific processes they will have to introduce to manage the risk of these alternatives," Pinna says. "Since the issue is common to many of the funds, some are making moves to produce a common solution."
"Although, it is not clear what form this co-operation might take, it could conceivably involve the creation of joint committees between the pension funds," he suggests. While there was talk last year of new legislation to create a degree of competitive freedom between pension funds, as part of the DDL Concorrenza bill, in the end the bill was introduced without any reference to the pension fund sector.
"The DDL Concorrenza should have enhanced the freedom of competition between pension funds by granting the so-called employer contribution not only to fondi pensione negoziale [labour contract-based pension funds] but also to members of open pension funds and insurance plans," Benchini says. The proposal was shelved, he explains, because of strong opposition from employers and trade unions.
Are more changes in regulation on the horizon? Iaquinta points to discussions taking place around the overall pension system, which are focusing on allowing greater flexibility for people to retire. "The cost of this flexibility could be partially sustained with the support of the complementary pension schemes," he says.
Other discussions, including potential auto enrolment for occupational pension schemes, are also happening.
One of the key trends in the pension sector which Gatti sees as likely to become more pronounced, is a push by pension funds for a revision of the tax treatment of members. While pension fund saving is not heavily taxed for individuals at present, the rules do not do much to encourage greater saving either, he says.
Pensions In Italy: Auto enrolment all'italiana
1

2

3

4

5

Currently reading

Pensions In Italy: Regulation - A system in flux

6