New FTK rules require higher buffers but also allow funds to increase risk under certain conditions – Carlo Svaluto Moreolo writes about the dilemma of how to deploy capital in the current economic environment
The new financial assessment framework (FTK), which came into force in January this year, offers Dutch pension funds both carrot and stick. Although it makes indexation of pensions more challenging, and it requires funds to build higher buffers than previously, it allows market shocks to be absorbed over longer periods of time, making solvency ratios less volatile.
But, most importantly, it came with a sweetener. Lawmakers gave pension funds a one-off chance to increase their risk profile – under certain conditions – for the first time in years.
Until this year, funds not meeting the requirements in terms of solvency ratios and buffers were not permitted to increase their risk profile. This had negative implications for recovery plans, given the current low interest rate environment.
Funds that are still rebuilding their buffer requirements, but that have solvency ratios above the minimum requirement (104%), can take advantage of this one-off concession.
How will funds make the most of this opportunity? To answer the question, there are three elements to consider. First, the decision to increase overall risk in the portfolio requires taking a strong view on interest rates. Pension funds will have to decide whether they believe interest rates will fall further.
Second, any increase in the risk profile has to fit with the overall strategy. As Edward Krijgsman, principal at Mercer in Amsterdam, says: "Any increase in risk has to fit with the other pillars of the ALM study: premium policy, indexation, and the fund's ambition for the future. It does not depend only on the solvency ratio."
Third, where should the assets be invested? Although many asset managers and consultants agree that there is value in European equities, particularly since the beginning of quantitative easing by the ECB and the ensuing currency depreciation, few would deny that valuations are stretched.
Lukas Daalder, CIO for investment solutions at Robeco, says: "There is no cheap asset out there. I cannot recall a time where an institutional investor would have such difficulty choosing where to allocate an inflow of capital." Daalder, who authors Robeco's five-year outlook, adds that investors are not ignoring the possibility that Europe is entering a secular stagnation phase.
While Daalder attaches a 60% probability to a recovery scenario, he says that the secular stagnation scenario comes with a probability of 30% in his outlook. Bearing this in mind, he says, pension funds will be thinking about their interest rate hedging positions and many have put plans to change hedging policies on hold.
Indeed, hedging behaviour has been a real dilemma for Dutch pension funds over the past two years. Towards the end of 2012, an ultimate forward rate (UFR) was introduced as a method for calculating the value of pension fund liabilities, similar to the way insurers calculate theirs.
At a glance
• The introduction of the UFR led funds to take off their hedges from the long end of the liabilities.
• The new FTK came into force in January. Funds can increase risk, subject to their funding level and the overall policy towards contributions, indexation and future ambitions.
• QE and a gloomy economic outlook mean many funds are taking a cautious view on their interest rate hedges – those that kept hedges were well rewarded in H2 2014.
• Taking risk is difficult when most assets are well valued.
The first reaction to the UFR was to remove the hedging of the ultra long-term liabilities without necessarily decreasing total hedging. But subsequent revisions to the methodology have caused confusion. Gerard Roelofs, head of client group at ING Investment Management, points out that after years of discussion the industry is left with three ways of calculating solvency ratios in order to remove volatility from the balance sheet: at any given time, funds will evaluate solvency ratios using mark to market, a mixed mark to market-UFR method and a weighted average of historical funding rates.
Marc van Heel, managing director at BlackRock in Amsterdam, notes that while the UFR was introduced to alleviate pressure on pension funds' solvency ratios, since the adoption of the new a UFR methodology (along with the new FTK), funds feel they get a better picture using the economic solvency ratio.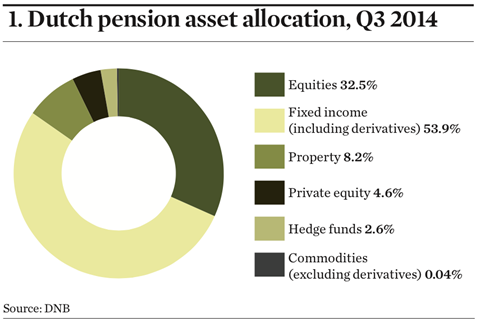 "We see pension funds switching to economic rather than regulatory solvency ratio," says van Heel. "Many pension funds have an incentive not to use the new UFR methodology as they do not gain much in terms of solvency ratios." The result is funds are compelled to publish different solvency figures. That, says Roelofs, "makes things very difficult for the industry, not least from a communication point of view, but also to allocate indexation levels fairly".
In the past two years, funds started discussing a reduction in their hedging ratios, with a view that interest rates were nearing a trough. But those that did not reduce hedging ratios, says Krijgsman, benefited from the sharp fall in interest rates during the second half of 2014.
"The decrease in interest rates was so severe for some funds, that they had to put their plans on hold, and even consider re-building their hedging," Krijgsman adds. "With the possibility that rates will decrease further, everyone is hesitant about reducing their hedging."
Roderick Molenaar, portfolio strategist at Robeco, points out that interest rate hedging decisions are influenced by a direct discussion with members on strategy and risks. "The new regulatory framework implies that pension funds have to discuss these issues with members," he says. "They also need to show that they are ready for a bad-weather scenario. This is why they have not rushed to reduce their interest rate hedging."
"There is no cheap asset out there. I cannot recall a time where an institutional investor would have such difficulty choosing where to allocate"

Lukas Daalder
Although funds on average can adjust their hedging positions due to the regulator's permission to increase overall portfolio risk on a one-off basis, they will need to discuss these adjustments with participants. Portfolio adjustments by pension funds had a relatively low impact in 2014 and Molenaar says the reason is to do with the restrictions placed by the regulator as funds with low funding rates, or buffer requirements, were not allowed to increase risk.
For this year, it is difficult to imagine that assets will shift greatly towards specific markets given the uncertainty, and the search for yield that is taking place in several different illiquid markets.
Although portfolio 'simplification' or 'rationalisation' has been a theme for some funds, with regard especially to alternative asset classes such as hedge funds or private equity, the fact is that investment strategies have to become more complex to meet expectations.
This means a slow, but gradual, increase in a number of different asset classes and strategies is likely. Krijgsman says his clients are re-evaluating their credit mandates. "They are looking for buy and maintain credit mandates, or ones where the underlying investment managers have a greater degree of freedom to pursue a higher return," he says.
In credit he says funds have been building portfolios of triple-A non-euro-zone sovereign bonds. Parallel to that, he adds, clients have begun implementing smart beta mandates such as mean variance and low volatility.
One sector that has seen interest is domestic mortgages. Because of strong demand for mortgages, and a favourable regulatory environment, pension funds have been able to find extra yield from mortgage-backed securities. Hans de Ruiter, CIO of the TNO pension fund, last year described the asset class a 'no-brainer'. But that market is small and illiquid.
Van Heel says the search for yield has become "quite desperate". Investors, he adds, are moving towards the edges of the credit spectrum, where it becomes more difficult to control risk.
For that reason, van Heel says, BlackRock's focus for 2015 is advising clients on illiquid alternatives, including infrastructure. "We are looking for medium term opportunities, where there is an illiquidity premium that can be reaped over a longer horizon."
Dutch pensions policy: In the balance
1

2

3

Currently reading

Carrot and stick: Asset allocation under new FTK rules

4

5

6