Continuing stress on funding ratios is leading to renewed calls for a comprehensive overhaul of the Dutch occupational pension system, according to Leen Preesman
At a glance
• Low interest rates, ailing equity markets and rising longevity have dented pension fund solvency ratios.
• The sector advocates a collective defined contribution system combined with individual accrual and risk-sharing.
• The government is to present proposals on a new and sustainable pension system this spring.
As interest rates have continued downwards and longevity has climbed, the financial position of Dutch pension funds has continued to deteriorate. Recently, failing equity markets have added to the misery, leading to actual funding of no more than 100% on average by mid-January 2016.
The position of most funds has become so precarious that the two largest schemes – the €351bn civil service scheme ABP and the €161bn healthcare pension fund PFZW – have indicated that they may need to cut benefits next year. Their announcement came just weeks after the Pensions Federation called for a switch to defined contribution arrangements and individual pensions accrual, although, not without with the cherished Dutch principle of risk-sharing.
As liabilities of Dutch pension funds must be discounted against interest rates, schemes have seen their long-term obligations rise recently, out-pacing asset growth from solid returns on investments. The 'ultimate forward rate' (UFR), introduced in 2012 to replace the market rate, only provided temporary relief.
As interest rates dropped further, the regulator, De Nederlandsche Bank (DNB), recalculated the UFR, resulting in a lower and "more realistic" level last July. Rather than a UFR fixed at 4.2%, pension funds had to factor in a progressive rate of 3.3%, which has since fallen to 3.2%.
This new UFR has affected funds' coverage ratios. Dennis van Ek, an actuary at Mercer, estimates that the adjustment led to a 6.5 percentage point drop in funding to 104% on average last year.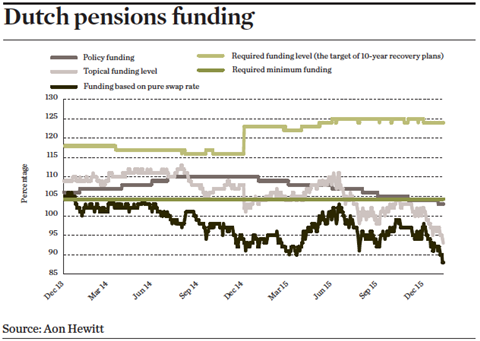 That said, the funding position has been blurred by the fact that the new financial assessment framework (nFTK) – introduced in 2015 – involves two different reporting requirements for coverage ratios. Pension funds must not only communicate their topical funding level (including UFR), but also the average of the past 12 months – the policy funding ratio (see figure).
The latter – intended to reduce coverage ratio volatility – is the criterion for indexation and rights cuts. This implies that current funding will become the benchmark for important decisions in a year's time, were interest rates and markets to remain unchanged.
Under the nFTK, pension funds do not have to cut pension rights immediately if their funding drops below the required minimum of 105%. The exception is when their topical funding at year-end has dropped to about 90%. Even then they have the option of smoothing out cuts over a decade.
On the other hand, pension funds can only start granting partial indexation when funding reaches 110%. Full inflation compensation is only allowed if the coverage ratio at least equates the required financial buffers of 125%.
Recently, Jetta Klijnsma, state secretary for social affairs, warned pension funds that their deteriorating financial position does not justify changing the rules. While conceding that the outlook for this year and 2017 was "not rosy", she ruled out any adjustments of the discount rate for liabilities. This spring, Klijnsma is to present proposals for a new and sustainable pensions system, following an extensive nationwide debate.
Meanwhile, the Dutch pensions industry has got itself ahead of the government'. This January, it crossed a watershed by concluding that the on-going debate about the discount rate for liabilities is a "dead end".
"The discount rate is used to calculate how much cash a pension fund would need today to pay a pension in five years' time. But there is no objective truth for this as nobody can look into the future," argues Gerard Riemen, the director of the Pensions Federation. He also highlights that the pensions system had become so complicated that it is impossible to explain it to participants.
Rather than continuing with unaffordable defined benefits (DB) arrangements, pension funds should switch to a collective defined contribution (CDC) system with individual pensions accrual combined with maximum risk sharing, or 'personal pension accounts' (PPRs). This should include jointly bearing investment, inflation, interest-rate and longevity risks. No single age group will be unduly affected as long as financial burdens are not deferred, Riemen contends.
He also calls for quick decision-making, while underlining the need for a full conversion of current pension claims into CDC arrangements. "If we don't do this we will keep having the same problems for decades," he points out. "If markets remain suppressed this year, and interest rates don't rise either, we are facing rights cuts for large numbers of participants next year. As things stand at the moment, many participants won't receive any indexation for years, and we would risk losing public support for the existing pensions system".
Riemen's plea for a switchover to CDC plans – widely supported in the sector – was boosted by Klaas Knot, president of DNB. Pointing to the "significantly increased price of certainty, as well as the effects of low interest rates and rising longevity", he echoed the federation's view that pension funds can no longer afford to guarantee the future pension for a 25-year-old participant.
"The current pensions system is nearing its end," concludes Theo Nijman, professor of pensions and risk management at Tilburg University. "It has become stuck because guarantees have been promised and, as a consequence, the discount rate has been tied to the current low interest level. And there is no reason to believe that interest rates will go up soon. The same goes for equity markets."
In the opinion of Nijman – who is also scientific director of the Netspar platform for pension professionals and researchers – a switchover to a new pensions system is inevitable. "The rules to accommodate pension funds should not be relaxed any further, as this would erode participants' trust in the system even more," he emphasises.
It comes as no surprise that Nijman welcomes the Pension Federation's call since the PPR concept was hatched at Netspar. However, he is not yet certain that a system in which all risks are shared between participants is preferable. "Sharing longevity risk makes much sense, but jointly bearing interest and investment risk has pros and cons. Whereas they broaden the risk basis, they also shift burdens to future generations. If these 'implicit taxes' become too big, solidarity between participants will break down, and there will be calls for adjusting the rules again," he argues. "The potential consequence is that the mandatory participation of workers in pensions funds becomes untenable."
"The current system is not in a good shape, and it is not able to cope with systemic uncertainty"
Theo Kocken
"The current system is not in a good shape, and it is not able to cope with systemic uncertainty," comments Theo Kocken, CEO at the Rotterdam-based risk management specialist Cardano and professor of risk management at Amsterdam's Free University. "I am pleased that the Pensions Federation agrees that there has to be a changeover to a new system that isn't affected by interest rates." He says he strongly supports a framework with individual accrual and without an explicit link to benefits. "And investments must be made collectively, of course, as this is cheap and also guarantees professionalism."
However, he contends that only individual longevity risk and labour disability risk should be shared. "Jointly borne systemic risks, such as market and interest rate developments, have the potential to create even greater 'bad luck generations', which is exactly the opposite of what we all want," he says.
"If we shift financial shocks forward, and new and unexpected economic shocks were to cause pension funds to fold, one or two generations could suffer enormously. Moreover, sharing these risks would also bring new discount-rate misery, incorrect risk allocation to different generations, mistrust among participants as well as a high level of supervision from DNB."
Pensions In The Netherlands: Sailing into rough waters
1

2

3

4

5

6

7

8

Currently reading

The Future: Near the end

9