Asset Allocation: A hive of activity
Carlo Svaluto Moreolo reviews shifts in asset allocation in the Nordic institutional investment market
At a glance
• Nordic investors have continued to restructure their portfolios.
• Pension funds have enjoyed high returns in recent years.
• The focus has been on real estate and infrastructure.
• There is a growing emphasis on investing in alternatives.
As financial markets enter the last quarter of this volatile 2015, Nordic institutional investors are getting ready for a long and dark winter, with the looming danger of negative real returns. Recently, the average Nordic institutional portfolio consistently achieved exceptional returns, mainly derived from traditional asset classes. But few expect similar returns to continue, and this is why Nordic investors have started to restructure their portfolios, favouring real estate and infrastructure as alternatives to traditional asset classes. 
IPE's coverage shows that mandate and deal activity in the region since the start of the year has been intense, with several investors making significant changes to their portfolios. Deals signed by individual investors or groups of investors ranged from a minimum of €20m to well over €6bn, invested domestically and abroad.  
Many of the new investment deals contain an ESG element, something which is seen as increasingly intrinsic in institutional investment in the region. 
In traditional asset classes, there has been an increasing reliance on more dynamic asset allocation. Nicklas Fahlström, investment consultant at Wassum, the Stockholm-based consultancy, says the company is working more intensely with clients on current and medium-term asset allocation. "We are rotating portfolios, both at the top level, for instance changing the weights of equity, fixed income and alternatives, but also within asset classes, by changing the weights of sectors or regions," explains Fahlström. 
To achieve this increased flexibility, Wassum has worked on clients' investment guidelines in recent years and on helping them  to react more quickly to market swings: "The investment policies we write today are much more flexible, so clients are ready to make medium-term, forward-looking changes in their portfolios," says Fahlström. The company has encouraged clients, he adds, to award more flexible mandates, which give free reign to managers in terms of asset and risk allocation.
Fahlström also points out that returns in recent years have been so high that pension funds could potentially accept negative real returns for the next couple of years, without missing their long-term targets. But they are reluctant to do so. Fahlström says: "We asked our clients: why not take a holiday in asset allocation and accept that short-term results might not be as good as before? Somehow, that is not very appealing." Clients, concludes Fahlström, do not want to be in a position where they have to explain negative returns to stakeholders. 
Therefore, having set their objective of safeguarding the good returns achieved over the past 15 years, pension funds need to individually choose whether the right course of action is accepting lower returns, or increasing risk and withstanding the added uncertainty that comes with it. In particular, earlier this year, Wassum helped several clients reduce risk in their portfolios, particularly with regards to equities. 
But the focus has clearly been on real estate and infrastructure. Of the 17 investment deals reported by IPE since the start of the year, seven of them (41%) involved real estate, including timber, and five (29%) involved infrastructure. 
In March Swedish pension funds AP1, AP3 and Folksam teamed up with Borealis Infrastructure to buy a domestic electricity distribution network worth €6.6bn, in one of the largest infrastructure transactions in the region this year.
Three of the five infrastructure investment deals that were signed involved clean energy generation projects, further strengthening the ESG credentials of Nordic investors. ESG is now a fundamental requirement for many investors and asset managers in the region, says Moritz Wendt, global head of institutional clients at SEB Wealth Management.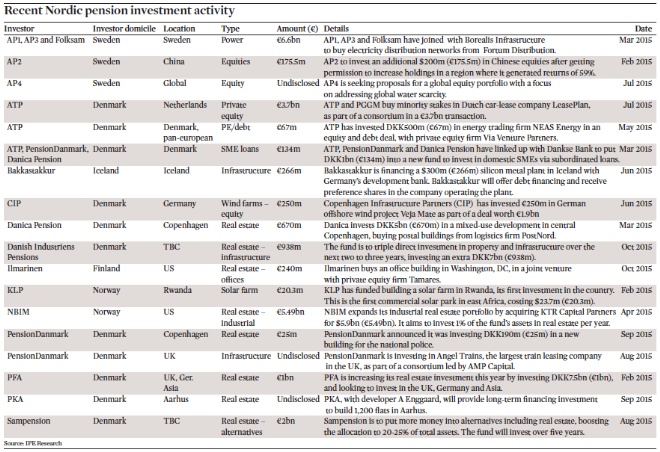 Wendt says: "Although there is no common definition of ESG, in this part of the world there is huge pressure to work on those questions. Our minimum standards are constantly increasing." He says asset managers are evolving, whereby they move away from selling niche ESG products and towards having a full ESG strategy. "It is partly driven by our clients, but also driven by us, as clients expect that. A big part of my product pipeline has an ESG element to it."
In the ESG area, investments have not been limited to clean-energy infrastructure. The Swedish buffer fund AP4 tendered a global equity mandate with a 'water scarcity' theme, as it aims to build a portfolio of companies that address the issue of water scarcity around the world. 
The remainder of the deals reported on by IPE concerned private equity and debt. Investors are joining forces to finance local companies, particularly small and medium enterprises (SMEs) in the Nordic region. 
In Denmark, ATP, PensionDanmark and Danica Pension linked up with Danske Bank, Danica's parent company and Denmark's largest company, to offer subordinated loans to domestic SMEs. The three funds and the bank poured €134m in the fund earlier this year, in another iconic deal.
The growing focus on alternatives is likely to last for as long as markets show signs of instability. Wendt says SEB has been focusing on building capacity in alternative investments, developing a team that focuses on researching the best alternatives managers in the region. "Investors' growing appetite for alternatives is a trend that has already taken off, but continues to grow. By and large alternatives are delivering what they said they would, but investors have a very complex process of choosing which assets and what managers", says Wednt, who points out that the "regulatory tsunami" that has hit the industry in the aftermath of the financial crisis has not made the process any easier. 
That is why, he adds, investors tend to increasingly outsource investment management, at least in Sweden. "Investors want to control costs and make their organisations lean and mean. While they retain the asset allocation decisions, they are not interested in building up their own investment management capabilities." 
Increasing regulation adds to the challenges facing Nordic investors. Their innovative aptitude, as well as their ESG focus, is well documented. But with safe returns from fixed income and equities in the past few years, spurred by unusual central bank activity, most investors had no obligation to branch out into the more sophisticated corners of the investment universe. 
Now they are forced to do so, as potential returns from most fixed income assets dry up and increased volatility on the equity markets threatens to wipe out recent gains. If the first three quarters of this year are anything to go by, further activity in real assets and alternative strategies is likely.