Finland: On cusp of reform
Finland is about to overhaul its pension system including a higher retirement age and the introduction of two new types of pension, writes Reeta Paakkinen 
At a glance
• Retirement expenses exceed contributions. 
• Recent pension reforms introduce two new pensions: partial early old-age and work career.
• The State Pension Fund needs to prepare for the future.
In 2017, the substantial reform of Finland's pension system passed in autumn 2015 will go live. 
These reforms were necessary because Finland's demographics are older than comparable western European populations and public and private pension expenses are outstripping contributions to the system. 
To tackle these issues, the retirement age will be increased. As of 2018, the retirement age will rise by three months for each birth-year cohort until the minimum retirement age is 65. At the same time, the maximum retirement age will also rise from the present 68 years by about five years. The retirement age will continue to change until 2030, as it will be tied to life expectancy and be confirmed separately for each age group.
The reforms will also introduce two new types of pensions: partial early old-age pension and work career pension. 
The partial early old-age pension will replace part-time pensions. It will give employees the chance to receive some pension payments slightly before actual retirement age even if they continue to be employed. This type of pension can be paid when the employee reaches 61 years and its amount is either 25% or 50% of the accrued pension. 
Work career pensions, will be available to those who have worked consistently and in physically demanding professions. To qualify for this, employees must have worked at least 38 years and have turned 63 years. The first work career pensions will be paid in 2018. 
The reforms also make the current pension system more accessible to people of different ages as everybody will start accruing pensions from 17 years of age amounting to 1.5%  of their salaries a year. This changes the current system whereby pensions accumulated differently depending on year of birth. 
However, there is on exception: people 53-62 years old will pay a 1.5% higher pension contribution until the end of 2025. Staying longer in work will be encouraged. Accelerated accrual for 63-67 year-olds will become obsolete but an increase for deferred retirement will be paid. Thus, if a person continues to work beyond the lower age limit for retirement, a 0.4% increase for deferred retirement will be paid each month. The reforms cover people born in or after 1955 and will not affect those already in retirement.
The leading economist at the Finnish Pensions Alliance (Tela), Reijo Vanne, emphasises that the reform will enable Finland to keep contribution rates at a reasonable level for future generations. "Pension calculations are based on the fact that some of the investment returns are added to assets and then reinvested, so that assets and returns together are adequate to keep contribution rates stable," he says. 
The ratio of pension expenses of salaries paid is expected to be highest in the coming 10 years because of the ageing population. Tela's analyst, Peter Halonen notes: "In 2015, Finnish pension investments yielded good returns, especially from equities and property. However, growth of assets slowed down as more pensions were paid out than the sector could gather contributions. The most critical years for funding pension expenses are ahead of us over the next 10 years."
With €17.6bn in assets the State Pension Fund (VER) needs to prepare for the future. The central duty of VER is to balance government sector staff pension expenditure; VER is legally required to contribute 40% of the state's total pension expenditure for government employees.  It is expected that these transfers to the state will reach a peak in the early 2030s when the pressure caused by increasing pension expenditure and ageing of the population will be greatest.
However, net income from pension contributions to the VER has turned negative and the disparity keeps growing. In 2015, the VER received €1.66bn in pension contributions, about €73.4m less than in 2014. This drop derived from a reduction of the overall salary sum among state employees which was caused by three developments: gradual transfer of public school employees and university staff to other pension systems, job losses and a privatisation policy. There were also no salary increases. 
In 2015, VER transferred a record sum to the state budget – €2.26bn, which included an extra €500m.  At the end of 2015, the state's pension liabilities amounted to €95.7bn, with a  funding ratio of 19%. Legally, VER will grow until its assets cover a quarter of the state's pension liabilities.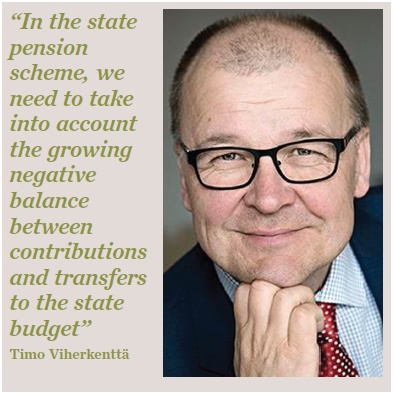 Timo Viherkenttä, CEO of VER, notes that although the transfer of the extra €500m was a one-off measure, the negative balance is there to stay as pension expenditure keeps on growing as people retire, and the number of state employees is being reduced.
There are fewer than 80,000 state employees in Finland whereas in 1990s the figure was closer to 200,000. Over the first quarter of 2016, VER's investments yielded a negative return of 0.8%. The pension contributions VER received during the first quarter of 2016 are estimated to stand at €356m. During the same period the fund transferred a total of €446m to the government budget.
"Ageing is faster in Finland than in most other European countries, and immigration and increasing the birth rate are among the few alternatives to alleviate this development. In the state pension scheme, we need to take into account the growing negative balance between contributions and transfers to the state budget. However, the increase of the negative balance is gradual and no violent leaps are expected. In June, our board will be deciding on a new strategy where the focus is on our investment horizon, return target and overall risk budget," says Viherkenttä.