The newly consolidated Finnish mutual pension insurance sector sees new problems in the investment conundrum
Key points
• Finnish pension insurance companies managed assets totalling €116.8bn at the end of 2017
• Funds identify the risk of a trade war, increasing volatility, low interest rates and long equity cycle as concerns
• The market has consolidated, following the January 2018 merger of Ilmarinen and Etera
• Ilmarinen and Varma have reduced their exposure to fixed income investments
The risk of trade war is causing concern among Finnish pension investors.
Mikko Mursula, CIO of Ilmarinen, notes the threat of a trade war raises market volatility, as seen in March. "Obstacles to trade are a negative issue for export-driven economies like Finland," he says. "I am somewhat concerned about the situation and feel, that in the current state of affairs it is particularly difficult to forecast what is to come".
CIO of Varma Mutual Pensions, Reima Rytsölä, agrees. "The danger of a trade war and how the situation will evolve, does carry the risk of hurting global growth. If things turn nasty, it will definitely affect global economic growth and, through that, pension fund investments."
Another risk to growth in Rytsölä's view is the long equity cycle. "Many say that simply the length of the equity market cycle means that the 'beginning of the end' has already started. But, valuations are not extremely high now, and economic growth is still relatively strong. I don't believe in slowing down simply because a certain amount of time has passed. I think that for the cycle to take a different turn, macroeconomic developments will also have to take place," he says.
"Technical issues can affect markets for a few months, but for the situation to lead to a more permanent downfall, economic growth would have to slow down too," Rytsölä adds.
Ilmarinen experienced change in January, when it merged with Etera Mutual Pensions. This is now complete and the combined portfolio follows Ilmarinen's investment strategy, Mursula says.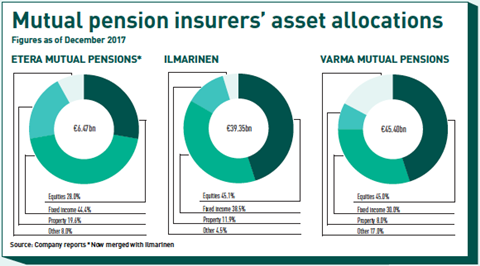 In the medium term, one result is that Ilmarinen will make some portfolio managers redundant. This is because Ilmarinen manages in-house some of the assets Etera had outsourced. In some cases, both funds had also used the same manager, Mursula says.
In the end of 2017, Ilmarinen's portfolio was invested in equities (45.1%), fixed income (38.5%), property (11.9%) and other investments (4.5%). Its exposure to domestic assets currently sits at 30%; within Etera's portfolio the proportion was 40%.
When the portfolios were combined, Ilmarinen had a higher exposure to equities than Etera, and in a similar way, Etera had prioritised property and credit investments. "But, those differences didn't really swing Ilmarinen's asset allocation much because of the so notable size difference in assets under management," he says.
Mursula identifies low interest rates as the greatest present challenge facing investors. It has tilted assets away from fixed income towards equities, property and, real assets such as infrastructure. "This has led to the increase in the prices of all risk asset classes as well as to downfall in return expectations," he says.
In the low yield environment, Ilmarinen is trying to look for alternatives to fixed income from equity and real assets. Its exposure to fixed income reduced from 42.2% to 38.5% during 2017.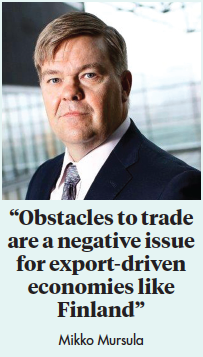 "Within fixed income there are still some interesting sub-asset classes. But, because of the price hikes it is difficult to find good alternative investment targets," he says. "I'm sorry to say this, but, we probably have moved on to an era of overall lower returns and no one knows how long it will last".
Rytsölä of Varma agrees. Diversification is a challenging task in the current environment, he says. "For an investor in the euro-zone, interest rates are still around zero. Dollar-rates are already higher, but after deduction of FX-hedging cost, your returns are close to zero".
"We have to increasingly consider new kinds of risk scenarios these days. There are not so many good alternatives to fixed income around."
Last year, Varma reduced its fixed income exposure – from 42% to the current 30%. Varma's portfolio is equities (45%), fixed income (28%), property (8%), hedge funds and other investments (17%).
Rising volatility has changed the market environment. After last year's reduction of fixed income, no fundamental changes are planned for Varma's portfolio in 2018. The equity portfolio, however, may get boosted, as local regulations on equity risk allow higher exposure than last year, Rytsölä says.
Finnish assets make up 26% of Varma's portfolio. Of Varma's equity portfolio, 31% is invested domestically. In property funds, the proportion of domestic investments stands at 17%. About 35% of listed equities in Varma's portfolio are North American and European equities contribute a further 20% . Equities of other areas as well as global funds make some 12% of Varma's equity portfolio.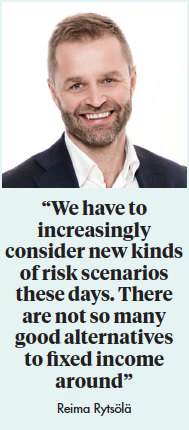 "The market environment in emerging markets depends very much on US monetary policy and the dollar FX-rate," Rytsölä says. "I wouldn't pick any particular markets as our emerging market favourite, but we have been taking more exposure to Asia than to Latin America," he notes.
Varma only has a small stake in Russia. Rytsölä notes that several Finnish companies still have notable businesses in its neighbour but some have pulled out and others are considering withdrawing.
"The Russian economy looks a bit better than it did a while ago. But, from an investor's point of view, the level of political risk there has been too high after the takeover of Crimea," he says.
Over 2018, Varma is going to change some managers, and is trying to reduce its exposure to domestic property. "Some changes in managers are on the cards. We try to change our managers regularly, so to keep up rotation and maintain diversification in that way too," Rytsölä says.
"We have over the past few years also tried to reduce our exposure to Finland in our property portfolio and have purchased European property. That has been our strategy, which will continue this year too," he says.
Varma has a higher exposure to hedge funds than Ilmarinen. Last year, the asset class totalled 17% of all investments, whereas at llmarinen it was only 1.9%. Varma yielded a return of 8.5% from the asset class.
"We were very happy about the hedge fund returns last year, but it is quite unlikely we would expand this exposure notably this year," says Rytsölä.
Iceland: Preparing for a second wave
1

2

Currently reading

Finland: Trade fears dominate

3

4

5