Switching all pension assets of active members to market-rate returns has allowed Industriens Pension to reap the benefits of wider diversification
Key points
Industriens Pension has revamped investment portfolio after shift in benefits to market-rate
The new structure increases allocations to EM equities, real estate and other alternatives
The portfolio has a Sharpe ratio of 2.33, beating other Danish pension funds
Infrastructure accounts for about 10.5% of assets and private equity 9.7%
Industriens Pension is far from being the only Danish pension fund to have shifted the basis of its benefits to market-rate returns and away from guaranteed yields.
But the radical degree of the change it made five years ago – moving all the pensions assets of active members over to market-rate in one go – has won its investment team an enviable level of freedom to start afresh.
A few years on, the DKK157bn (€21bn) pension fund – which covers Denmark's industrial sector workers – has now tied the final bow on a structural revamp of its investment portfolio conducted last year.
Peter Køhler Lindegaard, head of listed assets at the fund, says Industriens Pension used an external firm to help create an investment model that would lead to a better risk-return profile for the fund's assets. It is an exercise the pension fund will run again in the future to make sure it also remains efficient under different conditions, he says. "We, decided to increase our allocation to emerging market equities, real estate, and other alternatives," he adds.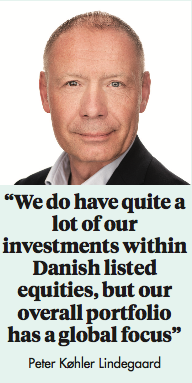 The efforts over the last five years to secure broad diversification aimed at increasing the risk-adjusted return had proved worthwhile.
According to calculations from the investment research firm Morningstar, the strategy has delivered a Sharpe ratio of 2.33 over a five-year period. This shows Industriens Pension beat all of its main rivals in the Danish pension provision marketplace in terms of five-year Sharpe ratios by quite some way, being the only one to score two or more.
Instead of the yield guarantees that are now gone, Industriens has a return target on its members' pension assets of 3% a year in real terms.
"One of the problems with the guarantees we had was that they were nominal, and if inflation goes up, then the pensions would lose purchasing power," says Køhler Lindegaard. "We could live up to the guarantees, but the asset allocation became quite constrained because you needed to have a lot of fixed income in there which didn't yield a lot, so when we changed it to market-rate return it was possible for us to have an even broader diversification than we had until then."
From 2012, the bulk (95%) of Industriens Pension's fund was restructured into a life-cycle fund, and built on two sub-funds – a low-risk fund comprising 25% of assets and a high-risk component including the remaining 75% – with individual members' pensions being an age-led blend of these.
As the basis for the decisions behind the new asset allocation, Køhler Lindegaard points to data mapping out a simulation of re-allocation risk and return.
It was created to see how certain increases in weightings to individual asset classes would affect the fund's overall risk-adjusted return.
But the data reveals that according to the information used by the external consultancy, higher allocations to the asset classes of emerging markets equities, real estate and infrastructure would all produce higher overall returns with the same or lower risk.
Industriens Pension did follow all of these suggested asset class allocation increases, he says, barring the full extent of the infrastructure increase that was indicated.
"We did not raise the allocation to infrastructure further and that was for liquidity reasons," he says, noting that the pension fund already has relatively large amounts invested in the asset class.
Even though Industriens Pension was very happy with the model created for it by the consultancy, Køhler Lindegaard says the institution did not take this advice solely on trust.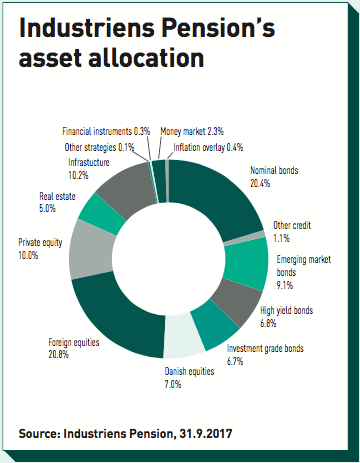 "Different counterparts would have had different return and risk assumptions, because it is not an exact science," he says.
"We did, in fact, have data from two firms, and they were not that divergent. We are constantly looking at the portfolio with other eyes than our own to see whether it makes sense," he says.
The two largest allocations in the new portfolio structure are to government bonds and global equities, with each of these asset types having a near-20% slice of the pie.
Other forms of fixed-income investment bring the bond-like allocation to about 50%, with emerging market debt accounting for 9.1% and high-yield bonds having a 6.8% slice.
Alternatives make up about a quarter of assets, led by private equity with 9.7%, followed by infrastructure with 10.5% and real estate at 4.9%.
While the whole portfolio has broad geographical diversification compared with many Danish pension funds, the domestic equities market weighting, at 7.0% of the overall fund, does reveal a certain home bias.
"We do have quite a lot of our investments within Danish listed equities, but our overall portfolio has a global focus," Køhler Lindegaard says. "We don't have a large allocation to Danish infrastructure, for example, but our allocation is to global infrastructure.
"The reason is that Denmark is a relatively small space to invest in, so it is probably not wise to think you can find what you need in such a confined place, whereas with Danish equities it is a bit different, we know the companies, we've had internal management for many years, we've done really well and we have created a lot of alpha there, so we feel very comfortable," he says.
With such broad international diversification, Industriens Pension does hedge most of its currency exposure, says Køhler Lindegaard.
The lean towards the home market has paid off for Industriens Pension, with Danish equities having produced particularly good returns for the pension fund over the past few years.
"They have done well and we believe they will continue to do well," says Køhler Lindegaard.
Emerging markets equities have also performed strongly so far in 2017, he says.
Industriens Pension outsources the majority of its investment management, but takes a hands-on approach with Danish and European equities and government bonds, as well as with most of its real estate assets.
However, most asset classes are outsourced to external managers. "This is how we add value, by finding the right asset managers. Over the years, we have built very strong relationships with some of the really high performing funds around the globe," Køhler Lindegaard says.
"The infrastructure and private equity is also given to funds and there are some infrastructure co-investments, and we have the funds overseeing due diligence and reporting even when we have these more direct investments," he says.
The result of the new asset allocation and portfolio construction approach has given Industriens Pension what Køhler Lindegaard says is not just an engine for strong returns but also a structure that will be resilient in the face of market weakness – which the pension fund predicts will happen to some degree over the coming years when central bank support is reduced.
"We have to admit that the market, broadly speaking, has done very well and, of course, our long-term return assumptions are lower than that looking ahead.
"But we can hope that because of our diversification, on an industry comparative basis we will continue to do well," Lindegaard says.
Norway: A trillion dollar issue
1

2

3

4

Currently reading

Industriens: Radical move pays off

5

6

7