Asset allocation strategies remain largely unchanged and the search for yield broadens out
Key points

Fixed income still dominates pension fund portfolios
Pension funds target emerging markets to increase yield
ESG investing is gaining momentum
Portuguese pension funds have not made significant changes in asset allocation over the past year, as market conditions have been difficult to read, acting as a disincentive to all but tactical decisions.
Public debt accounts for the biggest share of fixed income and has been gaining weight over corporate debt over the past 12 months, according to the Portuguese Association of Investment Funds, Pension Funds and Asset Management (APFIPP).
As of June, fixed income made up 62% of portfolios, including direct and indirect holdings, according to APFIPP and the Portuguese Insurance and Pension Funds Supervisory Authority (ASF). Equities made up 19% and real estate 13% of portfolios.
In terms of fixed income, some investors have been able to finesse weightings as global economic conditions have changed.
"We had been less constructive in the fixed income area since the end of 2018, but the trade war and global slowdown made us reduce the underweight on interest rates," says João Eufrásio, head of Portugal institutional portfolio management at BMO Global Asset Management. "Since we reduced our underweight, we bought into duration, but still maintain a cautious approach to nominal rates by having less duration. We have also maintained the balance between government and corporate bonds."
In terms of geography, he says: "Domestic securities became less appealing through the year, as the compression trade reached certain exhaustion and carry vanished with abrupt lower yields. So domestic is less appealing right now but is still an important part of our investment choice."
Economic conditions are certainly forcing pension funds to become more adventurous, says Madalena Teixeira, senior portfolio manager, BPI Vida e Pensões.
"The current zero or negative rates world makes fixed-income allocations really challenging, driving investors to look for some yield pick-up or market arbitrage in every different market," she says. "Hence there is a growing flow to emerging market debt and European countries bond pick-up."
She adds: "In peripheral economies such as southern Europe, both with govvies and corporate bonds, it's worth the bond-picking analysis, since it can get some extra basis points in yield. Maturity barbell can also be a strategy – investors should balance quality and maturity along the curve."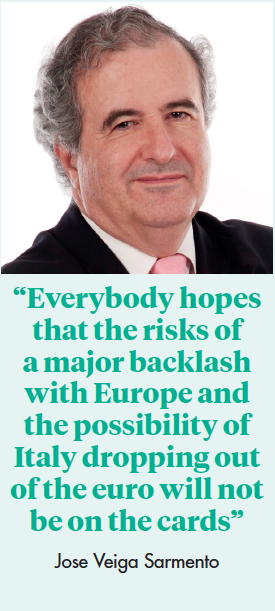 However, some countries are making it particularly tricky for investors to make decisions.
Italy is still a potential problem area, given its political uncertainty and concerns about its banks.
Teixeira says: "Political uncertainty brings more volatility to the markets, especially when it concerns Italy's growth prospects. So asset selection in Italy has to be extremely rigorous."
BMO Global Asset Management does not invest in Italian equities but was tactically constructive on Italian bonds, given the spreads seen during the political crisis. Eufrásio says: "Long-term we continue to be cautious on Italy, especially after the recent spread compression."
But José Veiga Sarmento, chair, APFIPP, is more optimistic: "As some of the stress on the euro's future abates with the new government in Italy, I think everybody hopes that the risks of a major backlash with Europe and the possibility of Italy dropping out of the euro will not be on the cards in the near future. Italy is a founding father of Europe; there is some responsibility there that was not assumed by the previous government. And as we all know, we owe the survival of the euro to an Italian, Mario Draghi."
Another long-running saga is Brexit. Sarmento says that because Portuguese pension funds are constrained in terms of exposure to foreign currencies, investment in UK assets is already limited. The impact of Brexit will not be substantial.
Eufrásio takes a similar view. "The allocation to the UK is very small and arises mainly by index investment, so Brexit volatility will not lead to changes," he says. "We are more concerned about the impact in the euro area, and on companies exporting to the UK."
Teixeira says Brexit is restraining investors from the UK market. "The main reason for this is changes as yet unknown in market regulation, and the weight these changes may bring to bear on the UK's economy."
And she is also wary of the economic slowdown in Germany and the euro-zone. For Portuguese pension plans, with a considerably low allocation to risky assets, this will be another difficult year to manage, Teixeira says. "Real returns are mandatory for local pension plans and with inflation at its all-time low, negative interest rates and equity markets under pressure, pension managers are left with very few investment alternatives."
BMO Global Asset Management has responded to the slowdown by reducing its underweight position in duration. "We concur that low rates could be here for longer, owing to ECB monetary policy and the economic slowdown," says Eufrásio. "We are moving towards liability matching, reducing the asset/liability gap. However, we do not envisage a recession, and so still maintain our structural underweight bias."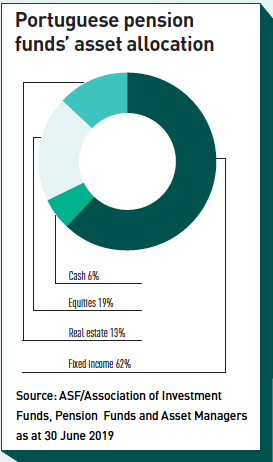 The perennial question of where interest rates and inflation will go, and how to protect against that, is certainly an issue, but Portugal has some ground to make up, says José Marques, director, Willis Towers Watson.
"In Portugal, pension schemes are still taking the first steps to mitigate this risk, so most registered significant increases in deficit in 2019 and recent years," he says. "The impact that falling interest rates had on the funding level of defined benefit (DB) pension funds in Portugal is clear when analysing the amount of contributions that companies have transferred into their pension funds over the past five years."
This amount has been over €4bn in total, says Marques, even though the Portuguese DB pension fund market is worth less than €17bn, with the majority of pension schemes now closed. He expects to see higher-than-average contributions from companies for 2019.
Looking ahead, Marques says pension funds are planning to manage risk in two key ways.
"We believe that the risk of further falls in interest rates still exists," he warns. "So even if the case for hedging fully is not as strong as it was before, there is still a strong rationale to consider interest rate and inflation hedging now."
Secondly, he says: "Pension funds in Portugal are now looking to diversify, at a time of record levels on the equity markets. We estimate that the amount invested in assets other than cash, equity and bonds is still only 7%."
This, he says, is partly the result of regulations that severely restrict the amount a pension fund can invest in non-harmonised investment funds.
Teixeira notes that even though developed markets are finding themselves in different stages of the growth cycle, central banks are willing to support economic growth, "whatever it takes".
"Liquidity will be available, and low interest rates will be here to stay, which means riskier assets will be the main positive return source."
Lastly, environmental, governance and social investing (ESG) is gaining ground in Portugal. "ESG, particularly the 'E', has dominated the agenda for pension scheme sponsors and asset management firms," says Eufrásio. "We have been successful in introducing ESG criteria into our portfolios, and our engagement has had a positive influence on our clients."
Spain: The tide turns
1

2

3

Currently reading

Portugal: In search of higher yield