The Swiss government has decided against further reporting standardisation for Pensionskassen
Key points
• The reported funding levels of Swiss pension funds are not comparable.
• PPCmetrics has proposed a new funding ratio related to the liabilities of active members and an overall economic funding ratio.
• The government has dismissed the idea of standardised key figures.
• Experts believe that economic reality will change this.
• Transparency is important for multi-employer foundations.
It was a politician, the liberal Albert Vitali, who got the ball rolling in March 2013 when he urged the government to make the funding levels of Swiss Pensionskassen more comparable.
The current regulatory framework makes it compulsory for all providers of pension funds to report on the financial situation of their organisation.
However, this does not specify a discount rate or other key metrics, which means it is difficult to compare Pensionskassen. One might have applied a higher return estimate or discount rate, another might have a higher share of retired members.
In its response to Vitali, the government commissioned consultancy PPCmetrics to study the information value of the figures currently reported by pension funds.
The results of the study were published in September 2017 along with the government's decision not to alter the regulatory framework: "For the government it is questionable whether the profit of a unified model would justify the costs," it said in a statement.
However, in its initial assessment of the study's results, the social ministry drew a positive conclusion: "The authors proposed extending the funding ratio indicator in such a way that it allows for a uniform and market-consistent valuation. The supervisory authorities, could, based on these indicators, devise a traffic-light system that would make it possible to provide interested and informed pension fund members with a much better idea of the ability of their institution to provide the benefits it promises," Colette Nova, deputy director at the social ministry, wrote in a preface to the published report.
For Lukas Riesen partner at PPCmetrics, the decision was more a question of political will than cost: "The government has decided against increased transparency. The basic information of the figures we proposed is already being calculated by the pension funds. It would have been a simplification to concentrate on a few meaningful figures.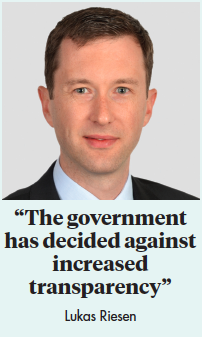 "Our set of benchmarks takes a longer-term look at the financial situation of a pension fund both from the perspective of a provider as well as that of an active member."
One new key figure PPCmetrics proposed was a funding ratio relating to the liabilities of the active members, which could be used to measure "the extent to which the liabilities of active members are covered by the assets which remain after the liabilities for the current pensioners are deducted".
This funding ratio could then be extended to calculate an economic funding ratio, applying standardised financial and economic parameters. The valuation of future cash flows and the risks associated would
be based on a best estimate – expected value – and would be risk-adjusted.
Regulation and reality
However, Riesen belives economic reality will force many funds to look at their "true" financial status. According to him, those funds and supervisory authorities already "taking risk management seriously" are calculating economically truer funding levels and other benchmark figures.
Roger Tischhauser, director of the supervisory body for the canton of Zurich, the BVS, confirms: "Over the last five years, Pensionskassen are becoming more and more aware that it is not enough to look at the funding level alone."
Like PPCmetrics, Tischhauser sees trustee boards and their advisers adopting a more holistic view on the financial situation of their organisation.
In the last 12 months, Tischhauser has been sensing an increase in awareness among Pensionskassen regarding their asset allocation risks: "Each pension fund has a performance strategy and they have to analyse what it takes to achieve that, either by adjusting investment risks or increasing buffers and so on."
Tischhauser also points out two factors distorting the debate on investment risks in Pensionskassen: "Sometimes international statistics say Swiss pension funds are too cautious in their asset allocation and then the domestic banking association says the industry needs more freedoms for investing, but we already have that."
In fact, the investment regulations for Swiss Pensionskassen (BVV2) hardly include any caps on asset classes. "It all depends on the available risk budget," says Tischhauser. What is more or less off the table now, however, is the question of asset management costs of Pensionskassen. "We have a high rate of transparency and we have also seen a drop in costs over the last years."
Multi-employer funds
While Tischhauser stresses each pension fund has to be assessed according to its individual situation, he also see merits in comparability – at least for certain providers:
"So-called Sammelstiftungen [multi-employer pension funds] are competing on the open market and it would be good for future clients to be able to compare them more easily," Tischhauser notes.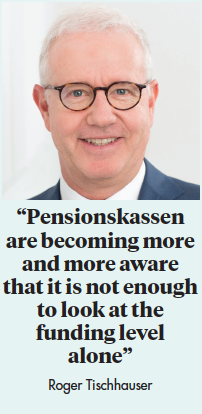 These funds are growing in importance as smaller company Pensionskassen are closing down or outsourcing their risks in an environment with low interest rates, but high regulatory requirements.
Tischhauser notes that in the canton of Zurich, 60% of the members of a pension fund are covered by a Sammelstiftung. Some of the providers are using promises of high conversion rates and interest to attract clients.
"To keep these promises a Sammelstiftung needs a sound financial basis and enough buffers to ensure sustainability," Tischhauser stresses.
He confirms the BVS had to nudge some providers to increase their buffers from the profits they made in well-performing years rather than promise higher interest for active members.
"But overall we have had very good and constructive risk dialogue with supervised entities in our canton with excellent results," says Tischhauser.
Three years ago, the BVS devised a risk tool allowing a holistic view of the financial situation of a pension fund. The supervisor is checking both the current as well as the future financial situation of a fund, its liabilities as well as its asset management approach.
If one of these factors triggers a warning signal, a risk dialogue is started. This has so far been the case for 10% of supervised entities.
So a good supervisory body can act as a threshold to sieve out problematic pension funds.
Nevertheless, Tischhauser thinks it would be good to have more public transparency on Sammelstiftungen as they have become system-relevant given their size. He says: "The reported technical key figures are not enough for interested clients to assess the future funding situation of a provider and understand the risks they are taking."
This is where other key figures like the economic funding level would come in handy.
Tischhauser concludes: "To be able to compare pension funds, certain reporting standards would have to be standardised, for example, applying the same technical interest rate for calculating liabilities."
Switzerland: Goodbye AV2020
1

2

3

4

5

Currently reading

Reporting: On pause

6