Second Pillar: Technical difficulties
Despite the challenges facing Switzerland's second-pillar pension the necessary overhaul of the system is still a long way off, says Barbara Ottawa
At a glance
• Members and unions have criticised the canton of Zurich pension fund (BVK) for lowering its conversion rate to below 5%.
• Experts, on the other hand, have welcomed such adjustments in Pensionskassen.
• Redistributing members of pension fund to other Pensionskassen might help to diversify risk.
More and more Swiss Pensionskassen are adjusting their technical parameters to cope with increasing liabilities. This has led to a rising awareness among the population, because every newspaper now seems to report on the second pillar and how it is developing. This has included explanations of how a lower technical interest rate (technischer Zins) applied to active members' assets translates to lower conversion rates (Umwandlungssatz) upon retirement. 
The latter is a red flag for Swiss voters as they fear a reduction will lead to lower pension payouts. In principle this is correct but, Pensionskassen are currently subsidising pensions from active members' accounts – as is the case in a pay-as-you-go (PAYG) system. 
Jaap van Dam, a partner at HSP Consulting, expects more pension funds to get into difficulties as their liabilities have increased more than expected: "When I wrote my dissertation 20 years ago, I mentioned 'underestimating liabilities' among the less likely risks but now it becomes clear that many Pensionskassen have paid too little attention to the passive side of their accounts." 
At the end of 2014 the Swiss Federal RailwayPension Fund (PK SBB), announced the lowering of  its technical interest rate and conversion rate. But it was during the summer of 2015 that the pension fund of banking group Credit Suisse and the Pensionskasse for the canton of Zurich, the BVK, reduced  conversion rates to below the 5% threshold while trying to achieve sustainable funding positions. The BVK's conversion rate dropped to 4.8%.
Martin Wagner, CEO of Credit Suisse's Pensionskasse, says it was necessary despite a 110% funding level at the end of 2015. "The estimate on the funding level is based on the assumption – and with it the pressure – that we will achieve performance of between 2.5% and 3% over the next years," he says. "This is a very ambitious hurdle in the current low-interest-rate environment." 
He adds that the "financial situation of the Pensionskasse was rather tense". In 2015, the Pensionskasse returned 1.6% which is still well above the national average of between 0% and 1%, depending on the sample.
The BVK is having a tough time explaining the cut in the conversion rate to 4.8% and the technical interest rate to 2% (one of the lowest in the country) to its members. The announcement of the cuts triggered protests from unions, and some members, such as the University of Zurich, have declared they will be moving to a different provider. 
Flexible benefit models face resistance and limited uptake
For a long time, fixed, guaranteed pensions were sacrosanct in Switzerland. But as pension funds feel the pressure of demographics and zero-interest rates cracks are appearing in the seemingly impenetrable taboo of flexible pension payouts. 
One of the first Pensionskassen to make future pension liabilities more manageable was that of PwC Switzerland. In 2005, it became a pioneer by introducing a flexible pension element for active members. For a long time it remained the exception to the rule, along with engineering company SFS. Both had the same adviser.
In 2014, the PWC Pensionskasse trustee board decided to include pension arrangements signed before 2005. The model consists of a fixed-base pension calculated on a lower conversion rate and a bonus element correlated with returns. 
"This step was challenged by the supervisory body in 2015 and we were ordered to withdraw the extension of the model to retired members planned for 2017," says Josef Bachmann, managing director at the PWC Pensionskasse. The pension fund has appealed the supervisor's ruling and is waiting for a ruling. 
The Credit Suisse Pensionskasse is also facing criticism for its plans to cap the amount of pension individuals can draw from the fund. The rest will have to be withdrawn as a lump sum. Peter Zanella, managing director at Willis Towers Watson Switzerland, says this means the retiree will bear the investment and longevity risks for this part of pension assets. "This model might be used as a blueprint by other pension funds," he says. And this, in turn, could affect the overall long-term pension level. 
Apart from helping funds to cope better with future liabilities, flexible pension payouts also introduce a new element of solidarity into the second pillar. So far, pensioners are exempt from having to contribute to fund's recovery measures – sometimes because the promises made in the past were too generous.
"Pensioners are to participate equally in chances and risks at a tolerable level," says Ronald Schnurrenberger, managing director at the pension fund for the energy company PKE. 
PKE's fund introduced a 'two-part pension' with a flexible element in 2014 and has 281 retirees in the new system and 3,265 in its fixed model. Schnurrenberger stresses that the decision to introduce a flexible element was unanimous and agreed by employee representatives. But he points out that "almost no one has voluntarily switched from the old to the new system". 
Schnurrenberger explains the model was calculated to allow for a 100% payout of pensions – if everything goes to plan. So far, there have been no cuts, but no top-ups paid either: "Only if there is a temporary imbalance – that is, because of a market crash – will there be cuts. And this is very important to note because the intention behind the 'two-part pension' is not to introduce a permanent pension reduction via the backdoor." 
This is a pressing concern for unions and employer representatives. "A lack of understanding" is what Jaap van Dam, partner at HSP Consulting, mentions as a reason why making pensions more flexible – which is already possible under current regulations – is rarely used.
Fear of a disadvantage was the first reaction from many when the Pensionskasse for the Swiss Federal Railway – PK SBB – contemplated variable pensions in 2013. The idea was shelved but might now be reconsidered by a working group looking into measures to be taken beyond the adjustment of the technical parameters.
According to van Dam, there is also an "uncertainty among providers how to implement" flexible models. "And what is more, many multi-employer funds [Sammelstiftungen] are not interested in any new models that will increase their administration costs," he says.
"As long as administration costs are seen by many companies and members as the most important factor, it will be difficult to introduce more flexible models," van Dam says. But André Tapernoux tells IPE (see interview) that flexible models have not proved as effective as hoped.
But a BVK spokesman stresses that the changes are necessary to "stop the current transfer of assets from active members to pensioners" which amounted to CHF450m (€412m) in 2014. Further, these steps are preparing the fund for a new demographic challenge as "from 2017 the baby boomers will retire". 
Like all funds that are adjusting their technical parameters, the BVK, too, has switched from periodic to generational tables to calculate longevity, as the latter provided "a more meaningful comparison".
While these cuts have triggered heated debates among the members and some of their representatives, the steps are fully backed by experts. The consultancy PPCmetrics sets a so-called economic conversion rate, a calculation method it has developed based on different parameters, at just over 4%, and at 4.2% for the next 10 years. 
In reality, the average conversion rate stands at 6.2%, but is only set to decrease over the next decade to 6.1%.
The Libera consultancy calculates the correct conversion rate for the widely used 2.5% technical interest rate at 5.25%. The researchers add that the current legal minimum conversion rate to be applied to mandatory pension assets of 6.8% would require an interest rate of 4.5% to be applied to active members' assets.
Retirees as diversification factor
Van Dam says the adjustments are necessary but other factors have to be taken into account as well: "The main problem is still that there are Pensionskassen which have a lot of retirees and others which have almost none. Further, some groups are more likely to take out lump sum payments upon retirement, while other providers have to deal with the longevity risk connected to regular pension annuities."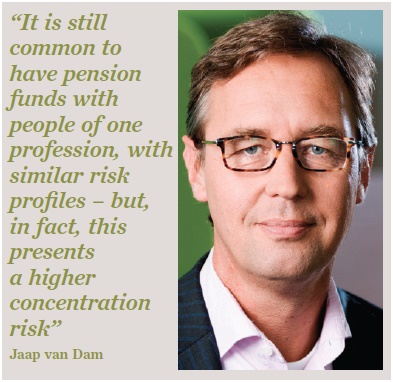 In general, he sees "a multitude of factors" in some Pensionskassen which makes their situation more difficult than that of other providers. For example, Van Dam mentions public pension funds where people live longer, on average, than in Pensionskassen for labour-intensive industries where retirees will draw a life-long pension. 
Of course, it is a problem when companies in an industry-wide pensions plan decide to transfer out, leaving only a few, most likely less well funded pension plans. 
Industry-wide Pensionskassen have enjoyed a long tradition in Switzerland since the 1980s, when the compulsory second-pillar system was introduced and it was also mandatory for companies in certain industries to join the collective pension fund for the sector.
This obligation has since been revoked and there is a federal court ruling against coercion. Since they became autonomous, even public pension funds are allowed to look for third-party business outside their traditional employer base. 
On the other hand, the opening of these funds to the market also meant their employers were approached to join other multi-employer pension plans.
So while the idea of a completely free Pensionskassen market is possible, there still seems to be a block against its adoption. The idea of free individual choice of pension fund for each member is still taboo and is only mentioned academically.  
One solution might be to diversify the risk in a Pensionskasse not only through diversification in investments and adjusting technical parameters but through membership: "It is still common to have pension funds with people of one profession, with similar risk profiles – but, in fact, this presents a higher concentration risk," says Van Dam.
He proposes the redistribution of members of pension funds for one profession to other Pensionskassen with a different risk profile among their members. "Of course, this needs a lot of explanation and convincing. So far, people understand it in theory, but only few are willing to act on it," says van Dam. 
Industry critical of government plan to stem supplementary payments
While waiting for the reform package Altersvorsorge 2020 (AV2020) to continue its slow path on to the statute book, the Swiss Federal government is trying to put one thumb to the leaking tap known as Ergänzungsleistungen (EL). 
This federal pot of money literally translates as "supplementary payments" and is used when people fall short of the minimum income or pension. This could be because they have accrued insufficient supplementary assets in the second or third pillar or they have taken out a lump sum payment and spent the money. 
In certain cases, such as starting their own business or buying living space, a premature withdrawal during the working years is possible – although it can also be paid back into the Pensionskasse. 
In December the government presented a draft law outlining a ban on all lump sum withdrawals from the second pillar, or at least a cap at half of the accrued assets. The proposal has generated a lot of criticism and only limited approval. 
The Swiss pension fund association (ASIP) is convinced the option to draw a lump sum can help strengthen the trust people have in a pension fund – especially at a time when the minimum conversion rate is set to be lowered from 6.8% to 6% in the AV2020. 
ASIP argues that the increase in payouts from ELs cannot be explained entirely by people spending their pension money too early through a lump sum advance.
According to a University of Lucerne study, the increase in payouts from the fund by CHF1.5bn (€1.4bn) is one-third the result of demographics as people are living longer and need more money or they need to pay for social care provision.
Another third is the result of system changes and the remaining third is a simple transfer of payments from the invalidity fund (IV) to the EL fund. "To put it differently only two-thirds are actual additional costs," the research said.
The think tank Innovation Zweite Säule (IZS, Innovation Second Pillar) points out international companies will also not be too keen on the proposed changes as they will increase their liabilities  under the International Financial Reporting Standards. 
At another think tank, Avenir Suisse, Jérôme Cosandey, points out the government's reasoning is only based on a survey of people having requested support from the EL fund. It was found that a third of them had taken a lump sum payment from their Pensionskasse. But Cosandey emphasises that a meaningful analysis of this figure would have to be compared with the share of the total populace. 
Jaap van Dam, partner at HSP Consulting, welcomes the proposal to at least limit withdrawals from pension funds: "This almost only helps insurers to sell annuities." He is concerned that the issue of unemployment and retirement provision is "not really on the agenda yet".
According to van Dam many people have started to consider the statutory retirement age of 64 for women and 65 for men as be "only a guideline". But, it is difficult to find employment when people lose their jobs in their 50s.
At present he is advising a Swiss company – part of a UK-quoted group – that is to be closed. Workers have been there for 25 to 30 years on average but on low salaries, which means they do not have much in their Pensionskasse. And those below the age of 58 do not even have the choice of making an withdrawal from their pension assets.
"They can only transfer their money to the so-called Freizügigkeitskonto but they cannot draw a pension from there," says van Dam. The Freizügigkeitskonto is a transitional fund where the pension assets of people unemployed or taking a sabbatical are parked.
But van Dam says workers who are not re-employed can only buy an expensive annuity from an insurance company upon retirement. "We definitely need a new solution for this problem, maybe making pension pay-outs from the Freizügigkeitskonto possible."