DC Income Strategies: Another egg in the NEST?
As the UK government consults on whether NEST should be allowed to enter the drawdown market, Jonathan Williams examines the arguments for and against its entry, and what the fund can learn from Australia
At a glance
• NEST may soon be allowed to offer drawdown solutions to members.
• Last year the fund unveiled details of a potential product.
• Thise is meeting with resistance from commercial asset managers on competition grounds.
• The UK could learn from Australia, which is heavily reliant on drawdown products.
While reports of the death of the UK annuity market are premature, the 'Freedom and Choice' reforms introduced in 2015 will see an increase in pension savers availing themselves of drawdown products, following the end of mandatory annuitisation.
This shift in emphasis has seen asset managers gradually roll out new products aiming to meet the needs of scheme members simultaneously contributing to and withdrawing from their pension pot. The government in turn has begun to re-assess the role of the National Employment Savings Trust (NEST). 
The £970m (€1.2bn) master trust – established by government as part of auto-enrolment – is currently only allowed to function as it would in a pre-freedoms world. Much time was spent settling how to signpost members towards annuity providers, with the open market option approach providing savers with names of a number of companies selling annuities, and information on how to obtain comparable quotes from each. 
Additionally, those with pots too small to annuitise under the old rules can draw down their savings in individual lump sum payments – but such an approach will not work when NEST starts serving members with sizeable pots built up over a matter of decades.
In one of her last acts as pensions minister, Ros Altmann launched a consultation on allowing NEST to introduce its own drawdown product. But this has raised concerns from commercial providers that it could result in a government-subsidised drawdown provider so dominant that other firms could not compete.
Altmann concluded that NEST needs to remain a "viable" scheme, indicating that, without change, its whole mission could be undermined. 
It is a view at odds with that of her predecessor, Steve Webb, who after leaving government in 2015 joined Royal London Asset Management as director of policy. Speaking in his new capacity, the former Liberal Democrat MP stressed his continued support of NEST, saying it was a "crucial part" of the pensions landscape.
"NEST is there because the government of the day thought the market wouldn't deliver," he says. "It wouldn't deliver for the smallest firms, it wouldn't deliver for low-paid employees who are not profitable." Webb says these arguments were used as reasons to extend an interest-free government loan to the pension provider to cover ongoing costs – which as of March 2016 stood at £459m.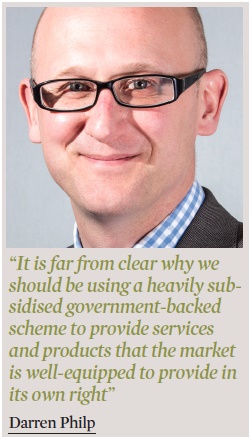 His concerns are shared by Darren Philp, director of policy at The People's Pension, currently the largest new master trust in the market, who argues the government "can't have its cake and eat it" by allowing NEST to compete without its contribution limit or transfer ban, set to end next year, but without the same costs applying to the fund. 
"Given how the market has responded to the challenge of auto-enrolment, it is far from clear why we should be using a heavily subsidised government-backed scheme to provide services and products that the market is well-equipped to provide in its own right."
Concerns have been raised that the Department of Work and Pensions' (DWP) consultation does not mention whether the costs of the drawdown product in excess of NEST's current 0.3% annual management fee should be met through the loan or whether it should be offered to members at market price. It also fails to mention how decumulation members would continue to contribute to the repayment of NEST's loan, as currently only actively contributing members do.
In addition, those who argue the landscape has changed in the wake of the so-called pensions freedoms are incorrect, says Webb, as pensions freedoms – as with annuity purchases – simply require NEST members be allowed to do as they please with their pension pot upon retirement. 
So could NEST simply signpost members towards providers, or would the trustee board be negligent in its duty if it failed to push for decumulation. Gregg McClymont, a former Labour MP and now head of retirement at Aberdeen Asset Management, supports the idea of NEST becoming active in the drawdown market for this reason.
"Given NEST's track record in the accumulation space, given the characteristics of the immature decumulation market, and given NEST's need to serve its target market more widely, a knee-jerk reaction is probably not the right way to proceed," he says of those resisting the change to the fund's remit. 
Some point out that drawdown products are yet to reach the sophistication required. Ian Barnes, head of UK and Ireland at UBS Global Asset Management, says interest in income products will see the defined contribution (DC) market mirror the defined benefit (DB) one, bringing down product costs as asset managers compete for business. 
But how will decumulation evolve? NEST set out its views in 2015, outlining the potential for a solution that blends income security of deferred annuitisation and return-seeking assets – akin to the approach of Denmark's ATP. 
"DC will probably be more liquid, and it doesn't have to be," says Barnes. He regards the reliance on liquid assets as the "retail dichotomy", adding: "Even when you retire at 65, and the chief actuary will expect you to live until you're 83, people are still buying into highly liquid strategies because they are retired and might need their assets at any point."
What can the UK learn from Australia?
The illiquidity premium and risk-sharing have been recoginsed as an opportunity by Australia's AUD50bn (€34bn) UniSuper. The multi-employer fund provides both DB and DC benefits to its 400,000 members and offers a group self-annuitisation product, although it is exploring other risk-sharing options. 
"We've been talking about different things," says Ian Lorimer, the fund's head of product, "such as collective DC arrangements, where we can bring people together to share the risk, so that those living a long time balance out those who don't live quite as long."
He admits it is too early to discuss the proposals in detail, but they come after a wide-ranging report commissioned by the Australian government argued in favour of a new pension product taking account of longevity risk. 
Details of the comprehensive income product for retirement (CIPR) were contained within the 2014 Financial System Inquiry. While the Australian government has yet to legislate the minimum requirements placed on a CIPR product, it was suggested these include a regular and stable income stream, and longevity risk management. The report also proposed the products offer a blended solution, in line with ideas championed by NEST.
UniSuper has announced details of such a potential product, called FlexiChoice, where it is blending the income security of DB with the market-led outcome of DC. Lorimer likens the approach to the UK's previous reliance on annuities, where 75% of a DC pot would have been annuitised – granting security of income. 
UniSuper plans to have the product ready by the 2017-18 financial year, with set contributions for the DB component and the potential for variable contributions, and eventual levels of drawdown from the DC component based on need. 
But UniSuper is not alone in pushing innovation in the Australian marketplace. 
QSuper, which assisted NEST with ideas for its drawdown product last year, is a financial services provider responsible for the retirement benefits of public sector workers in Queensland. In mid-2016, it introduced a cash incentive for members opting to remain with the provider upon retirement, a model useful to other providers who would wish to signpost members towards their eventual CIPR approaches.
The Income Account Transfer Bonus involves QSuper passing on reserves put aside for paying capital gains tax (CGT). Where the members decide not to transfer out of QSuper upon retirement, and instead opt for one of its two retirement income options, the fund no longer needs to set aside cash to meet future tax liabilities, as assets in the retirement phase are exempt. 
As a result, members can benefit from the bonus, equivalent to about 10% of investment earnings on qualifying investments, while the trustee of the provider can argue they are assisting members with longevity risk by preventing lump sum withdrawals that could otherwise see the pot depleted prematurely.  
As these two options clearly show, NEST could succeed with its own drawdown option. But, as ever with NEST, it will need to overcome an industry wary of a provider which could dominate the market, while pushing for the changes it deems best for its membership.